Rick Santorum Represents Everything Europeans Find Weird About America
The GOP contender confirms some of Europe's dimmest views on U.S. politics.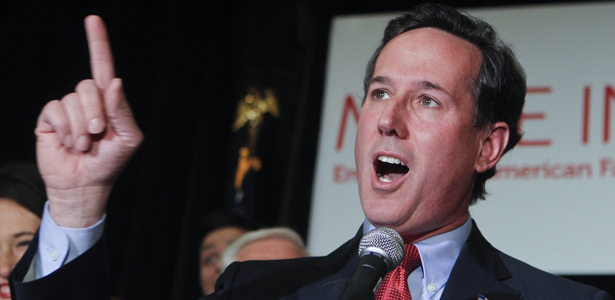 Reuters
Continental Europeans aren't yet glued to the U.S. presidential race the way they will be in the fall. They've plenty of their own issues to worry about right now. But even this early, poking out of what's otherwise a pile of standard wire reports, there's a theme in European media coverage: Rick Santorum is a bit odd. The Republican presidential candidate, to some, is apparently even a walking, talking incarnation of the gulf between American and European politics.
Granted, the European media, like most free media, doesn't really speak with one voice. But when the press isn't letting American pundits, quoted in translation, interpret the Santorum phenomenon, you'll notice very few positive adjectives and more than a few verbal clues pointing to amusement, bewilderment, or distaste. 
"He's thrown contraception back into question and would protect America from 'the attacks of Satan,' but is he really conservative enough?" 
runs
 the first line of an article in French paper
Libération
, the hint of puzzled humor coming through loud and clear. Laure Mandeville at 
Le Figaro
calls Santorum's anti-gay marriage stance "a fight conducted with quixotic ardor in an America where something like seven states have legalized gay marriage." German paper 
Die Zeit
 focuses on the bizarrely inconclusive primary season more broadly: "The Republicans are keeping it exciting, perhaps in self-destructive ways," opens their article.
Others are even blunter. "Rick Santorum, king of machos?" reads a headline on
Le Nouvel Observateur
. Christian Wernicke pens an flat-out denunciation in the 
Süddeutsche Zeitung
: "Rick Santorum is like the good man of yesterday," writes Wernicke in deriding some of Santorum's more extreme ideas on women. "Neither in Germany nor anywhere else in Western Europe would such an arch-Catholic fundamentalist have even a breath of a chance of becoming a head of state. And even in the United States--thank God--Santorum's chances are poor." This is in a paper from a relatively strongly Catholic region of Germany, too. "The good man plays a climate politics buffoon to win," continues Wernicke. "That may, on a purely tactical level, be clever. But it promotes the dumbing down of a once great party."
The last sentence is key. Contrary to popular perception in the States, the European media doesn't actually sing the praises of Obama and Marx all day. Plenty of European states have their own right-wing candidates, and plenty of individuals within those states admire candidates within the American Republican party. But, as I pointed out in a
previous post
, there's significantly more enthusiasm across the water for Romney right now than there is for his competitors. That preference has since become even clearer.
"What may we Europeans expect from President Obama's Republican rivals?" asks Lord Weidenfelt for German paper
Die Welt
. His conclusion is that most of the candidates don't even say much about foreign policy, but "the exception here is Mitt Romney." Romney, Weidenfeld observes approvingly, "is interested in Europe, speaks perfect French and has at his disposal an excellent set of former diplomats, academics, and media figures on whom he can rely."
But the manner of covering Santorum goes beyond unease at his lack of interest in Europe (and a good thing, too, as lack of interest in Europe is pretty common among American politicians right now, what with the plans for troop withdrawal). The nearly constant "culture war" explanations that accompany articles on Santorum show the way in which he, having taken over recently as the voice of the socially conservative branch of the party, stands for much in American politics that immediately registers as "foreign" in Europe.
Christian Wernicke's declares that "neither in Germany nor anywhere else in Western Europe would such an arch-Catholic fundamentalist have even a breath of a chance," but other Europeans make subtler lead-ins to primary coverage, and in discussion of American politics more generally. In an article on the recent U.S. political fight over contraception insurance coverage, a 
Die Welt
 article notes that "in less devout countries such a culture war wouldn't have close to this kind of political explosive power."
It's hard to say whether this perspective, that assumes such distance between continental Europe and American politics, is entirely fair. It's true that Christian fundamentalist candidates are uncommon across the Atlantic. Then again, a right-wing nationalist such as Germany's Thilo Sarrazin probably would not have been as successful in America. A politician in Germany's Social Democratic Party, Sarrazin was on the executive board of Germany's central bank when he started unleashing a string of provocative comments on Muslim immigrants, even writing a book declaring that Germany was destroying itself and that educated Germans should try to outbreed the uneducated immigrant masses. The point is: there are certainly extremists on both sides of the water. And though European commentators are free to call Santorum a "good man of yesterday," which politician you deem more anachronistic depends on your perspective.