Picture of the Day: U.S. Publishes Photo of Enormous Oil Pipeline Fire in Syria
The American embassy in Damascus used the images to make a statement about the world's responsibility.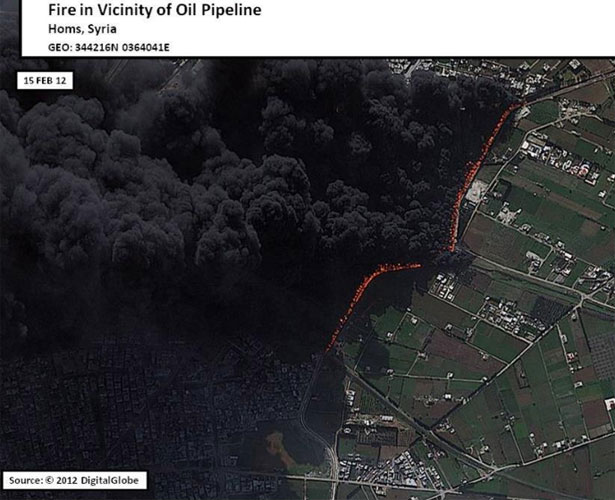 DigitalGlobe
Today, the U.S. embassy in Damascus posted to Facebook this satellite image of an oil pipeline fire in Homs, Syria, which has been a focal point of embattled Syrian President Bashar al-Assad's crackdown on his opposition.
The embassy used the photo to make a statement on China and Russia's vetoes of a U.N. resolution that would have asked Assad to step down from power:
While we cannot determine who is responsible for setting the fire, we do know that there are many innocent Syrians who are suffering the grave consequences that such immense destruction can bring. We call on the Syrian regime to allow international NGOs, medical professionals, and monitors into Syria to assist with such humanitarian crises. The same thing the UNSCR draft called for but Russia and China rejected.
This article from the state-owned China Daily argues that Beijing's "veto boosts Syria peace initiatives."
Meanwhile, this Arabic-language Web site that tracks the death toll in Syria reports that 8,228 people have been "martyred" in the ongoing movement against the Assad regime. 553 were children. Some 2,950 were from Homs, the city pictured above.