Monti Warns of European Disintegration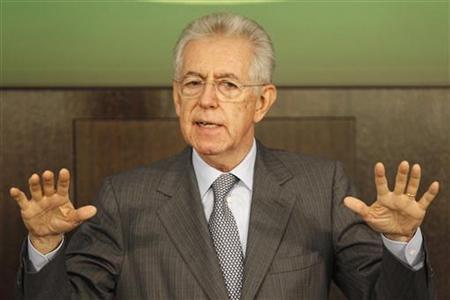 photo credit:  Reuters
The ancient North African Christian theologian St. Augustine once wrote: " Resentment is like taking poison and hoping the other person dies."

That feeling of bitterness, national self-directed anger, and disdain among nations inside Europe for each other has become palpable and manifested itself in Italian Prime Minister Mario Monti's comments last night on The News Hour.

In an interview with senior correspondent Margaret Warner, Monti said "The Eurozone crisis has indeed brought about quite a bit of misunderstandings and the re-emergence of old phantoms about prejudices between the North, the South of Europe, and a lot of mutual resentment."
The Warner-Monti discussion focuses on the broad impact of the European financial crisis and the economic crush underway in Italy as well as the fate of the Euro.  Prime Minister Monti hinted that the Eurozone crisis could not only lead to the disintegration of the Euro, but of Europe itself.
He stated "And it is very, very important that we all take this with great attention in order to avoid that something that was meant to be the culminating point of the European construction -- namely, the single currency -- turns out to be, through psychological negative effects, a factor of disintegration of Europe."

Europe may not disintegrate tomorrow -- and the Euro could some how squeak by in a two-speed European deal, but the deep divisions between those citizens who are now choking under the prospects of long-term, imposed debt burdens and the loss of sovereignty to German bankers and financiers could have the impact of a 21st century Versailles Treaty that dissolves the ties that have bound together the once fractious region.
Monti's comments are not the reckless sort that Silvio Berlusconi might have made.  They are serious and sobering.

>