It's Time for the U.S. to Finally Make Economic Peace With Russia
The country's ascent to the World Trade Organization is an opportunity to help U.S. businesses and continue ramping down tensions still leftover from the Cold War.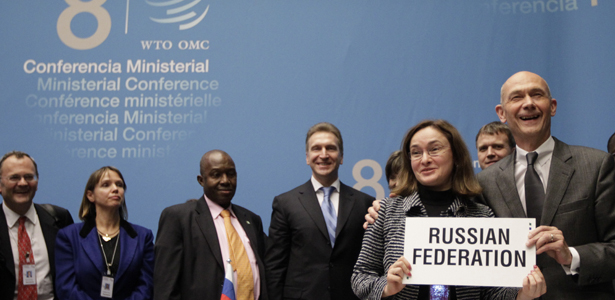 WTO Director general Pascal Lamy holds a sign with Elvira Nabiullina, Russian Minister of Economic Development after the signature of the accession of the Russian Federation as WTO member in Geneva / Reuters
In December, Russia passed an important milestone: it was approved for full membership in the World Trade Organization. The decision still needs to be ratified by Moscow, but Russia's inclusion in the global community of trading partners seems all but assured. So what does this mean?
For one, Russia's WTO membership will have substantial economic consequences in the country's near abroad. Kyrgyzstan has been a WTO member since 1998, and has used neighboring China's WTO membership to create a lucrative reexport scheme for cheap Chinese goods heading to Russia, Kazakhstan, and Uzbekistan. Russia's Eurasian Customs Union has already been creating uncertainty for Kyrgyzstan's future export regime, and the prospect of Russia and China both enjoying lowered tariffs and easier trading could have a severe effect on Kyrgyzstan's economy. According to some economists, Kyrgyzstan's re-export business is one of its top-two economic activities.
The prospect of increased, lower-cost trade with China, however, will almost certainly supersede any concerns about potentially destabilizing the Kyrgyz economy. So what else will Russia's WTO ascension mean?
For one, it will open up the possibility of normalized trade relations with the U.S. -- something that could potentially be worth billions of dollars. However, there are substantial barriers to normalizing trade relations with Russia.
The most important is the so-called Jackson-Vanik Amendment, which has governed U.S. trade relations with the Soviet states (and, now, post-Soviet states) since 1974. Jackson-Vanik essentially forbids permanent normalized trade relations (PNTR, which used to be called Most Favored Nation status) with countries that restrict emigration. It was targeted at the Soviet Union in response to the USSR's interference with Soviet Jews trying to emigrate to Israel. The President has the authority to grant waivers to this amendment, but that is a yearly procedure and can sometimes get Congress worked up.
A recent Congressional Research Service report laid out the issues of normalizing trade relations nicely
PNTR is a major issue in Russia's accession to the WTO. If Congress does not grant Russia NTR the United States would likely invoke the non-application provision meaning that WTO rules and agreements (for example the dispute settlement process) would not apply in U.S. trade relations with Russia. It would also mean that some of the commitments that Russia will have made in joining the WTO might not necessarily apply to the United States.
In other words, denying Russia normal trade relations would essentially penalize American businesses. There is a very easy way for the U.S. to avoid such a problem: pass permanent normal trade relations and permanently exclude Russia from the Jackson-Vanik Amendment. As the world's 11th largest economy and the only member of the G8 with which the U.S. does not enjoy normalized trade relations, it's past time to engage economically with Russia. Lowering the cost of trade will make Russia's markets more accessible to American businesses, leading to growth and increased revenue in the U.S.
The real barrier to normalizing trade relations with Russia isn't economic, it's political, and it's domestic. Ever since President Obama's proclamation of a "reset" in U.S.-Russian relations, a group of Republicans has worked to undo that Reset. While the Congressional Russophobes are vocal in their opposition to any rapprochement with Russian -- they seem to prefer to believe Russia is still an adversary to be opposed (like when John McCain referred to the "old Russian Empire" during the 2008 Presidential campaign) -- the reality is, recent relations with Russia have been better than in almost a decade.
Better-than-ever, however, does not mean frictionless, and there remain serious issues for Washington to work out with Moscow. Besides permanent normalized trade relations, Russia will have to take major steps to curb corruption and the capricious behavior of its officials toward western businesses (such as Rosneft's $20 billion seizure of Shell's gas mining operation on Sakhalin in 2006).
One important first step is Moscow's decision to join the Organisation for Economic Cooperation and Development's Anti-Bribery Convention. Of course, Russia's official ascension to the Convention takes place on April 17, 2012 -- quite some time after the scheduled presidential elections on March 4. (Needless to say, the likely re-re-election of Vladimir Putin will probably not be very fair or free, something that will make it tougher for American politicians who want to normalize trade relations.) So there is clearly some way to go before Russia's full inclusion as a member of the world's economic leaders.
But Congress can take a strong position supporting Russia's inclusion to -- and constraint by -- international financial and trade norms by voting to permanently normalize trade relations with Russia. It would be an important part of further ratcheting down tensions and creating common interests between Washington and Moscow, and would benefit American companies looking for new markets. It is a win-win all around.