Israel's New Political Star
Reading between the lines of Yair Lapid's position on Jerusalem.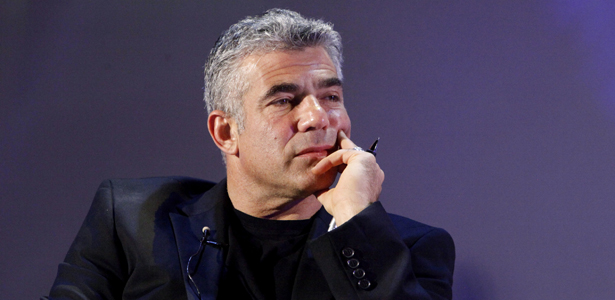 Yair Lapid at a 2010 conference in Tel Aviv / 2010
Israeli journalist Yair Lapid's decision to leave his spot as one of Israel's most popular broadcasters to enter politics has the potential to dramatically alter the Israeli political system. He recently ended speculation that he would join center-left Kadima (describing the party as "a gang of cynical rejects from other parties"), and probably foreclosed the possibility of joining the Labor party by describing them as having "traveled the whole way to the radical left." (His father had earlier served as a Knesset member and Justice minister with the secularist Shinui party.) Recent polling puts a newly formed Lapid party at 15 seats, beating Kadima, tied with Labor, and second only to Benjamin Netanyahu's Likud party. Israeli journalist Ron Maiberg described him as "the people's favorite, the center of the sublime consensus."
But Lapid's recent criticism of Kadima as "not having a clue about what, if anything, they believe" could describe the novice politician as well. Though he claims to have been moved by last year's massive social justice protests, little is known about his actual stance on issues and where exactly he'll fall on the Israeli political spectrum. His positions, gleaned mostly from
a press conference last month
, his weekly columns in
Yediot Achronot
(which he continues to write), and Facebook messages tend toward
generalizations such as
"waging an uncompromising war against vested interest groups, sector-based parties and tycoons, to change the distribution of resources."
Of particular interest to overseas observers is his positions on the Israeli-Palestinian conflict, on which he has remained largely silent since announcing his political ambitions. As described by Israeli writer Jonathan Rosen:
He has refrained from taking a stand on the fate of the territories. Rather, Lapid's approach has been more pragmatic than ideological. He has acknowledged that the failure of peace efforts is not solely Israel's fault, but at the same time has argued that the occupation, and the corruption and division it has sown in Israeli society, are ultimately politically unsustainable.

Even his columns provide little insight into where stands. "His journalistic style rarely offers an incisive bottom line; it usually ends with vague comments," Israeli newspaper Haaretz recently noted.
That's why he made quite a splash this week with a statement on Jerusalem, which he posted on his Facebook page:
As a citizen, I can tell you Jerusalem is not just a place to me, but it's my history and national ethos as well and I think it belongs to the people of Israel and not to anyone else.

Despite a commenter's request for a straight answer, "not a politician's one," his response remained quite vague. Though it hit the nationalist notes common for Israeli politicians, he stopped short of committing to a "united Jerusalem" -- leaving the window open for his possible agreement to divide the metropolitan neighborhoods of the city between Israel and a future state of Palestine in the event of a peace agreement.
As illustrated in The Atlantic's special report on Jerusalem, the city of "history and national ethos" -- the Jerusalem of the Hebrew Scriptures, New Testament, and Koran, and even as recently as the early 20th century, which carries the bulk of the historical and religious significance for both Israelis and Palestinians -- is actually centered in the one square kilometer of the Old City. The boundaries of the modern day city of municipal Jerusalem were delineated by Israel in 1967.
Lapid's comments are thus congruous with the many proposals that suggest, in the context of a peace agreement, dividing the Jewish and Israeli neighborhoods of municipal Jerusalem between Israel and future Palestinian state, while devising a special arrangement for the Old City to protect the sentiments and sovereign instincts that Lapid expressed.