Israel's Love-Hate Relationship with the United Nations
Israel just won a seat on the executive board of the United Nations Development Program, sending a strong message to pro-Israel UN-bashers in America.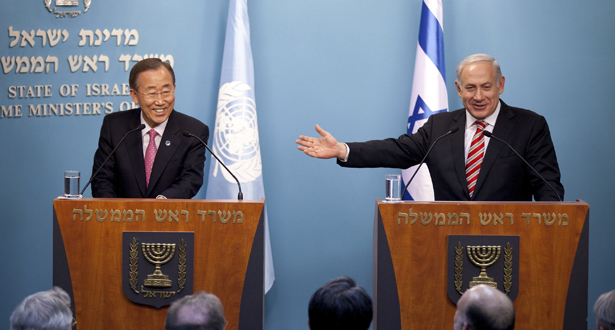 Israel's Prime Minister Netanyahu and U.N. Secretary-General Ban hold a news conference in Jerusalem / Reuters
Israelis today are celebrating their victory in a vote for a seat on the executive board of the United Nations Development Program (UNDP), an influential UN agency with a billion-dollar budget, giving Israel a voice in setting UNDP's agenda and resource allocation. Israel's Deputy Permanent Representative Haim Waxman rightfully boasted:
This is a milestone in Israel's integration to the global agenda of the UN. Furthermore, this is the expression of a journey that we have taken from being a developing nation born in adversity to becoming a developed nation, a member of the OECD and now a full member of the UNDP as a representative of the West.

This jubilation is far from the tone struck by Israeli politicians and many of their supporters (particularly in Congress) last year, who were leading a crusade to defund the UN in response to Palestinians attempts to achieve UN recognition of statehood. Though their concern about this Palestinian strategy may be legitimate, their efforts to defund the UN would actually harm Israel more than the Palestinians. As the leading contributor to UNDP, US efforts certainly played a role in Israel's victory, a senior State Department official told me today:
Obviously on its merits Israel deserves to be on this board as much as any country, as a democracy that cares deeply about the work the UNDP does. But especially in situations where there is an election or competition for a specific position, without US support and engagement it's either very difficult or impossible for Israel to succeed. The US not being in these places, not paying bills, not being a leading voice, greatly affects our ability to help Israel -- not to mention our own agenda on these issues.

Israel's ability to even be eligible for this UNDP role is due to its membership in the UN's Western European and Other Group (rather than the perennially anti-Israeli Middle East regional group it would geographically be a part of) -- a position that the US was integral in securing for Israel, and which has also allowed them to get a seat on the governing council of UN Habitat and will allow them to claim a seat on the  board of UNICEF in 2013. "The fact that Israel wants to be on all these committees, and that it pursued the UNDP seat, shows that it does want to engage in the UN -- but US involvement is critical for them to do so," the State Department official told me. Pro-Israel UN critics may think the UN is not worth engaging, but many on the ground don't necessarily agree.
As veteran Israeli and American diplomats told me last year
:
Israeli diplomats understand frustration with the UN, but see the anti-engagement strategy as foolish. "If there is no correlation between the punishment and the desired outcome, that's emotion, that's not foreign policy," a former Israeli diplomat said. ...

According to multiple sources in the State Department and the U.S. mission to the United Nations, as well as Israeli officials, Israel continually asks the U.S. to remain engaged at the UN -- and often to ramp up its engagement. ... As to the recent anti-UN campaign by self-described "pro-Israel" groups and individuals, [one high-level State department official] said, "Israel is not thrilled this is happening." ...

"If we don't pay our UN dues, not only will we face penalties and potentially losing our vote in the General Assembly, but we also lose our leverage," the State Department official said.

Gaining a seat on the UNDP board is precisely the kind of benefit that Israeli diplomats see in continued US engagement at the United Nations. (Read this article for a laundry list other benefits that Israel receives.) U.S. Rep. Ileana Ros-Lehtinen's United Nations Transparency, Accountability, and Reform Act, which passed in the House Foreign Affairs Committee last Fall but has no Democrats as cosponsors and will not be brought up in the Senate, would undermine this leverage at exactly the time that Israel is making inroads in the institution. "Why would these so-called friends of Israel be trying to pull our leverage when we are so far in front on issues relating of concern to Israel?" an Obama administration official asked me last year.
 
As I wrote at the time, these campaigns follow a distributing trend of "pro-Israel" actors advocating for policies that actually run counter to Israel's interests. Israel's justified celebration of this week's victory at the United Nations should send a message to their supporters here in the US leading the campaign against US engagement at the UN.