Israeli Leader Wrongly Blames UN and Arab States for Palestinian Refugees
Deputy Foreign Minister Danny Ayalon is putting out a series of misleading videos on the Israeli-Palestinian conflict.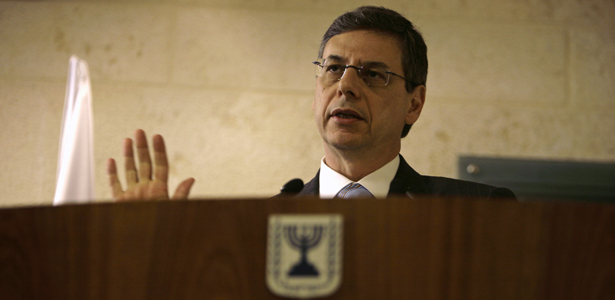 Danny Ayalon / Reuters
At the end of 2011, Israeli Deputy Foreign Minister Danny Ayalon, posted the third video in his YouTube series about the Israeli-Palestinian conflict. These polished presentations are produced by an Israeli public relations firm in collaboration with StandWithUs, a U.S.-based group that counters criticism of Israeli policies regarding Palestinian. The series is promoted as "explanations of the historical facts" of the core issues of the conflict -- thus far covering the peace process, the West Bank, and most recently, refugees. (A fourth video on Jerusalem is said to be forthcoming.)
Ayalon is a former Israeli ambassador to the United States and currently a Knesset member representing Yisrael Beitenieu, an ultra-nationalist party that advocates the transfer of Palestinian citizens of Israel as part of a political settlement. An avid user of social media -- recognized by Foreign Policy in their who's who of 100 Tweeters in 2011 -- he maintains a personal website in Hebrew and English, including links to his widely viewed and frequently reposted Twitter, Facebook, and YouTube accounts. The refugee video alone garnered 37,000 hits within the first two weeks of its release, and currently has over 140,000 views. Ayalon reportedly plans to promote the clips, available in eight languages, globally for use in regular school curricula. The deputy foreign minister has particularly strong appeal among some Christian evangelicals and conservative members of U.S. Congress, with whom he and his party have long cultivated ties and to whom much of his communications appears geared. In short, his effort to influence the narrative on the Israeli-Palestinian conflict can have consequences.
Ayalon's refugee video -- which was dropped from Le Poste (the French equivalent of the Huffington Post) for violating guidelines against racist postings -- makes two main substantive assertions, claiming basis in facts and international law: first, that the Palestinian refugees are caught between Arab host governments who deny them basic rights and the United Nations Relief and Works Agency for Palestine Refugees in the Near East (UNRWA), which he says perpetuates their status rather than resolves their plight -- which he believes should be done by resettling them to Arab countries outside of Israel; and second, that there were more Jewish refugees in 1948 than Palestinian refugees and they suffered more losses.
Ayalon's primary criticism of the UNRWA is that it has failed to resolve a single case of Palestinian displacement, and that responsibility for the refugees should be handed over to the global refugee agency -- the United Nations High Council for Refugees (UNHCR) -- so that Palestinians can be treated somewhat like refugees from other crisis areas such as Bosnia, Congo, or Darfur. This would actually subvert his own argument for resettlement, though; UNHCR's long-standing policy, based in international law, is that the preferred durable solution for refugees is voluntary return. Voluntary local integration and third-country resettlement are considered alternatives where repatriation is undesirable or not possible. In other words, if Palestinians were to be treated like refugees from Bosnia or other conflict zones, the international community would be forced to address their long-standing demand to choose whether to return to their place of origin -- namely Israel.
In criticizing UNRWA, Ayalon ignores the fact that the agency is not mandated to find solutions for Palestinian refugees. UNRWA's authority, given to it by the UN General Assembly, is limited to providing humanitarian and development assistance. It is true that UNRWA has delivered this assistance for multiple decades, but it is precisely because of UNRWA's role that the refugees have been able to achieve varied degrees of normalization pending a political resolution of their rights. It is for this reason that the Israeli government annually supports the renewal of the agency's mandate at the UN and has opposed the cutting of aid to its general fund.
In the video, Ayalon implicitly portrays UNRWA as a resource drain compared to UNHCR -- again ignoring their differences. As a direct service provider for millions of beneficiaries, UNRWA needs staff and money to fulfill its internationally mandated role. UNHCR, on the other hand, typically contracts out service provision for refugees or negotiates socio-economic access with hosting governments. (Frequently unsuccessful in this endeavor, many refugees under UNHCR's authority face extremely dire circumstances, exacerbating protracted conflicts.)
Ayalon is correct in pointing out that the Palestinian refugees in exile suffer human rights violations, but which rights, in which countries, and for what reasons is a complicated story. Refugees in Syria have historically enjoyed social and economic rights on par with nationals, while in Lebanon, where confessional balances dictate the political system, the majority Sunni Palestinian refugee population are denied the rights to work and own property out of demographic fears. In Jordan, Palestinian refugees were automatically nationalized in 1949 and are considered to be the best off, but are still indirectly excluded from jobs in the public sector, including government and military positions. This results in reduced levels of access to public healthcare coverage and affordable university education in the country. The Jordanian government is reported to have arbitrarily revoked nationality from hundreds of nationals of Palestinian refugee origin.
Referencing universal standards, Ayalon accuses Arab states of hypocrisy in their denial of certain rights to Palestinian refugees; ironically, Ayalon may want to take a look at his own country. Israel is currently facing a domestic refugee crisis, with some 30,000 asylum seekers and refugees said to be living in the country without protected status, in contravention of Israel's obligations under the 1951 Refugee Convention, and without basic guarantees such as the right to work.
Ayalon's claim that Arab states deny refugees basic rights as demographic warfare against the Jewish state is also out of context. All Arab refugee-hosting countries endorsed the Arab Peace Initiative (API) in 2002 and again in 2007. The API contains an implicit compromise proposal to implement the right of return in a manner sensitive to Israel's demographic interests following Israeli recognition of international principles. As political landscapes shift in the Middle East, so may Arab foreign policies. Ayalon, however, relies on archaic public statements from former pan-Arabist Egyptian President Gamel Abdel Nasser and long-passed UNRWA commissioners. Rather than quoting Arab leaders in 1969 or UN officials from the 1950s, Israeli officials should be honest about where the political conflict on the refugee question lies today.
This leads to the other major assertion advanced in the clip equating Jewish and Palestinian refugees. In 2008, American historian Michael Fischbach published a ground-breaking study on Jewish Property Claims against Arab Governments. Fischbach mined American, Israeli, and British archives to understand the circumstances surrounding the movement of 800,000 Jews from Arab countries across the Middle East and North Africa over a 20-year period following Israel's establishment. His research revealed that Jews left Arab countries for a variety of reasons, with many leaving behind valuable assets that in some cases were seized by Arab governments. Ayalon reminds us of these claims but wrongly suggests that they fit within the rubric of Palestinian-Israeli relations. Jewish property claims should be resolved as a matter of priority, but bi-laterally with responsible Arab governments and according to the same universal norms applicable to Palestinians.
Ayalon commends his country for resettling Jewish refugees (conflating those who voluntarily pursued resettlement in the Jewish state over years and those who sought refuge from persecution) while accusing Arab states and the UN for perpetuating the status of Palestinian refugees for multiple generations. While Israel did absorb Jewish immigrants and refugees, Ayalon neglects to mention the primary motive: solidifying Jewish demographic majority in the country. As mentioned, several Arab countries that currently host Palestinian refugees cite a demographic disincentive to full integration.
Ayalon argues in his video that the Palestinian refugees were encouraged to flee by Arab countries, who refused to accept the Jewish state. Though this view is still advanced by Israeli officials, it conflicts with mainstream Israeli understandings. According to a new study from Hebrew University profiled by Israeli journalist Akiva Eldar, "virtually all newspaper articles and research studies from the end of the 1980s to 2004", as well as all history textbooks authorized by the Israel's Ministry of Education since 2000, acknowledge that Palestinian refugees were subject to forcible expulsion. As Eldar noted, "It's a rejection of the [...] narrative that 'there was no expulsion in 1948.'"
Putting aside the question of culpability, irrespective of why the refugees left their homes, they were barred from returning to them despite their desire to do so. This underscores the fundamental distinction between the vast majority of Jews who left Arab countries and Palestinian refugees: whether Jews fled out of a fear of persecution or out of a desire to settle in Israel, they did not face a similar denial of the option of return.
Ayalon's video series simplifies and distorts the conflict with the hope of manipulating public perceptions in favor of rightist Israeli views. His attack on UNRWA was repeated at a high-level meeting of the UNHCR in Geneva days after the video was posted. And it comes at a time of heightened Congressional hostility to humanitarian aid to Palestinians (on top of a general scrutinizing of foreign aid), risking further support for this faltering agency that even Israel has recognized as being an important tool for conflict management. Whether Ayalon's criticism is part of the traditional Israeli narrative on the refugee question or signals an intention to escalate attacks against the UN agency, his extremist interpretations and misrepresentations of the historical record and international law are a dangerous addition to the discourse on the conflict.