From Mao Zedong to Jeremy Lin: Why Basketball Is China's Biggest Sport
Long before the NBA arrived, missionaries, revolutionaries, and communists helped make the game ubiquitous here.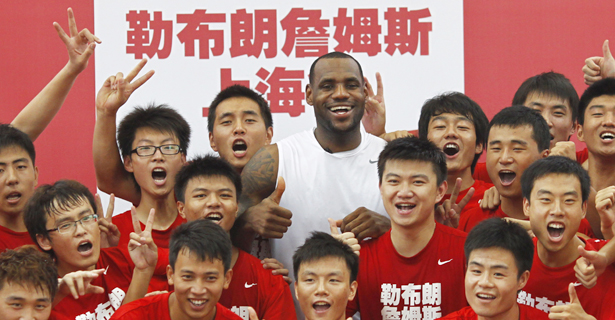 LeBron James smiles during a photo session with university student volunteers in Shanghai / Reuters
Inside the cobblestone courtyard of the Forbidden City and surrounded by six-century-old palaces lies an unexpected sight for foreign tourists. As they walk under the giant portrait of Mao Zedong and pour through the dark archway of the Tiananmen rostrum, they arrive at two well-maintained basketball courts, their green astroturf and gray concrete clashing with the ancient crimson columns and the dusty yellow tiles.
Basketball is never out of place in modern China. Its ubiquitous presence often surprises first-time visitors, many of whom consider the sport quintessentially western. Ambling in quiet street parks in early mornings or walking by urban high school campuses in late afternoons, one hears chasing steps, a thumping ball, shouting voices, and the silence of anticipation followed by joyous cheers. Driving along unpaved roads on China's inland plateaus and steppes, one starts to notice the basketball stands and hoops flashing by -- lone statures amid wooden shacks and wild grass. Outside the manufacturing plants that sprinkle the nation's east coast, workers swarm into basketball courts after finishing their shifts to stretch the limbs numbed by long hours on the production lines and to break the monotonous daily routine with sweat and laughter.
An estimated 300 million Chinese people play basketball -- roughly equivalent to the entire population of the United States, according to the Chinese Basketball Association. Many Americans are just now learning of China's enthusiasm for the sport as the success of Jeremy Lin, a California-born Knicks player of Chinese heritage, becomes an international phenomenon. But the sport is almost as old in the land of Lin's ancestors, and maybe even more popular, than it is in the U.S.
Introduced to China over a century ago by YMCA missionaries just a few years after the game's 1891 invention in Springfield, Massachusetts, basketball has seeped into the fabric of Chinese lives. Until the NBA arrived in early 1990s, basketball had come to feel so intrinsically Chinese, most people did not even associate it with America. Unlike in the U.S., where a garden of sports -- from baseball to football to ice hockey -- all play a part in shaping a diverse athletic landscape, in China, basketball is perhaps the only true national sport, the only sport that brings together people of all backgrounds and kindles the nation.
Some of the first groups that embraced basketball in China were college students, western-minded scholars, and, most importantly, members of the Communist party, who loved the sport for its cohesive power. During the Long March (the Red Army's storied year-long retreat in the 1930s to evade the Nationalist army), Communist soldiers and officers played basketball to lift their spirits and boost solidarity.
The party continued to support the sport after it took power in 1949. During the Cultural Revolution, Mao declared war against almost all Western bourgeois affections, from classical music to novels, but he never wavered in support of basketball. Deprived of all forms of cultural enrichment and lacking the most basic athletic equipment, children and young adults roamed around their neighborhoods, setting up boards and hoops in alleys and courtyards and pouring their energy into the simple game of shooting the hoops. "At that time, China had basically only two sports: basketball and ping pong," my father, a teenager during the height of the Cultural Revolution and a devout basketball fan told me. "If you were young and loved sports, you only got these two to choose from."
The People's Liberation Army has long encouraged many of its two-million-plus active duty service members to play basketball for its ability to cultivate camaraderie and even tactical teamwork among soldiers. Under slogans such as "Boost National Image" and "Friendship First, Competition Second," basketball became the most popular pastime in the military camps. Different levels of military hierarchy were divided into something like leagues, which hold regular tournaments among their teams. For a while, many star players received high military ranks and such perks as separate dining, cars, and expensive clothes.
"From 1949 to the early 1980s, the first-rate basketball players were all from the military teams, with the Bayi at the top," recalls Wang Yongzhi, the associate editor in charge of Olympic sports coverage at Tencent.com, China largest web portal. He was referring to the Bayi Rockets, an all-military men's team named after the founding date of the PLA (bayi means August 1). It dominated Chinese basketball well into the 1990s, producing stars such as Wang Zhizhi, China's first player to enter the NBA. Though favored by the country's old military system, Bayi couldn't keep up with the changes of the 1990s and saw its dynasty decline as commercial basketball leagues entered the market and started importing foreign players. Most recently, the team captured international media coverage for brawling with players of the Georgetown Hoyas in a supposedly friendly match last fall.
Still, playing basketball for fun is just as popular, maybe more so, than watching the professional teams. "For many of my classmates in China, the only sport they do is basketball -- our campus didn't have much space for other sports," said Wang Chen, a basketball lover and freshman at Yale who graduated from a famously competitive high school in Beijing.
Basketball also offers Chinese youth, many of whom have no siblings due to China's one-child policy, a way to form deep connections with their peers. Although China lacks a nationwide college sports association like the NCAA, students still organize sports teams based the academic departments within their universities. Cai Wei, a graduate of Beijing International Studies University, played center for the department of International Economics and Trade basketball team. "We are like a family," she told me. "It's the single large community of friends I had from college." Now a consultant at a U.S. accounting firm in New York, she still keeps in close touch with her former teammates, most of whom are also abroad.
If Chinese basketball was popular before the NBA arrived, it has since become an outright craze. Since 1987, when the U.S. league first gave broadcasting rights to China Central Television free of charge, it has cultivated an estimated fan base of 450 million. Megastars like Kevin Garnett and Lebron James are household names in the country, and Kobe Bryant is revered absolutely. The NBA's popularity in China boomed in 2002, when Yao Ming signed with the Houston Rockets. His first game against Shaquille O'Neal and the L.A. Lakers attracted more than 200 million Chinese viewers. Part of it may be national pride, but it's mostly passion for the sport itself. Zheng Xiuyi, a sophomore at Yale from Shanghai and a basketball fan, said that he cheered for the Rockets initially because of Yao Ming, but is now rooting for it even after Yao retired. "The Rockets is my team," he said to me, paused, and said it again.
"For the kids, it's like the Hollywood and McDonald's," said Wang Yongzhi, the sports editor at Tencent.com. Zheng believes that, as his Chinese peers watch more American basketball, it will lead them to explore other aspects of American society. "I think if you tell young people in China not to look abroad but just pay attention to their own business, they can't do that anymore." Reading about the thousand customers who lined up for the opening of an NBA store in China, or watching the teenage Chinese boys in baggy pants and Adidas sneakers mimicking the cocky drills of their NBA idols, it's hard not to agree.
As international sports brands have rushed into China to capitalize on the lucrative market there, commercializing what had become a beloved pastime, the feel of Chinese basketball has certainly changed. Still, it may not have drifted too far away from the game played by communists on the Long March, by children during the Cultural Revolution, by soldiers in the People's Liberation Army, or even by police guards inside Beijing's historic Forbidden City.
After retiring from his job at a state-owned company, my father has picked up his old hobby and started playing basketball every morning at a nearby street park. The court, half-size and paved with asphalt, is sheltered from the pebble-stone paths and a nearby highway by a ring of pine trees. Walking into the court at 7 a.m. before starting his warm-up, he would nod to other regular players, with whom he has become friends after matches that left him sore in his waist but full of chatter the next day. There is a retired military official, a district court prosecutor, a mid-level government cadre, a college professor, an IT entrepreneur, a hedge fund manager, a 70-year-old farmer living with his married child, and a sea captain at China Ocean Shipping Company.
As the casual exercise begins, the rhythm of bouncing basketballs fills the park, uninterrupted by cars racing by on the highway or Peking Opera singers practicing in the nearby woods. Thump, thump, thump, thump.