Does Obama Really Support the Hamas-Fatah Unity Agreement?
Exploring America's options if Hamas joins the Palestinian government.
Exploring America's options if Hamas joins the Palestinian government.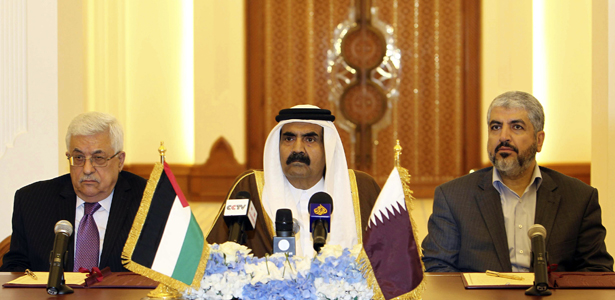 Palestinian President Abbas and Hamas leader Meshaal sit on either side of Qatar's Emir Sheikh Hamad during a meeting to sign an agreement in Doha / Reuters
The Israeli and Arab press have been abuzz with stories that the Obama administration has informed the Palestinian Authority that is has no objections to last week's Qatar-brokered reconciliation deal between Fatah and Hamas -- a deal that Israeli Prime Minister Benjamin Netanyahu quickly decried as a death blow to the peace process. "The Palestinian Authority must choose between an alliance with Hamas and peace with Israel," he said last week. "Hamas and peace do not go together."
Israel supporters were quick to condemn the Obama administration for their reported indifference -- or even support -- for the agreement. The Anti-Defamation League, in an indignant public letter to Secretary of State Hillary Clinton, expressed "deep concern" about the reports administration's reaction, urging them "to remain steadfast in demanding that Hamas must meet the Quartet requirements prior to any cooperation or joint governance with the Palestinian Authority, and make clear to President Abbas there will be consequences to proceeding with a unity government with a pro-violence, anti-Israel Hamas."
The reality is that the ADL's demand is the administration's position -- and it made that clear four days before the group wrote its letter. As State Department spokeswoman Victoria Nuland made clear in a press briefing on February 6:
What matters to us are the principles that guide a Palestinian government going forward, in order for them to be able to play a constructive role for peace and building an independent state. Let me just reiterate those for all of you again: Any Palestinian government must unambiguously and explicitly commit to nonviolence. It must recognize the State of Israel. And it must accept the previous agreements and obligations between the parties, including the roadmap. So those are our expectations.

And our redlines remain the same in terms of what we expect of any Palestinian government, and those - the redlines that affect our ability to deal with it. ...
I will say that our own position on Hamas hasn't changed. It remains a designated foreign terrorist organization.

She reiterated the administration's position again at a briefing on February 9, in response to a Wall Street Journal article that took issue with her earlier statement:
As we've said again and again and again with regard to Hamas, any Hamas participants who come into the government, if they want to work with us, have to recognize the state of Israel, have to renounce violence, and have to agree to uphold any past agreements of the PA. That standard does not change. And we've said that every time we've talked about this.

So while the administration certainly did not bless the Fatah-Hamas agreement, I spoke yesterday to George Washington University professor and astute Hamas observer Nathan Brown to find out what options the administration has in dealing with the situation:
People in Congress will be watching Obama like a hawk, so using a waiver [to continue funding a Hamas-Fatah government] would be politically impossible. Anything involving assistance, that's when Congress gets very heavily into the act. When trying to fight a budget battle and battles on other fronts, this is not a fight the administration wants to wage.

But when it comes to diplomacy, I think the Obama administration does have a bit of a freer hand. The negotiations after all are not between the Palestinian government and the Israeli government. It's with the PLO [Palestine Liberation Organization], and Hamas is not included in the PLO. So formulas could keep negotiations alive on the diplomatic front, especially if there is not Hamas participation in the PLO.

So does the new unity agreement mean that Hamas is now part of the PLO?
You have to go back to the 2005 Cairo agreement and the subsequent Egyptian paper, which formed a 'committee of factions,' which was really just an oversight body that sits on top of the executive committee of the PLO, but its exact duties are not spelled. It has been called into existence but has no formal standing. When the Palestinian negotiators showed up in Amman, Hamas said, "Wait a second, you're supposed to clear that with this body, you're already violating this agreement."

So as to Hamas inclusion in the PLO, the first step was taken but it does not mean anything. Full participation of Hamas in the PLO executive committee has not happened and I cant believe it will any time soon.

You could argue Hamas is part technically part of the PLO, but I haven't seen anybody argue that so far. On the administration side, there is no interest in pressing this issue. If you were in Congress, you could press this issue. Given the current leadership in Congress, I'm surprised it hasn't come up yet. The only thing I can think of is that Israelis have conveyed to them that don't want to deal with this headache.

Brown also pointed out the new-found vehemence and specificity with which the Obama administration is conditioning its support for the new Palestinian government on the retention of current Palestinian prime minister Salam Fayyad, who, according to reports, will not remain in his post as part of the new unity deal. As Nuland said last week, "What matters to us and what matters, we think, to the process that we are trying to keep on track here is that Abbas remains the president, that Fayyad remains the prime minister."
Brown's analysis of Hamas's true standing in the Palestinian decision-making apparatus seems to bolster the "wait and see" approach outlined by the State Department and the administration's reluctance to close the door on negotiations under a Fatah-Hamas government just yet.