Azerbaijan Is Eager to Host Eurovision—but Not Any of Its Gay Fans
When the European supershow arrives at Baku in May, openly gay celebrants won't be welcome.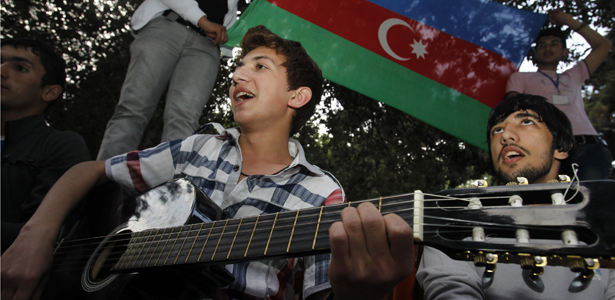 Azeri youth celebrate their country's victory in the 2011 Eurovision contest, which means Baku will host the enormously popular event next / Reuters
With performers from all over Europe getting ready to descend on Baku in May to compete for the best pop act of the year at Eurovision, conservative, tightly managed Azerbaijan is confronting a host of its cultural and political demons.
Money is not an issue here. The hydrocarbon-rich country is splurging big bucks to dazzle viewers with a show worthy of Eurovision, an annual exercise in glitz and disco beats. But the contest will bring along demographics that are not particularly popular in Baku -- journalists, Armenians and gays.
Since the contest is known to have a strong gay fan base, some thought it is a perfect occasion to hold a gay pride march. The proposal immediately sparked an angry response. Opponents demanded that Baku keep its streets straight with a "Say No to Gay Pride in Baku" Facebook page, where the merits and demerits of homosexuality are being hotly debated.
Interestingly enough, the head of one organization that deals with LGBT issues in Azerbaijan is also not particularly enthusiastic about the idea of a gay pride march. "Neither our community, nor [the] majority of representatives of sexual minorities are ready for it," commented Kamran Rzayev, chairperson of the Gender and Development non-profit group, told News.az.
The chances for a gay pride march in Baku may look remote, but many in Azerbaijan hope that the music contest nonetheless will become a catalyst for change. Human rights activists have tried to use the opportunity to draw attention to the country's poor democratic credentials, while some observers hope that the event will contribute to peace-building between Azerbaijan and its main antagonist, Armenia, which plans to take part in Eurovision.
The government, busy decorating the city for the razzle-dazzle in May, keeps saying that everyone -- Armenians, included -- is welcome to Baku, but how far that welcome will extend to gays remains a toss-up.
This article originally appeared at EurasiaNet.org, an Atlantic partner site.