Afrobeat for Freedom: Nigeria's First Family of Musical Activism
A generation after Fela Kuti invented a genre and challenged his oil-rich government, his youngest son Seun is carrying on the tradition.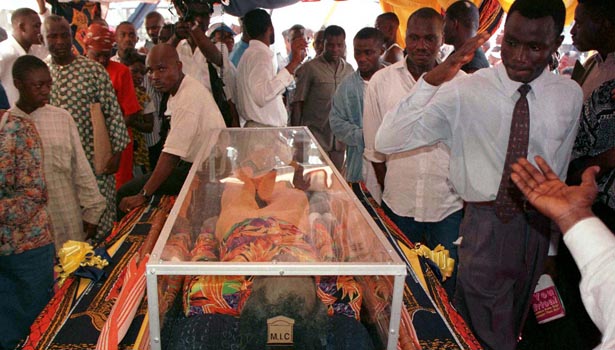 Nigerians file past the body of Afrobeat star Fela Anikulapo-Kuti at his funeral in 1997 / Reuters
It was 1969 when Sandra Izsadore first heard Fela Kuti. The Nigerian musical icon, more commonly known as just Fela, was performing at the Ambassador Hotel in Los Angeles. He sang in his native tongue, Yoruba.
"I asked him what he had been singing about, and he told me, 'I was singing about soup,' so I started laughing," Izsadore said.
Not long after their first encounter, Izsadore helped Kuti politicize his music, which gradually became a voice for Nigeria's anger over corruption and inequality. "I told Fela that his music should have words that encouraged the people or at least taught people to raise their awareness," she remembered.
Today, as Nigeria confronts more issues of government accountability, Fela's son Seun has taken up the tradition of musician-as-activist.
That tradition began when Izsadore fell in love with Fela and returned with him to his home in Nigeria. With her help, he became the father of Afrobeat, half-musical genre, half-political movement, the latter a response to government corruption and negligence across Africa. Below, one of his early Afrobeat performances, from 1971 in Calabar, Nigeria:
Fela was soon writing songs about the Nigerian government, which used the country's vast oil reserves to line the pockets of its moneyed political elite. At one point, Fela declared his commune -- replete with armed soldiers to guard his legendary Africa Shrine nightclub -- a separate national entity, The Kalakuta Republic. Government thugs infiltrated the republic and burned down the nightclub, but it was rebuilt in another part of Lagos shortly after.
Izsadore eventually severed her romantic ties to Fela, who at one point had 27 wives, most of whom sang and dance with him in revealing outfits at the Shrine. In 1997, he died of complications related to AIDS.
Since her time with Fela, not much has changed for the Nigerian people, Izsadore said, citing her most recent journey to the West African nation, in 2006.
"When I looked around and I saw the infrastructure of the country, it was like it hadn't changed. And it hasn't still. If anything, it's gotten worse," she recalled, on the phone from Los Angeles, where she is now a social worker.
Izsadore said her outlook on Nigeria is becoming even grimmer as she watches news coverage of the ongoing Occupy Nigeria movement, demonstrations to reinstate the oil subsidies that Nigerian President Goodluck Jonathan scrapped last month.
In her song, "Nigeria," Izsadore tells Nigerian authorities, "You failed to listen to Fela."
The removal of the subsidy, one of few ways Nigerians benefit from their country's national resources, meant drastic price increases in gas and public transportation for a country with some 76 percent of the population living below the poverty line, according to the most recent
figures
.
In her blog post, "Why Are Nigerians So Angry About the Removal of the Fuel Subsidy," Lagos-based British-Nigerian journalist Enô Alfred writes, "My 60-Nigerian naira (US$.40) journey from home to the bank increased to 100 naira in the space of 24-hours when the petroleum subsidy was removed."
Izsadore says her only hope for Nigeria lies with Seun Kuti, Fela's youngest son, born to one of his most famous co-performer-cum-wives, Fehintola Kuti. Seun is now 30 and living in Lagos.
A musician in his own right, Seun is also an activist helping to lead the pro-subsidy demonstrations and, in the longer term, pushing for more effective oversight for the next elections, scheduled for 2015. A presidential vote last year was considered an improvement on past elections, but is still marred by reports of fraud. Many of Nigeria's Muslims were also angered that the presidency went to the second Christian in a row, though the country has an informal tradition of rotating the office between Christian and Muslim.
"I came out in favor of the Occupy movement because the government needs to listen to people and not just take decisions and think Nigerians are fools who will accept what they say," Seun told me over the phone from Lagos, just before rushing off to a performance.
"When people saw him, large numbers started coming out to support the cause," said Ade Oloye Tondu, who manages Seun's musical career. Tens of thousands are reported to have started pouring into Nigerian streets around the same time that Seun and other national celebrities joined in.
Although he is only dating one woman, and she is neither a dancer nor a singer in his band, Seun is following in the footsteps of his father's musical activism. He plays in the same band his father once led, Egypt 80, at a nightclub also called The Shrine.
"When I listen to my music and my father's music, it's a continuation of something original," said Seun.
In his lyrics and his speeches at rallies, his father's characteristic fervor shine through -- a kind of battle call against the self-serving, disconnected leaders that have perpetually plagued much of Sub-Saharan Africa since many nations achieved independence from colonial rule in the 1960s.
In the song "Rise," Seun implores Africans to rise up against foreign exploitation, from oil companies in Nigeria to diamond traders in The Democratic Republic of the Congo. Here's the "Rise" music video, and below that are lyrics:
I decry for Africa when I see 'em in the hands of these people...
The business that they do,
Them, they sell our continent away.
Them, they sell them every day
Then they bring the people down...
We must rise up one day,
We must rise up, I say
We must rise against the petroleum companies...
We must rise against the diamond companies
They use our brothers as slaves for their stones
We must rise up against all the African rulers...
We must rise up against companies like Mosanto
And Halliburton
Them, they use their tricks to make my people hungry
In a recent rally, Seun went after the Jonathan administration, referencing Nigerian laws that forbid same-sex sexual activity.
"When two men fuck each other, it is better than one man fucking the nation as a whole," he told the crowd.
Asked about that quote, Seun laughed, clearly a little self-satisfied.
"I'm not an activist for gay rights, but gay people can be as gay as they want to be. What I don't like is when our politicians play on people's minds by saying homosexuality isn't in our culture and that our people can't be gay," he explained.
Izsadore worries that Seun's audacious acts of dissent could put him in danger.
"I do have concerns for Seun. He's right there at the helm," she said.
"What the Nigerian authorities should understand is that when you knock one person down, someone else will take up the torch."
Under previous, harsher administrations, the Kuti family has paid a toll for its dissent. Fela's original Shrine was burned down and his band members attacked. Seun's own grandmother died when, in 1978, she was thrown from her balcony for speaking out against the government by a large group of armed men sent by the ruling military junta to crack down on Fela's renegade Kalakuta Republic.
Seun has been using Twitter and Facebook less recently, after facing some pressure from authorities.
"We have had to be quiet on Twitter and Facebook lately, but only so that we can continue to rework our strategy and come back stronger without demands," said Seun's manager, Tondu.
Seun insisted that he isn't frightened of government retribution.
"I try not to think too much about the dangers," he said.
Seun believes the Occupy movement is proof that, though the socioeconomic injustice that inspired Izsadore's song "Nigeria," persists, the people involved in contemporary demonstrations did not "fail to listen to Fela."
"Fela is not a failure. His generation failed, not him," Seun said, "Now, the people are going to be more powerful than ever. That goes to show he wasn't a failure."