Afghan Textbooks to Cut Out Much of the Country's Post-1973 History
Education has been one of Afghanistan's few bright spots since the Taliban fell, but the government is taking a big step backward.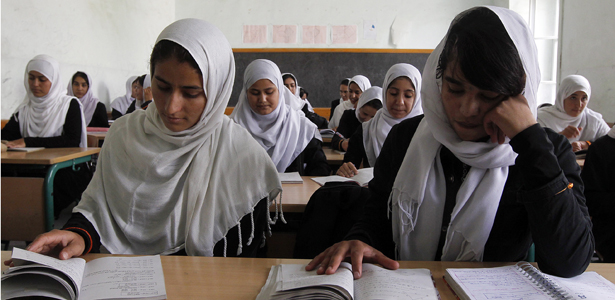 Girls study in a school in Kabul / Reuters
---

MORE FROM THE COUNCIL ON FOREIGN RELATIONS
---
I recently finished reading Joseph Ellis' excellent biography of George Washington, and was struck by a particularly poignant passage. As Washington's best efforts to strike an honorable deal with the Native Americans fail, he worries that the Indian side of the story would never make it into the history books, "They, poor wretches, have no press thro' which their grievances are related; and it is well known, that when one side only of a story is heard, and often repeated, the human mind becomes impressed with it, insensibly." (p. 371) As the saying goes, winners write the history books - which is why the Afghan government's recent decision to eliminate any post-1973 events from its school texts is so worrisome. Since none of the major groups can agree on a basic set of facts, the country's new school books simply leave out the last four decades of events: no Soviet involvement, no brutal years of civil war, no rise of the Taliban, and no U.S. involvement. The intention - the hope - is that this know-nothing "de-politicized" approach will lessen tensions by avoiding controversy and division in schools, which since the 1970s have been ideological battlefields. It will "encourage brotherhood and unity," says Education Minister Farooq Wardak, optimistically. But the absence of modern history in the school books is more likely an indication of irreconcilable divisions in society rather than a portent of national reconciliation.
Education has actually been one of the bright spots in Afghanistan since the toppling of the Taliban. With fewer than half of boys - and just 3 percent of girls - enrolled in school in 2001, the starting point was admittedly wretched. But by 2008, net enrollment for boys and girls in primary school had increased to 68 percent and 42 percent respectively.  Although the female literacy rate nationally was just 12 percent in 2008, literacy has risen to nearly 40 percent among young girls. Across the country, as I can personally attest from my visits there over the years, Afghans hunger for education; and polls show that upwards of 85 percent of the population supports equal educational opportunities for girls. Still, parts of the country - especially rural areas - seriously lag in education. In some provinces, especially in the south, female literacy is as low as 1 percent, and male literacy as low as 14 percent.
With American troops scheduled to withdraw in 2014, international attention to - and resources for - Afghanistan will inevitably wane. Whether it can continue to make educational gains will be a key determinant of the country's future. The Ministry of Education's goal is to get most of the approximately 4 million kids who are out of school into a classroom in the next three years. That means increasing school enrollment from its current level of 8.4 million to over 12 million - requiring a significant increase in teachers, training, and infrastructure. In a positive development, the Global Partnership for Education at the end of January pledged $55 million over three years to help develop Afghanistan's education system. (The history-less high school text books, by the way, were funded by the U.S. military through the Commander's Emergency Response Program.) Afghan education officials make the case that since the text books will be used even in Taliban-controlled areas, any inclusion of controversial material would be a non-starter. Yet, simply eliminating history seems unlikely to entice the Taliban to teach the official curriculum. There are too many reports of Taliban-controlled schools just replacing the national curriculum - which includes science and English - with their own focused solely on Islamic studies.
As I've noted before, I think the prospects for a negotiated peace in Afghanistan are dim. The inability of Afghans to agree on even a basic outline of their shared history over the past forty years is another indication of just how large the gaps are that divide.
This article originally appeared at CFR.org, an Atlantic partner site.