Adventures in Translation, Part 2,148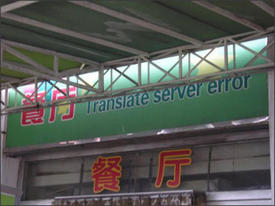 Everyone's favorite illustration of the perils of computerized (mis)translation has been the scene at right, from a restaurant in China in the mid-2000s.
Below we have a new candidate, courtesy of a friend in Australia, who in turn relays it from a friend in the Middle East.
Ah, Babel. Ah, computers and their programmers.
(Update: I see that the Guardian is on the case too.)