A cross-section of this large and diverse country discuss the year since Hosni Mubarak's departure and what they see in the future.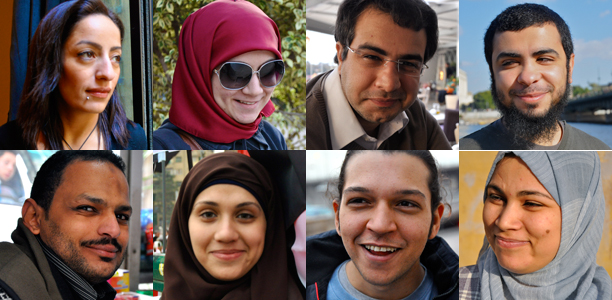 Regular Egyptians, whatever their role in the events of the last year, are struggling to figure out what comes next / all photos by Lauren E. Bohn
One year after Egyptian President Hosni Mubarak resigned, yielding to the demands of the hundreds of thousands of protesters packed into the now iconic Tahrir Square the revolution has turned out to be more tangled and knotted than anyone had imagined. And far from over.
As the Supreme Council for the Armed Forces asserts its increasingly incompetent (or malevolent) leadership, and as activists and political parties fight over their country's future, individual Egyptians are still trying to figure out what comes next and how they fit into the new Egypt. After decades of trampled possibilities, Egyptians are working to figure out not only what they stand against, but the more definitive and ultimately divisive question of what they stand for.
Egypt's story has at times seemed like an existential struggle between the future and the past. While photogenic revolutionaries grabbed the world's attention, the country teems with a varied 80 some million people and just as many stories.
On the first anniversary of Mubarak's February 11 ouster, a moment that seemed to freeze in time, nine Egyptians from across the country and all walks of life reflect on a tumultuous year and a future that's still being fought over -- why "revolution" is relative and why, like in any story, sometimes the most difficult part to conceive is the end.
Abdel Rahman Ayad, 25, The Disaffected Activist
Exactly one year ago, Abdel Rahman Ayad's feet were bleeding. For 18 days, he'd make nightly treks from downtown Cairo's Tahrir Square back home to his house in Heliopolis, an affluent Cairene suburb. He protested every day, but always promised his mother he'd come home after sunset to visit her.
Ayad, 25, calls his friends "matey" -- sailor's parlance he picked up while working for a German-based shipping company that's taken him around the world. He's thoughtful, with schoolboy eyes that look eager for trouble. He likes hash and Indian food, optimally in concert. And, in natural form, he curses like a sailor.
He was born and grew up in Abu Dhabi, where his father worked in business, but decided to "get back to his roots" and moved to Egypt for college. He studied at the Maritime Academy in Alexandria and spends an average of eight months a year on a ship. He was supposed to set sail on Jan. 10 of 2011, but he decided not to go. He expected something to happen in Egypt and he wanted to be a part of it.
This year, he spent the revolutionary anniversary in Alexandria, wading through Egyptian bureaucracy, getting documents signed and certified to set sail once again. "If this were last year, I'd tell the sailing company to go fuck themselves. I was fighting for my country," he says. "This year? Man, I'm just trying to get out to the sea again."
Before the revolution, Ayad says he didn't fit in. And now, he says he still doesn't. He's "not pumped up enough to be a revolutionary." But he's not apathetic enough for the popular Hezb al Kanaba, the party of the couch. In fact, he wishes he were more indifferent. Like many, he's frustrated, if not angry, by a regime he says is still running the show. Back then, days spent in Tahrir seemed like the beginning of an exciting story, one where anything could happen. Now, he feels the square's more like a bad sequel.
"It's sad because maybe it shows the majority of Egyptian people don't deserve better, because they're not fighting for it," he says. "You can't want something for them more than they do." Still, after he larks around the world by sea, he hopes to return to Egypt. He's developed a love-hate relationship with the place he can't seem to shake. And he still has hope, he reassures me -- or perhaps himself -- every five minutes.
Ehab Mohammed, 24, The Young Salafi
Ehab was excited to find a marketing job so quickly after graduating from Cairo University. Most of his colleagues, and about one-quarter of his Egyptian counterparts, can't find any work at all. Sixty percent of Egyptians are 30 years old or younger, and at least one of every four between ages 18 and 30 are out of work. So when he landed a gig at Nourayn Media, a media company that specializes in Islamic content, he was thrilled. The soft-spoken, but not meek, self-proclaimed Salafi -- an adherent to a strict interpretation of Islam -- says he's always known Islam would be the solution for Egypt. But when he took the job pre-revolution, he never thought his mild-mannered Salafi boss would soon be the spokesperson for one of Egypt's most powerful political parties, al-Nour, which won about a quarter of the new parliament's seats.
The Nourayn Media office now shares space with the party and, on any given day, is chock-full of journalists, all trying to figure out who the Salafis are, where they come from (funded by Saudi Arabia? Qatar? Kuwait?), and what they want the new Egypt to look like (will there be beer and bikinis?).
These questions don't seem to weigh on the 24-year-old Ehab, who proudly says he could spend his days praying and "eating" books. He just finished some Marx and is now juggling two more: a book on the theory of relativity and Hadiths a collection of sayings of Prophet Mohammed.
In college, Ehab worked at a call center to help support his family. His parents died of cancer, both in the same year, leaving his uncle to raise the family.  Their home, a small uncharacteristic flat nestled in a maze of worn-down, russet-roofed buildings, houses something of a microcosm of Egyptian Islam. His uncle's a Sufi, adherents of a mystical form of Islam. Ehab's younger brother is a steadfast Muslim Brotherhood youth and his youngest brother, Ahmed, is simply "strange." Ehab clarifies, "He goes out with girls a lot. And never really prays."
"My mother, always, religious, would have loved to see us now more welcome. My father, who liked to smoke shisha, may have not. But that's democracy," he says, taking a book out of his bag. He opens to a page anchored by an embroidered bookmark reading Hurreya, which means "freedom" in Arabic. "Not everyone is going to like everything."
Hind el-Hinnawy, 34, The Struggling Feminist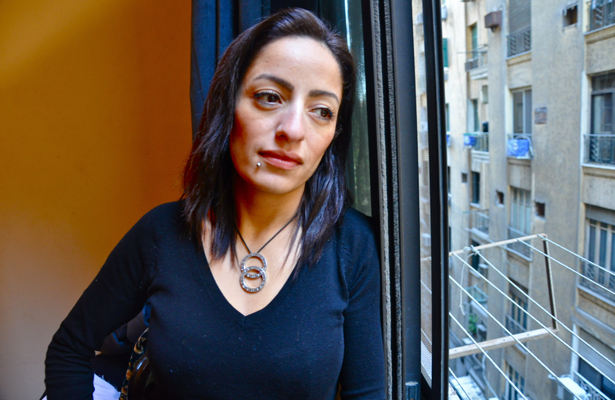 Hind's bookshelves tower over her as she pulls down Bonnie G. Smith's Global Feminisms Since 1945 (Rewriting Histories). The small, raven-haired firebrand rocks a silver piercing on her chin and tight designer jeans that, despite her size, make her easy to locate her in a downtown crowd. In 2005, the designer-turned-activist created a national scandal when she took famous Egyptian actor Ahmed el-Fishawy to court to prove that he was the father of her child. Egyptian law stipulates that if a woman gives birth outside legal marriage, the child is illegitimate and is not considered fully eligible for social services. Hinnawy sought to prove that an urfi marriage contract -- an Islamic agreement that binds a couple under God -- existed. "It was only when I faced the laws and talked to lawyers that I understood how difficult it would be," said Hinnawy, who eventually won the case.
In the days after Mubarak's ouster, Hind radiated with the promise of a new beginning. The whole country seemed to tingle with possibility and Hind was dreaming up plans to start new initiatives for women. Now her features are rinsed in a jaded exhaustion. She worked intensely with many women's groups after the uprising but says they've gotten lost in a cul-de-sac of never ending emails, stalled in a perpetual phase of brainstorm. Like Hind, many women fear a sweeping retreat to the past, as activists put less emphasis on women's rights and women are sidelined in the political process. In the country's parliamentary elections, only nine of the newly elected 498 parliamentarians are women.
There were days she wanted to protest in Tahrir against SCAF, but life got in the way. After the uprising, her interior design company went under and she had to pick up a job at an insurance company.
Hind's been busy applying for a PhD gender studies program in London, but she changes her proposed thesis nearly every day, because "there's no fucking theoretical framework here to draw upon," she laughs, lighting her fifth cigarette of the hour.
"We don't know to change. We don't where to start," she says. "And I'm not going to say that now is not the time to focus on women, but Egypt's problems are so much bigger."
Yasmine Nassef, 24, The Hopeful Graduate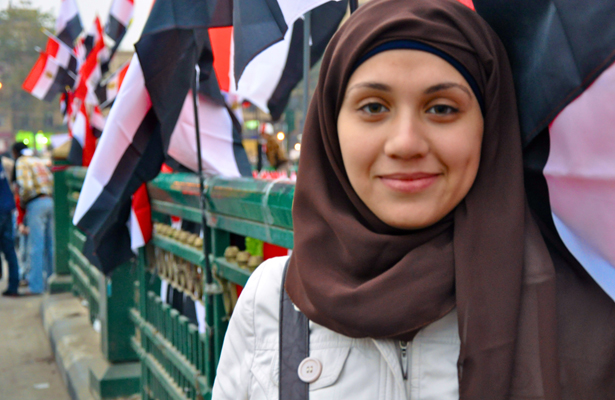 She stands on the dirt-floor roof of her building in Imbaba, a poor neighborhood three times as dense as Manhattan and stretched out on Cairo's west bank. That's where she goes when she "can't take so much noise" and wants to take in an elevated view of her city of 20 million.
Last year, she huddled in the same corner, catching a cool breeze that drifted across the mustard-hazed horizon of roofs, each lined with drying sheets and dotted by satellite dishes. "Mubarak has killed the will inside our hearts," she said. "Time has come for the people to launch a huge revolution and demand change."
A Cairo University graduate, she has a law degree and interns at the Center for Egyptian Women's Legal Assistance. Though veiled and "very religious," for Yasmine and many of her friends in Imbaba, once nicknamed the Islamic Republic of Imbaba, daily woes like the rising price of bread and gas tubes trump religion. She doesn't trust the Muslim Brotherhood and fears Salafis will trample on already anemic women's rights.
"Nothing has changed, but I have faith," she says, the racket of a neighbor's fight filtering into the bedroom she shares with her sister. Her boyfriend works at an insurance company and they're waiting until he makes enough money for them to get married. In Egypt, it's not until your married, she explains, that you can really become an "adult" in society. And it's customary that the husband buys a flat before the marriage -- something that's almost next to impossible in Egypt's crippled economy.
"I have hope," she says, adjusting her scarf before tuning into a Turkish soap opera. "We had to get rid of Mubarak only to start our real revolution, so it's just the beginning."
Rojeh Reda, 20, The Wary Christian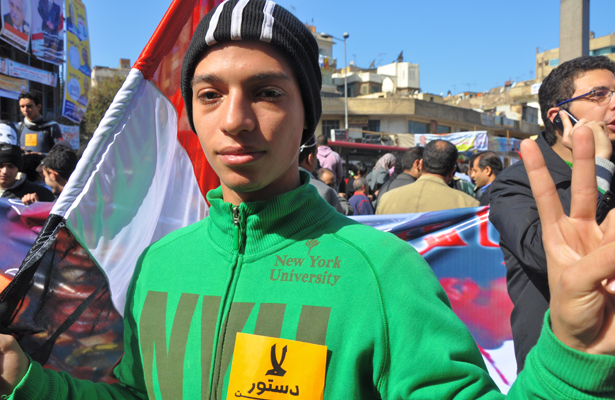 Rojeh "JoJo" quotes Shakespeare and the syrupy lyrics of Egyptian pop singer Amr Diab in the same breath. He always wears a cross around his neck and often a bright green New York University hoodie he picked up in a neighborhood shop. His Facebook wall is plastered with imagery of Jesus and his five year old sister Catherine. A novice photo editor, he desaturates most of his self-taken portraits and inserts phrases like "Jesus is my light" and "Shake the water away to move freely in the sea," airbrushing in words like "fight" in bold colors to blunt the plaintiveness. He often calls himself "a rebel."
He scoops ice cream at a dessert shop in New Cairo (about 45 minutes from his home, but one of the only places he could find decent work), and is generally sweet but still carries leftover teenage, and revolutionary, angst. One day, he distilled his political motivations into a sign, punctuated by a Guy Faskes mask: "The corrupt fear us. The Honest support us. The Heroic Join us." The corrupt are the Islamists, Brotherhood, and the Salafis, he explains. The honest refers to "liberals and all the people who want to live in freedom." And the heroic? Everybody who doesn't fear to have  "the second revolution."
In his heart of hearts, though, he says he knows it's not that simple. Many Christians like Rojeh were initially reluctant to participate in Egypt's uprising, fearing marginalization in an increasingly Islamized society. Just how safe Copts were under Mubarak is open to question, of course, given the sectarian violence and widespread suspicion of Christians that his regime had stoked as a hedge against Islamist challenges to its rule.
"We need to suffer before we reach true salvation," Reda says, applying his faith to his country. "Hopefully I'll still be living when I see that day in Egypt."
Sondos Assem, 24, The Brotherhood's Twitter Representative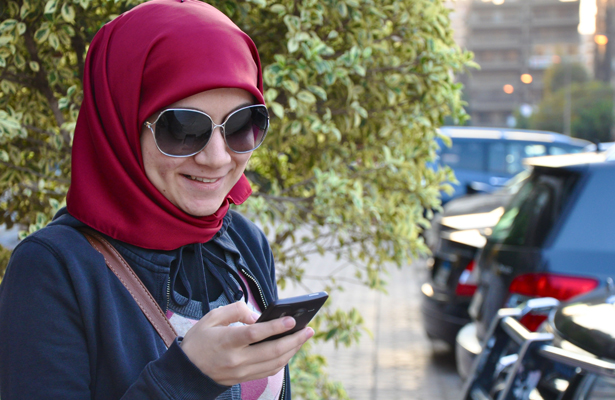 If last December you had told reserved graduate student at the American University in Cairo that she'd be perma-tweeting a revolution that brought down Mubarak, she says she would have laughed. If you had told her she'd be doing so mostly for the Muslim Brotherhood, she would have said "No way, not possible!"  But on January 25th, the one-year anniversary of the uprising, she glided into a posh hotel café off the square in sunglasses and a trenchcoat, armed with her omnipresent smartphone, running the Brotherhood's official English-language Twitter feed at one of the most crucial times in the Islamist party's history.
Just a few months ago, Assem didn't want her real name published in a Foreign Policy article -- but now, the Brotherhood's electoral success seems to have given her a boost of confidence. She has emerged as an unofficial spokesperson of sorts, helping to run the Brotherhood's English-language Twitter feed, @Ikhwanweb.
Over the past ten months, many "Tahrirists" have complained the Brotherhood has hijacked their revolution, but Sondos says it's just as much her revolution as anyone else's. She recalls how she went to Tahrir with her mother on January 25th last year; they had planned to meet with her father, both he and Sondos' brother were arrested and held for 48 hours.
Long locked in the Western public conscience as a bevy of bearded men, the Brotherhood's twitter face, decked in a chic wardrobe with a worldly resume, is a calculated break.
Her role in the organization and the group's casual adoption of Twitter is reflective of a central issue and broader question the group faces in Egypt's embryonic political landscape: who speaks for the Brotherhood? When asked where she might deviate from the Brotherhood's ideology, she starts and stops a few times, struggling to articulate that she "maybe" disagrees with the Brotherhood on their not endorsing a female for president.
Arzac Adly, 28, The Server of Egypt's 1%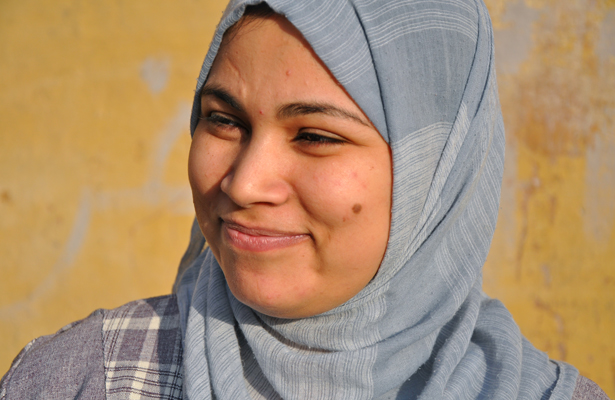 The rubbled road to Arzac Adly's house in Haram, a slum area nestled near the pyramids, runs past a series of small mosques and pharmacies, a chain of beiges and yellows that stretch into a mustard-hazed horizon. Adly says she remembers walking down that same road a year ago when she heard it was the end to Mubarak's reign. "I was sad," she said. "I knew life would be different. And I was right. It's harder."
Arzac is a 29 year old bathroom attendant at one of Cairo's most posh restaurants, nestled on the tip of Zamalek, the leafy island in the Nile that is the city's center of privilege. It's only a few miles from her home, but it smells and feels like a different world. A beehive of BMWs and Mercedes swarm at the entrance. Clad in a grey uniform and an always daintily colored veil, she smiles dimly. As Cairo's rich and beautiful parade purposely into the bathroom right past her with quilted Chanel bags and red-soles, status symbols that are lost on Adly, she greets them with a faint habibti (darling). She's never had "the weird fish" (sushi) they serve at the restaurant, and jokes that the whole place is a bit strange. It's a different world, she admits.
For the past several decades, Egypt has been a country of polarities; stark first-world wealth juxtaposed with, but never quite rubbing up against, grim third-world poverty. And though the uprising has caused society to crack open, not everyone appears to have suffered. It's harder to isolate yourself, sure, but it's possible.
"We're all Egyptians, of course," she says. "But sometimes I do think why and how lives come to be so different. Who decides?"
Bassem Sabry, 29, The Liberal in Crisis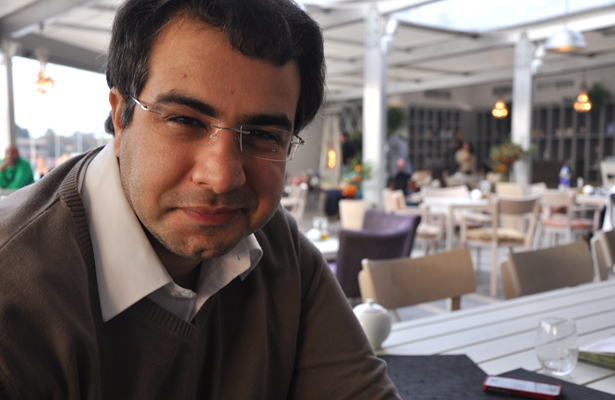 Bassem, 29, sitting inside the same café where Arzac works, announces his self-diagnosis, one that's become en vogue among the joking set: PTSD, Post-Tahrir Stress Disorder. His puppy eyes sit behind chic frames that reflect his always buzzing Samsung Droid. He bumps into acquaintances at the café -- the scene is a carousel of all who know each other, halted sporadically by kisses on both cheeks and greetings sluiced in formalities.
The media executive has made a name for himself in the Egyptian Twitterverse (13,000 followers) with his curation and sharp insight. "It's gotten to the point where I'm afraid to turn on my phone. I'm always anxious. What if one of my friends got hurt? Arrested?" he says. "It's realism. Not paranoia."
Since the fall of Mubarak, secular groups have been grappling with existential questions about what they stand for and what life will be like for them beyond Tahrir. Egypt's "Twitterati," once the spokespeople of the revolution, have seen some of their stars fall and fade as they've lost support from an Egyptian public tired of the constant calls to rally in Tahrir and frustrated by their lack of planning and mobilizing beyond the square.
Bassem concedes the Twitterverse can be an echo chamber and says he wants to do more on the ground. He frets over a Gallup poll from September, which showed that 84 percent of Egyptians said continued protests were a" bad thing" for the country.
As a "proper liberal," he explains, he's always felt different from the rest. But now, he feels squeezed between the army and Islamists. He's been talking to scores of self-identified liberals to get at one of the harder questions in new Egypt: "What does it mean to be an Egyptian liberal?" After he figures that out, he says, he hopes to coalesce and refine their goals. On his rare free moment, he's working on a book compiling answers to the question, "What's the most important lesson you learned in life?" He gave a Tedx talk on the subject a few months back.
He says that one of the most recurring elements in the answers he's collected is overcoming failure -- doing something even if you knew you might fail.
Ashraf Mohammed, 42, The Widower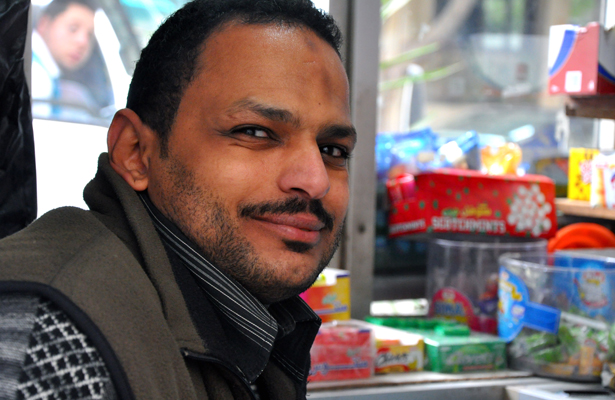 Ashraf spends most of his days in Zamalek, where he owns and manages a tiny kiosk, but lives across the river in Imbaba. You can find Ashraf brooding behind the counter at the stroke of 9 a.m. He's a boxing fiend, both player and fan, who says he heard about Philadelphia long before the vibrant New York City or Hollywood because that's where Rocky is from.
Ashraf had planned to go Tahrir all week to commemorate the anniversary of the uprising, but instead, on the 26th of January, he sat in his kiosk weeping. His wife had died, leaving him to take care of their son. Fatima had been battling complications of Hepatitis C for years. Egypt has led the world in infection rates since a 1970s campaign to combat another chronic malady, called Bilharzia, inadvertently spread Hepatitis C through the reuse of needles.
He didn't take any time off to mourn his wife's death because, aside from work, he says there's not much to do. It's business as usual. "You just keep looking ahead, especially in these times," he reasons. "Life goes on, God willing."
Come evening, with his boxing gloves thrown over his shoulder, Ashraf locks up and heads over to his uncle's ground floor flat where his son is playing. Tonight, he's planning to take him along to the ring. "He'll like boxing, too," he says, roughly smoothing his son's hair. "All Egyptians are fighters."