Why Won't Abbas Negotiate?
For the Palestinian leader, there is a real cost to coming back to the table.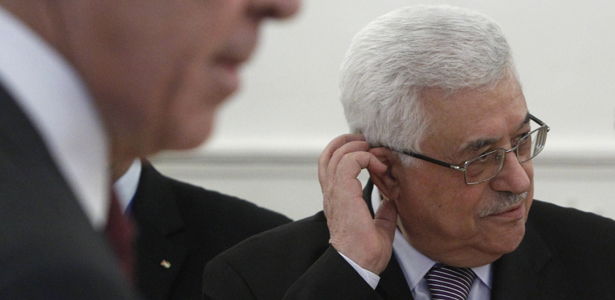 Reuters
Since the collapse of the Jordan-sponsored "preliminary talks" between Israel and the Palestinians last week, both sides have been throwing around the usual recriminations, each blaming the other for the breakdown. On Saturday, Palestinian Authority President Mahmoud Abbas pointed to "Israeli intransigence" as the reason for their failure. "We are completely serious about talks with the Palestinians, but unfortunately the Palestinian side refuses," Israeli Prime Minister Benjamin Netanyahu shot back on Monday.
Netanyahu is right that it is the Palestinians who ended the dialogue after five meetings between Israeli envoy Yitzchak Molcho and PLO representative Saeb Erekat. The Palestinians claim they are just sticking to the January 26 deadline set out by the Quartet in September. A whole convoy of international actors is calling on Abbas to continue the talks, starting with Netanyahu himself, and continuing this week with European Union foreign policy chief Catherine Ashton as well as the Irish and Canadian foreign ministers. United Nations Secretary General Ban Ki-moon, the German foreign minister, and U.S. special envoy David Hale are all expected in the region in the coming days bearing the same message.
So why won't Abbas return to the table? What's the harm in continuing the discussions, even just to prove to the world his contention that the Netanyahu government is not serious about negotiations?
There actually is a cost, as Ghassan Khatib argues this week:
The Palestinian-Israeli negotiations that took place in Jordan over the month of January were very controversial among the Palestinian people and politically costly for the Palestinian leadership, headed by President Mahmoud Abbas.

This is because the Palestinian leadership had said repeatedly that it would not renew negotiations unless Israel stops settlement expansion. Israel did not comply. Moreover, the Palestinian leadership promised the public to proceed with attempts to internationalize the conflict, rather than allow their cause to continue languishing in bilateral talks.

The clearest distinction between Abbas's Fatah and their main competitor, Hamas, is that Fatah argues for negotiations as the only way to resolve the conflict, and Hamas argues for violent resistance (or "popular resistance"
as they are now describing it
). Every time negotiations fail, Abbas loses credibility and Hamas gains. This is particularly true when Abbas draws a line in the sand (in this case, his demand for a settlement freeze) and then is forced to proceed anyway.
At a time when revolution is in the air throughout the region, Abbas's political situation is precarious, to say the least. Certain forces in Israel may be looking to intentionally undermine him, but the alternatives to him are much worse for Israel. Abbas is justified in being hesitant to re-enter negotiations once again unless there is a high chance of success.