Why the GOP Presidential Candidates Are Wrong to Bash Foreign Aid
It's not just bad policy. With popular support for the programs, it's bad politics as well.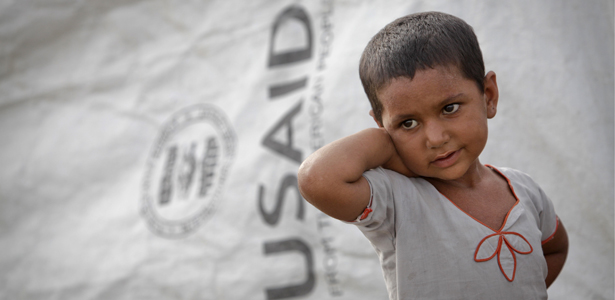 A 6-year-old Pakistan girl named Farzana stands outside of her family tent, donated by USAID as part of a relief effort for the floods there / Reuters
---

MORE FROM THE COUNCIL ON FOREIGN RELATIONS
---
Unsurprisingly, foreign aid has once again become a political football in this year's primary season. Today's GOP presidential candidates regularly bash it, echoing "Mr. Republican" Robert Taft--who dismissed overseas assistance more than six decades ago as "pouring money down a rat hole."
But public opposition to providing foreign aid is one of the hoariest misconceptions in U.S. foreign policy.
In fact, U.S. citizens support foreign aid, particularly when it is targeted to alleviating poverty and humanitarian suffering. This is remarkable, given the magnitude by which Americans consistently overestimate the percentage of the federal budget actually devoted to foreign aid. These findings emerge from a newly updated digest of U.S. and international polling on global issues developed by CFR and the Program on International Policy Attitudes. They suggest that bashing foreign aid--as most of the leading GOP candidates for president have done--is a campaign strategy of dubious value. It may provide red meat to the Republican base, but it ignores the generous impulses of the American majority.
All of this brings to mind a famous lyric from the Broadway show, Porgy and Bess. To paraphrase Gershwin, things you're liable to read in the (GOP foreign policy) bible ain't necessarily so.
In the United States, there is actually a broad consensus that developed countries have "a moral responsibility to work to reduce hunger and severe poverty in poor countries"--81 percent of the U.S. public holds this view (WPO, 2008). Americans also believe that it is in rich countries' own interest to help poor countries develop, but that wealthy nations are not doing enough to help poor nations.
U.S. public support for foreign aid has proven resilient despite the global economic downturn and the struggles of many Americans to get by.  In a 2010 poll by the Chicago Council of Foreign Affairs, 74 percent of U.S. citizens polled favored providing "food and medical assistance" to other countries, and 62 percent favored delivering "aid to help needy countries to develop their economies." To be sure, the recession had dragged down these numbers slightly from 2004 (when the equivalent figures were 82 percent and 74 percent), but both propositions retained clear majority support.
As in years past, when asked, Americans initially tend to say that their government should reduce economic assistance to other nations (CCGA, 2010). But this attitude rests on persistent misperceptions of the share of the U.S. federal budget devoted to aid. For decades now, U.S. citizens have overestimated U.S. foreign aid spending by several orders of magnitude. When WorldPublicOpinion.org asked the public in 2010 to estimate the percentage of the federal budget going to foreign aid, respondents on average reckoned 27 percent--and suggested that a more appropriate percentage might be 13 percent. The actual figure is less than one percent. (When informed of the actual figure, Americans tend to be initially incredulous). When given accurate information, a clear majority of Americans favors either increasing current aid levels or keeping levels constant. In addition, a large majority of Americans say they would be willing to increase spending on foreign aid to meet anti-poverty targets, provided other nations agree to do the same.
During  recessions, legislators are quick to target overseas assistance for the scalpel. Unlike military spending, after all, there is no powerful domestic constituency that will be alienated by draconian cuts.
But here the public parts company with politicians.
When asked by pollsters to engage in an (imaginary) budget-cutting exercise of their own, Americans did not single out foreign aid, especially its more altruistic forms, for disproportionate cuts. In 2011, for example, the Program for Public Consultation provided a representative sample of Americans with an online exercise, allowing them to manipulate the U.S. federal budget, broken down into 31 categories. Participants actually increased funding for humanitarian aid by 18 percent and nicked global health by just 2 percent, while cutting development assistance by a more significant 14 percent. On average, respondents cut these three aid programs by 3 percent--significantly less than the average of 11 percent they advocated across the 31 programs. By contrast, respondents placed heavier cuts on U.S. aid programs with less altruistic motives, recommending a 15 percent decline in military assistance and a 23 percent reduction in Economic Support Funds (essentially political support for U.S. allies).
However, the Republican presidential candidates have read the field differently. Mitt Romney and Newt Gingrich have both endorsed Texas Governor Rick Perry's idea of "zeroing out" the U.S. foreign aid budget, and eliminating all assistance "to countries that don't support the United States of America." Gingrich has stated, "I think it's a pretty good idea to start at zero and sometimes stay there." Romney has agreed that the United States should "start everything off at zero." Unsurprisingly, the libertarian Ron Paul has been most scathing, calling foreign aid to Africa "worthless." As he said at Tuesday's presidential debate, "I think the aid is all worthless. It doesn't do any good for most of the people. You take money from poor people in this country and you end up giving it to rich people in poorer countries."
Indeed, among the remaining GOP candidates, only former Senator Rick Santorum has rejected "zeroing out" foreign aid, describing it as a form of "pandering." Of aid to Africa, Santorum argues, "it's absolutely essential." His rationale is partly strategic, noting that the continent has in the past been "on the brink of complete meltdown and chaos, which would have been fertile ground for the radical Islamists to be able to get a foothold." But he's also been among the most ardent GOP champions of HIV-AIDS assistance in Africa.
Such positions suggest that Santorum, alone among the GOP hopefuls, would help preserve George W. Bush's greatest presidential legacy: his enormous expansion of foreign aid, notably his President's Emergency Plan for AIDS Relief (PEPFAR), which has saved hundreds of thousands, if not millions, of lives worldwide. Bush also launched the Millennium Challenge Account, to channel more aid to countries that rule justly, promote economic growth, and invest in their people. These investments testified to the generosity of the United States and to the president's conviction that well-targeted aid could advance human dignity worldwide.
This article originally appeared at CFR.org, an Atlantic partner site.