Why Russia and Georgia Are Fighting Over Fiji
The Caucasus nation even sent 200 free laptops as part of its charm offensive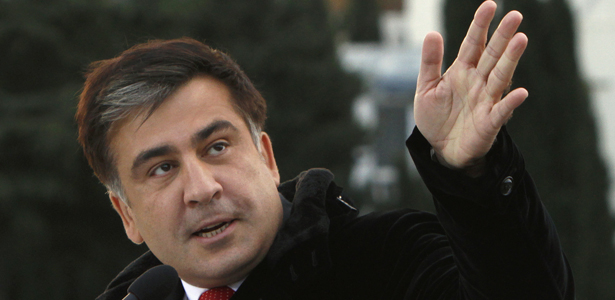 Georgian President Mikheil Saakashvili / Reuters
"Think of all the beautiful moments we had together. Think of your international commitments. Don't do it, Fiji!"
That's essentially the message from Tbilisi as the tiny South Pacific country of Fiji prepares to welcome Russian Foreign Minister Sergei Lavrov on February 1 for what Georgia fears could be a lot of sweet talk from Moscow about recognizing the independence of breakaway Abkhazia and South Ossetia.
"We really hope that the government of Fiji remains loyal to international principles . . .and good relations and partnership with us.... and resists this temptation," was how Georgian Deputy Foreign Minister Davit Jalaghania put it officially.
And, in an apparent attempt to provide some small incentive for the island country to stick to those principles, the Georgian government delivered 200 notebook computers to Fiji this weekend. But will Georgia's entreaties do the trick?
Moscow has denied having any plans to bribe Fiji, a developing country, in exchange for recognition of Abkhazia and South Ossetia. It says it's just in the region for  (with apologies to Rodgers and Hammerstein) some  "happy talk."
But the Pacific island country of Nauru is alleged to have fallen prey to $50-million-worth of Russian persuasion. Hefty assistance is believed to have been offered to Tuvalu, as well. Russian pressure and Western counter-pressure on Fiji's neighbor, Vanuatu, almost left that country with a split personality disorder.
In nearby Australia, Fiji's largest benefactor, there seems to be little doubt what Lavrov's neighborhood call is all about. Australia's Parliamentary Secretary for Pacific Island Affairs Richard Marles described Russia's international campaign to collect signatures for Abkhazia and South Ossetia's independence as "checkbook diplomacy."
One New Zealand foreign policy specialist dismissed that label, but expressed the wish that Moscow will be open about "what the Russians are doing."
"We'd like to know what the figures of aid are. We'd like to coordinate our aid with their aid, if it's legitimate, because we're all working towards the betterment of the Pacific peoples," University of Auckland Associate Professor Stephen Hoadley told ABC Radio Australia. 
Meanwhile, some Georgians are keeping an eye on the weather.
Heavy rains have been lashing Fiji, but Lavrov has pledged that the downpour will not derail his mission."We can hold talks in any weather, as long as we don't get washed away," the foreign minister said, wryly.
This article originally appeared at EurasiaNet.org, an Atlantic partner site.