Why Europe Should Be Glad its U.S. Troops Are Leaving
The continent's long-held American presence is being scaled back, but that might be an opportunity for the European Union to take more of a leadership role.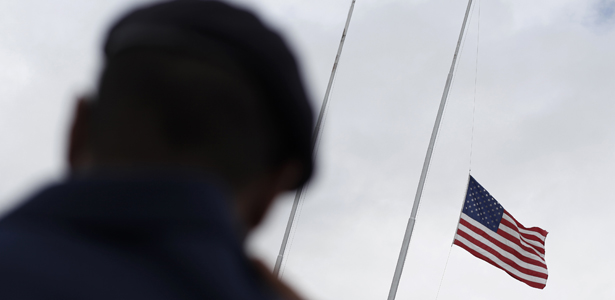 A U.S. servicemember watches as the flag at the Ramstein U.S. Air Force base in Germany is lowered to half-mast in honor of a killed soldier / Reuters
The United States has had an impressive military presence in Europe since the end of the Second World War. Now, that's changing. This month, the Pentagon announced it will be withdrawing thousands of troops from Europe in part of its new shift to focus from Europe and the Middle East to, in particular, Asia. For the most part, Europe doesn't seem irritated by the continental downgrading in priority -- if individuals have felt their countries to be ignored by the U.S., that's been going on for a while. The debate that is taking place in the media, however, is what Europe itself needs to do to fill the security void.
While the troop withdrawal is, strategically speaking, most relevant to NATO, which has been struggling for a while, NATO's major European members are also the leaders of the European Union, and it's here that some of the experts see opportunity for expansion. In French paper Le Monde's multi-part expert weigh-in, international relations professor and Higher Institute of Armament and Defense (ISAD) director Jean-Jacques Roche pointed out that the U.S. withdrawal from Europe will "enhance the international visibility of the European Union," and turn it into "an essential interface between member states and NATO." It will be good, he further argued, for member states who first joined NATO, then the EU, to realize that the EU is their "most durable insurance policy."
Of course, for all these benefits to accrue to the EU as the U.S. scales down its European presence, the EU itself and its member states will have to step up -- and there's strong media awareness of this fact, not least because, whether politely or not, it's a topic the U.S. has been lecturing about for some time. Back in June, U.S. defense secretary Robert Gates blamed NATO's "dim if not dismal future" on the lackluster participation of its member states, complaining that some within the alliance were "apparently willing and eager for American taxpayers to assume the growing security burden left by reductions in European defense budgets."
With headlines like "Europeans have to take greater care of their own safety" coming out of Germany now, it seems the troop reduction has brought about the desired effect. Policymakers also appear to be keenly aware of the challenges ahead, German ministers of foreign affairs Guido Westerwelle and Thomas de Maizière warning last week against Germany overestimating its own military might. As Westerwelle talked about the rise of new power centers, saying that "without more integration, we will be further marginalized," de Maizière pointed to the reality of Germany's limited military, arguing for more careful prioritization and leaving issues like Somalia to others.
Naturally, the advantages and challenges facing Europe with the American troop reduction are different depending on whom you're asking. "The American disengagement could be the best and the worst of things for Europeans," wrote the director of France's Institute of International and Strategic Relations (IRIS), Jean-Pierre Maulny, providing another perspective in Le Monde.

The best in that it could lead Europeans to take better care of their own security interests, and by more autonomous. That's a European necessity and an American wish. [...] The worst in that Americans won't abandon their way of putting pressure on European decisions: that's not part of the philosophy of American politics of multipartnership.
American pressure aside -- and Maulny referred to some "threats" that he said were already being leveled about the NATO meeting in Chicago in May of 2012 -- it's clear that the troop reduction certainly opens up space that is the EU's for the taking. It's not quite a vacuum, as the withdrawal of 10,000 American troops will still leave 30,000 behind. But it's a gap that can either be filled by Western European states or by Russia, as European leaders are well aware. The U.S. has effectively declared that it has other matters on its plate, like its engagements in Afghanistan and the rise of China. If Europe steps up, and perhaps uses the new security issues to drum up support for the flailing EU integration effort, maybe everyone in the E.-NATO extended family can go home happy.