Who Are Boko Haram and Why Are They Terrorizing Nigerian Christians?
The African terrorist group has been in the news lately, but they're more complicated than you might think.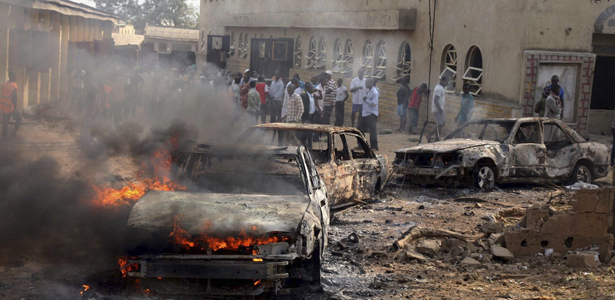 A car burns at the scene of a bomb explosion for which Boko Haram took credit at St. Theresa Catholic Church at Madalla / Reuters
MAIDUGURI, Nigeria - Boko Haram. If you've heard of them at all, you probably know them as the ultra-secretive, yet hyperactive Islamist sect seemingly bent on murdering Nigerian Christians and bringing down the young democracy of Africa's most populous nation. In the span of little over a year, they've gone from local oddity to national terror. Yet no one seems to quite know who they are or what to do about them.
---

MORE FROM THE PULITZER CENTER:
Boko Haram's Church Bombings
Tough Love for Nigeria
Nigeria's Northern Insurgency
Nigeria: Do-or-Die Politics
---
To help separate myth from reality, the following is a brief introduction to Boko Haram.
Origins
Boko Haram is actually the nickname in the Hausa language for the group officially known in Arabic as "Jama'atu Ahlis Sunna Lidda'awati Wal-Jihad"--the People Committed to the Propagation of the Prophet's Teachings and Jihad. Coined by northern Muslims and subsequently picked up by the press, the name Boko Haram translates loosely as "Western education is forbidden" and is derived from one of the chief tenets of the teachings of Muhammad Yusuf, the group's early leader, who claimed that western style education ("boko" in Hausa) and the holding of government jobs are religiously forbidden, or haram, under Islam.
One of a number of young Nigerian clerics who embraced Saudi Arabia's Wahhabi/Salafi strain of Islam in the mid-1990s, Yusuf called upon Muslims to remove, by force if necessary, Nigeria's secular government and replace it with an Islamic state. Though he remained ambiguous enough to avoid prosecution for outright treason, his aggressive rhetoric, the growing ranks of his followers, and fears--later to prove well-founded--that the group was stockpiling weapons soon began to worry local authorities.
After years of tension and a series of minor incidents, things finally exploded in July 2009 when a group of Yusuf's followers were stopped by police in the city of Maiduguri--Boko Haram's traditional home--as they were on the way to the cemetery to bury a comrade. The officers, part of a special operation aimed at stamping out violence and rampant crime in northeastern Borno State, demanded that the young men comply with a law requiring motorcycle passengers to wear helmets. They refused and, in the confrontation that followed, several were shot and wounded by police.
Yusuf responded by unleashing an armed uprising, breaking into a prison and attacking government buildings and police stations. Fighting quickly spread across five northern states and lasted several days.
The response from the federal government was severe. Federal soldiers deployed to rein in the group were filmed summarily executing suspected militants in the streets. Yusuf was killed while in police custody. His body was discovered still wearing handcuffs. In total, over 1,000 people died in the fighting.
Boko Haram was subsequently banned by the government. Its mosques were demolished, and its surviving members scattered and went underground.
The return
After a year-long lull, Nigeria's Muslim-dominated north witnessed a distinct surge in violent attacks beginning in mid-2010. Several churches were bombed on Christmas Day that year in the central city of Jos, long a flashpoint of violence between Christians and Muslims. Militants bombed party offices and assassinated office seekers seemingly at will in the run-up to the April 2011 national elections. In June, they managed to detonate a bomb inside the heavily guarded national police headquarters, then made international headlines in August when a suicide bomber plowed an explosive-laden car through two security barriers and into the lobby of the United Nations' offices in Abuja, killing nearly two dozen people and wounding another 80. Finally, they capped the year by bombing churches and government compounds for the second Christmas in succession.
Meanwhile, thousands of federal troops, deployed to northeastern Nigeria in early 2011 in an effort to deprive Boko Haram of a secure base from which to operate, quickly found themselves bogged down in a sustained insurgency, complete with suicide bombings, hit-and-run attacks and IEDs.
What do they want?
Here's where things get complicated.
As all of this has been going on, Boko Haram has for the most part kept quiet. So in the absence of any solid, verifiable demands, speculating about the group's true aims has become a national--if not international--obsession.
In the choosing of churches as targets for bombings, many see an attempt to drive a wedge between Christians and Muslims and perhaps push Nigeria into a civil war fueled on both sides by religious extremism.
Some observers, struggling to come to grips with the dramatic growth in both the sophistication and frequency of attacks, have begun to suspect the influences of external groups bent on opening a new front in the Global War on Terror. In August 2011, General Carter Ham, the head of the U.S. military's Africa Command, claimed Boko Haram was collaborating with the Algeria-based Al-Qaeda in the Islamic Maghreb. And a report published by the U.S. House of Representatives Subcommittee on Counterterrorism and Intelligence in November 2011 suggested that Boko Haram may have also forged links with Somalia's Al-Shabab.
Others counter that while there is some anecdotal evidence of contact between Boko Haram and AQIM, the latter's primary objective has always remained the overthrow of the government in Algeria and there is no proof of operational coordination. They point out that links to Al-Shabab--currently tied up at home simultaneously battling Ethiopian, Kenyan, and African Union troops--are even more tenuous.
Though Muhammad Yusuf advocated the establishment of an Islamic state in Nigeria, his grievances were always deeply rooted in the local politics of Boko Haram's native Borno State. Some northern dignitaries argue that the group is hardly more ambitious today.
In a video posted on YouTube on Jan. 15, 2012, Abubakar Shekau--Yusuf's deputy, previously believed killed in the 2009 violence--resurfaced to deliver a warning to President Goodluck Jonathan and Christian leaders. It was clear from his message that the group's primary motivation remained its quest for revenge for the government crackdown. Earlier, in a secret meeting with former Nigerian president Olusegun Obasanjo in September 2011, Boko Haram representatives had asked that the government withdraw its troops from Maiduguri, rebuild its destroyed mosques and pay traditional compensation to the families of those killed in the 2009 violence. Hardly the stuff of global jihad.
If all of that wasn't convoluted enough however, there is also a growing belief--particularly in the north--that much of the current violence has little or nothing to do with Yusuf's disciples. This theory holds that while a small number of nihilist, Islamist elements certainly exist in the north, Boko Haram has become little more than a brand name, a murky confluence that now also includes criminal opportunists as well as disgruntled political bosses and their henchmen. "Boko Haram has become a franchise that anyone can buy into. It's something like a Bermuda Triangle," said Borno State Governor Kashim Shettima.
What next?
Public opinion is divided over how to deal with the threat posed by Boko Haram. Many Christians have called for increased military action to obliterate the uprising. The Muslim religious and political elite on the other hand have exhorted Jonathan, a Christian who is wildly unpopular in the north, to demonstrate that he is the president of all Nigerians by reaching out with solutions to the endemic poverty, neglect, and political and economic marginalization they say are at the root of widespread Muslim anger. A successful, lasting resolution to the current crisis will likely need to incorporate a little of both these stances.
Nigeria is no stranger to armed uprisings, and you don't have to look very far to see what works and what doesn't. After attempting for years to defeat an insurgency in the oil-rich Niger Delta through military might alone, the government finally came to a negotiated settlement in 2009 that provided a blanket amnesty, financial support, and job training to any militant willing to hand over his gun. Those who didn't were to be shown no mercy. Around 26,000 accepted the offer, and violence in that part of the country has largely subsided.
Amid the growing wave of violence in 2011, Jonathan declared his plans to use a similar carrot and stick approach in dealing with Boko Haram. However, tracking down reliable interlocutors has proven problematic, and with many--particularly in the southern dominated media--baying for blood, so far there's been little carrot and a lot of stick.
Military spending increased over 30 percent last year, as Abuja deployed thousands of troops to the northeast. And it's a trend that looks likely to continue.
In the wake of the Christmas church bombings, the president placed large parts of the north under a state of emergency. He recently claimed that Boko Haram elements had infiltrated all branches of the government and security services. Spending on security for 2012 is set to consume nearly a fifth of the total federal budget.
But as long as Nigeria's security and intelligence services remain hopelessly stove-piped, with little capacity to mount coordinated, targeted operations, betting on the military approach will likely only result in broadening the kind of heavy-handed occupation that has already sparked violent resistance in Maiduguri and elsewhere in the north.
This story was reported with a grant from the Pulitzer Center on Crisis Reporting, an Atlantic partner site.