What It's Like to Be Gay in Tajikistan
Widespread homophobia and open police persecution can make life dangerous in or out of the closet.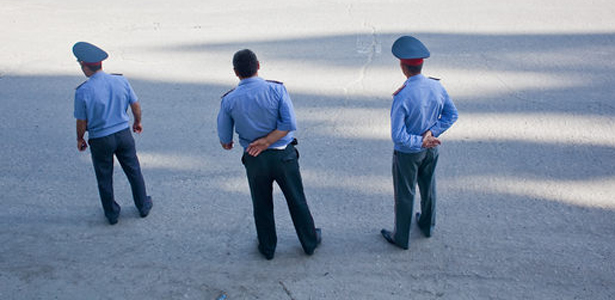 Being gay is no longer a crime in Tajikistan, but police are reticent to address hate crimes, including the murder of a gay man in Dushanbe in 2011. Police have also been known to blackmail closeted individuals by threatening to expose them / David Trilling
Like many 28-year-olds in Tajikistan, Parviz is married. He and his wife have three children that they adore. But Parviz has a secret he can't even share with his closest loved ones.
"I got married at age 20 because my family put a lot of pressure on me," he told EurasiaNet.org, sitting far from prying ears in a quiet corner of Dushanbe's Botanical Garden. "Soon after, I went to Russia to work at a market in Yekaterinburg. It was there that I first realized that I liked men and I began to go to gay bars and parks where men met."
There's a reason Tajikistan's lesbian, gay, bisexual and transgender community (LGBT) remains one of the most closed and secretive parts of Tajik society.
Homophobia is widespread thanks to "traditional attitudes and the strong influence of Islam," says Kiromiddin Gulov, director of Equal Opportunities, a local NGO established in 2009 to help Tajikistan's LGBT community with legal, medical and moral support. "The population at large does not tolerate or accept LGBT people in general. There are some people who are friends or communicate with the LGBT community, but they are very few."
Many Tajiks believe that homosexuality is "a sin and that such people should be killed or isolated," Gulov explained. Others see it as a disease to be cured: "There are examples where families treated young people through the expulsion of evil spirits and reading verses from the Koran."
"Homosexuality is contrary to nature," said an official from the Ministry of Health, who spoke to EurasiaNet.org on condition of anonymity because she is not authorized to speak to the press.
"Although it [homosexuality] has been removed from the [government's] list of treatable illnesses, many doctors still see it as a disease which can be treated with medicine. I have heard reports of the use of aversion therapy, psychiatric treatment and the use of testosterone-boosting drugs."
Parviz doesn't believe anything is wrong with him, but he knows to keep his secret from his relatives and friends. "I cannot tell my family. I'm scared they would not accept me for being who I am and I would bring shame on them," he said.
Whereas in the Soviet Union homosexuality was punishable by up to five years in prison, in Tajikistan it was de-criminalized in 1998. Though Tajikistan's criminal code does not prohibit homosexuality and homosexual relationships, LGBT individuals are still singled out for persecution by some officials. A 2011 report on sexual rights in Tajikistan co-written by Equal Opportunities, the Bishkek-based LGBT organization Labrys, and a coalition of international LGBT rights groups, highlighted widespread police harassment. The paper lists regular cases of blackmail, arbitrary arrest and physical violence against LGBT individuals, mostly gay men.
When 23-year-old office worker Said told his best friend that he was gay, he did not realize the mistake he was making. "I trusted him, but he was disgusted and told me I was going to hell," Said told me. Soon after, the police knocked on his family's door. His father answered and the police asked to speak with Said. "I stepped out in the hallway and they told me that if I did not pay them 1,000 somoni [$210] they would tell my parents about my orientation. What could I do? I paid them the money and they left me alone. I was scared they would come back, so I moved."
Said considers himself relatively lucky. In 2011, after being subjected to continuous blackmail, a 20-year-old gay flight attendant, Ravshan Uzakov hanged himself, the BBC's Russian language service reported. And last year in Dushanbe, a gay student was stabbed seven times and later died of his injuries. Police swiftly closed the case and labeled the attack a robbery.
For Parviz, there is only one solution - the relative safety of Russia, where hate crimes against homosexuals occur nevertheless. He is one of hundreds of thousands of Tajik men who travel to Russia annually to find work. "There I have more freedom to pursue the kind of relations I want," he said.
This article originally appeared at EurasiaNet.org, an Atlantic partner site.