The Only Remaining Online Copy of Vogue's Asma al-Assad Profile
Despite all the controversy, the fashion writer's interviews are worth keeping in the public record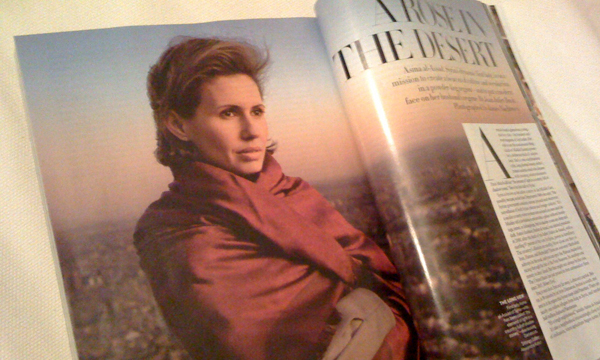 In February,
Vogue
magazine published, for the benefit of its 11.7 million readers, an article titled "
A Rose in the Desert
" about the first lady of Syria. Asma al-Assad has British roots, wears designer fashion, worked for years in banking, and is married to the dictator Bashar al-Assad, whose regime has killed over 5,000 civilians and
hundreds of children
this year. The glowing article praised the Assads as a "wildly democratic" family-focused couple who vacation in Europe, foster Christianity, are at ease with American celebrities, made theirs the "safest country in the Middle East," and want to give Syria a "brand essence."
Vogue's editors defended the controversial article as "a way of opening a window into this world a little bit," conceding only that Assad's Syria is "not as secular as we might like." A senior editor responsible for the story told me the magazine stood by it. A few weeks later, the article and all references to it were removed from Vogue's website without explanation. In August, The Hill reported that U.S. lobbying firm Brown Lloyd James had been paid $5,000 per month by the Syrian government to arrange for and manage the Vogue article.
For all the controversy, the article's author, former French Vogue editor Joan Juliet Buck, did manage to spend some one-on-one time with both Asma and Bashar al-Assad, an exclusive many journalists might have killed for. Today, as the world watches for cracks in the Assad regime and in the Assad family, Buck's interviews are an increasingly important tool for understanding the man at the top of Syria and the woman next to him.
Sadly, Vogue's piece of the Syrian puzzle has been almost entirely scrubbed from the internet. But, somehow, the text can still be found at a website called PresidentAssad.net, a gif-filled but meticulously updated fan page to the Syrian dictator. The site is registered to a Syrian man living in Rome named Mohamed Abdo al-Ibrahim. A personal site for Ibrahim lists him as an employee of the Syrian state-run news agency.
If you're a researcher focused on Syria or simply a reader curious about how this family presents itself to the Western media as of early 2011, you'll want to bookmark Ibrahim's website, which holds what appears to be the only complete copy of this article remaining online. Here are the first few paragraphs:

Asma al-Assad is glamorous, young, and very chic--the freshest and most magnetic of first ladies. Her style is not the couture-and-bling dazzle of Middle Eastern power but a deliberate lack of adornment. She's a rare combination: a thin, long-limbed beauty with a trained analytic mind who dresses with cunning understatement. Paris Match calls her "the element of light in a country full of shadow zones." She is the first lady of Syria.

Syria is known as the safest country in the Middle East, possibly because, as the State Department's Web site says, "the Syrian government conducts intense physical and electronic surveillance of both Syrian citizens and foreign visitors." It's a secular country where women earn as much as men and the Muslim veil is forbidden in universities, a place without bombings, unrest, or kidnappings, but its shadow zones are deep and dark. Asma's husband, Bashar al-Assad, was elected president in 2000, after the death of his father, Hafez al-Assad, with a startling 97 percent of the vote. In Syria, power is hereditary. The country's alliances are murky. How close are they to Iran, Hamas, and Hezbollah? There are souvenir Hezbollah ashtrays in the souk, and you can spot the Hamas leadership racing through the bar of the Four Seasons. Its number-one enmity is clear: Israel. But that might not always be the case. The United States has just posted its first ambassador there since 2005, Robert Ford.

Iraq is next door, Iran not far away. Lebanon's capital, Beirut, is 90 minutes by car from Damascus. Jordan is south, and next to it the region that Syrian maps label Palestine. There are nearly one million refugees from Iraq in Syria, and another half-million displaced Palestinians.

"It's a tough neighborhood," admits Asma al-Assad.

It's also a neighborhood intoxicatingly close to the dawn of civilization, where agriculture began some 10,000 years ago, where the wheel, writing, and musical notation were invented. Out in the desert are the magical remains of Palmyra, Apamea, and Ebla. In the National Museum you see small 4,000-year-old panels inlaid with mother-of-pearl that is echoed in the new mother-of-pearl furniture for sale in the souk. Christian Louboutin comes to buy the damask silk brocade they've been making here since the Middle Ages for his shoes and bags, and has incidentally purchased a small palace in Aleppo, which, like Damascus, has been inhabited for more than 5,000 years.

The first lady works out of a small white building in a hilly, modern residential neighborhood called Muhajireen, where houses and apartments are crammed together and neighbors peer and wave from balconies. The first impression of Asma al-Assad is movement--a determined swath cut through space with a flash of red soles. Dark-brown eyes, wavy chin-length brown hair, long neck, an energetic grace. No watch, no jewelry apart from Chanel agates around her neck, not even a wedding ring, but fingernails lacquered a dark blue-green. She's breezy, conspiratorial, and fun. Her accent is English but not plummy. Despite what must be a killer IQ, she sometimes uses urban shorthand: "I was, like. . . ."
The internet doesn't forget a story like this easily, much as Vogue might like to.