The Chinese Faces Behind Your Apple Gadgets
A promising new documentary on individual Chinese workers at Foxconn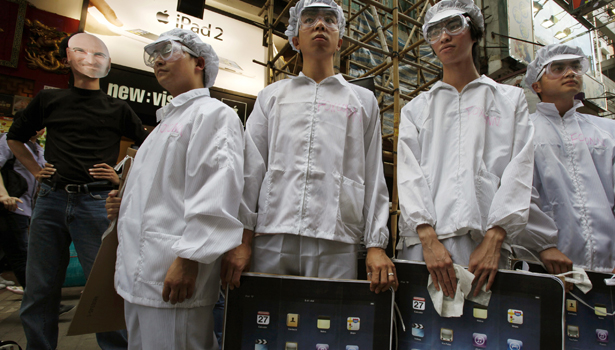 Protesters depicting Steve Jobs and Foxconn workers act in a street drama in Hong Kong / Reuters
The New York Times over the last week or so ran several stellar pieces on the Apple supply chain and the potential human cost associated with the personal technology device revolution over the last decade (see here and here). Much ink has already been spilled in the commentariat on these stories, which frankly, are less "news" than highlighting revelations about an existing dynamic that has faded into the distant background in the last several years. I have little substance to add beyond what I wrote immediately after Steve Jobs' passing, when ubiquitous praise obscured the thornier issues of Chinese factory workers and what most of us have come to accept as today's global supply chain.
Instead, I want to point to what appears to be a promising new documentary on individual Chinese workers at Foxconn. From an Italian trio of Ivan Franceschini, Tommaso Facchin, Tommaso Bonaventura, Dreamwork China is meant to document the "dreams and rights of a new generation in the world's factory". Based on the clip, I think this is a film that needs to be viewed widely. Without additional commentary, judge for yourself:
Dreamwork China from Cineresie on Vimeo.
This is what the filmmakers had to say to the NYT about their intent:
Q.

What drew you to the subject?

A.

2010 was a very important year for Chinese labor. Chinese workers, especially young migrants, started gaining a lot of attention from the Chinese and international media. At the time, I was living between Beijing and Shenzhen, and I had already been researching the topic of Chinese labor for some years, so I was struck by the change in the public discourse about Chinese labor.

Until spring 2010, Chinese and international media were eager to describe Chinese workers as victims, but then the focus shifted to their activism on the workplace and their (supposed) rising legal consciousness. In particular, at the end of 2010 there were two considerations which pushed me and Tommaso Facchin to undertake the project "Dreamwork China."

The first one was the willingness to experiment with a new medium and a new language for my research. The second one was the idea of describing these workers beyond their being just workers, but as young people with dreams, ideals and goals -- not just as screws or robots on the production lines. We also wanted to investigate these young migrant workers' "awakening," an idea which after the Honda strike has been strongly promoted by the media and part of the academic communities, but is still highly debated.

Q.

What does the story of these workers tell us?

A.

The stories and the dreams that we collected tell us a lot about this new generation of workers, which is taking the scene in the world factory. In particular, as I wrote before, their testimonies remind us of the humanity of these young people, their being something more than "workers." Another thing that we realized while we were touring Italian universities for some screenings was that many Italian students were struck by what they perceived as the "optimism" of these young workers. It didn't matter how hard their life was, they still had a dream to cling on and a strong faith that this dream could be realized, which is something very different from their Western counterparts nowadays.

Q.

Are there any plans to distribute the film?

A.

At the moment, we're still searching for a distributor. We're screening the documentary in universities across Italy and abroad.
I hope the film makes its way to Washington.