Picture of the Day: Keeping the 99 Percent Out of Davos
A Swiss policeman makes sure there are no intruders at the World Economic Forum.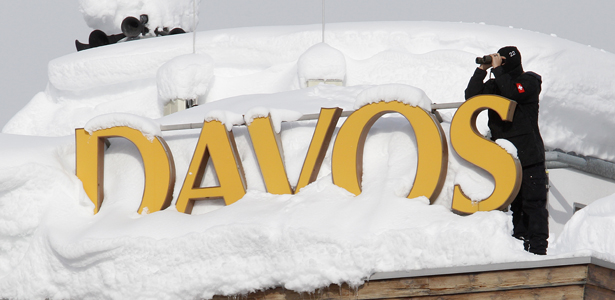 Reuters
A Swiss police officer observes Davos, the site of the ongoing World Economic Forum (WEF), from the roof of a snow-covered hotel.
A special report
on a global economy in crisis
Some 3,500 Swiss soldiers are on-call at Davos to protect the WEF's 2,000 visitors from Occupy demonstrators attempting to crash what NPR called "a Superbowl for smart, rich people," according to this report from the AP.  The soldiers erected 11 miles of security barriers around the Davos ski resort, in what Swiss army representative Stefan Hofer said was "an arduous task" given the heavy snow the area has seen over the past several weeks.