Picture of the Day: Anger at the Arab League
Protestors took to the Arab League headquarters after observers fail to halt Assad's ongoing crackdown against demonstrators.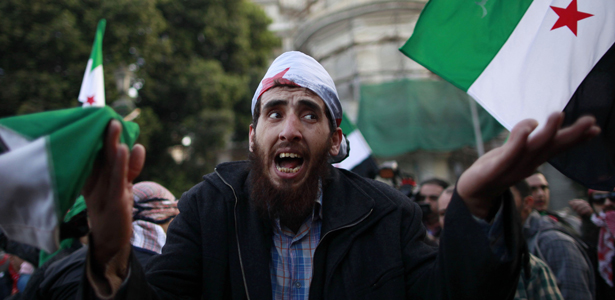 Reuters
Irate protestors converged at the Arab League headquarters in Cairo yesterday to decry President Bashar Al-Assad's ongoing crackdown on his opposition in Syria.
Last week, a group of Arab League observers to the conflagrations in Syria nation published a 22-page
report
, which revealed that Assad's military "continued to fire on demonstrators, using indiscriminant violence, despite the presence of League observers."
The League responded to the report with a call for a national unity government, which Syria promptly rejected on state news agency SANA as a threat to national sovereignty.
The report noted that despite the League's efforts, violence continues in the Levantine nation.
"Victims fell daily before and after the arrival of the observers," the League reported.
According to this Arabic-language Web site that documents the deaths of members of Syria's opposition, 6,522 people have been "martyred" by the Assad regime. Over 400 are children. Well over half of the death toll hails from the western city of Homs.