One Year Later: The Atlantic's Coverage of the Egyptian Revolution
A look back at Graeme Wood's dispatches from Tahrir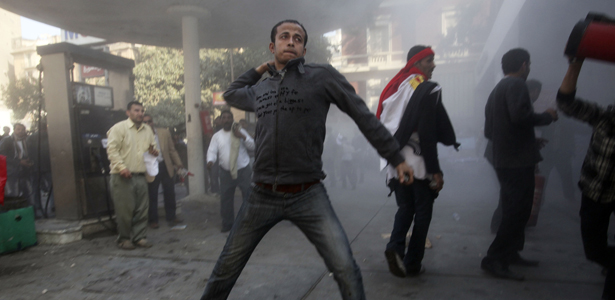 A demonstrater throws stones during rioting between pro and anti-Mubarak supporters in Tahrir Square in Cairo / Reuters
A year ago, as I watched broadcast coverage of Egyptian President Hosni Mubarak's tumultuous ouster on a VPN server from China -- authorities quickly blocked any mention of Egypt on popular Internet sites like Sina Weibo -  it was tough to distinguish the violent pro-Mubarak camp from the regime's opposition. But for friends in other parts of the world, where media censorship was not as much of an issue, parsing the fast-moving, disorienting changes in Cairo and across the country wasn't easy either.
Atlantic contributing editor Graeme Wood was meanwhile on his way to the heart of the Revolution in Tahrir Square. He first posted out of Egypt on February 2, 2011 in The Battle in Cairo's Tahrir Square -- noting a gift of caramel candy from a young girl after an unusually quiet morning.
The Egyptian protest started getting violent early this afternoon, a few minutes after a cheerful girl, about 14 years old, handed me a caramel. Since I arrived yesterday afternoon, and up until the caramel reached my hand, Tahrir Square was a calm place lacking any menace whatsoever. Children were having their faces painted. Men and women were happily sweeping up trash, helping each other pitch tents, and waiting patiently for their turn at the water tap. It reminded me of Burning Man, except that in the place of stations for full-body nude massages or refills of psychedelics, it had little protest areas where one could find Muslim Brothers, students, and every other flavor of disaffected Egyptian...

... I was sitting across from the Mogamma, the imposing futurist fortress on the edge of the square, when I heard that a pro-Mubarak crowd that started in Muhandiseen, about a mile away, had started to stream into the square from the direction of the Egyptian Museum (...) Then the stones started flying, and the blood gushing in full force. Each side was systematically unpaving downtown Cairo, and in moments

Then, right by the Egyptian Museum entrance, five men in plainclothes grabbed me, hit me three times, twice in the back and once in the chest, and brought me toward the Museum itself. They grabbed my video camera and still camera, shouting "memory card," and tried to break it when they couldn't figure out how to remove it...

... Mubarak has the initiative, and he appears inclined to use it.
A few years ago in Cairo, I'd had the chance to speak with several "disaffected Egyptians" myself. Beneath the signature music and lively bustle of Cairo's crowded streets was a general feeling of disenfranchisement from a regime that had, for years, only preserved opportunities for the leadership's inner-circle while employing so much of the citizenry to spy on itself.

Of course, there had been democracy movements before. My family watched them from the U.S., with little hope, in documentaries and news coverage of
Kefaya
and
Shayfeen.com
, groups that pushed for free elections in 2005. But in Cairo in the Winter of 2008, so many people I spoke with in Cairo seemed trapped in an existence defined by perpetual humiliation.
By the time Wood wrote this post, it was clear that Mubarak had sensed a more formidable threat to his authority than he had ever seen, but he had orchestrated many violent crackdowns before, and it was unclear what would come of this one.

This time, Mubarak's thugs -- sometimes posing as the opposition -- helped to incite so much violence in and around Tahrir, that it was uncertain who the Egyptian people would side with at all.
According to Chinese media -- I was a reporter at the Beijing bureau of a Chinese newspaper at the time -- Mubarak's opposition was composed of a bunch of violent rabble-rousing ruffians, provoked by foreign agitators. I remember thinking that this was how Beijing would want to portray such a revolution.
In Wood's second dispatch on February 3rd, Order vs. Chaos on the Streets of Cairo, he highlights a paradox: Siding with Mubarak would have promised some temporary relief from widespread torture and destruction:
Near Al Azhar University, a man with a huge gleaming meat cleaver--probably recently purchased from the kitchenware section of Khan al Khalili market--smiled and said, "Welcome to Egypt."

I do not recall ever being so pleased to be surrounded by blade-wielding Arab vigilantes...

Many people have told me that they are angry at having to stay up all night with weapons, just to keep basic peace in their neighborhoods after the flight of the police Friday. But the smile of Mr. Cleaver told a different story...

Will they choose more order or more chaos? More order means more Mubarak, in a devil's bargain with the middle class whereby he restores order by arresting the protesters, putting cops back on the street, and, with the collusion of neighborhood vigilantes, turns Egypt into not just a police state but a pariah state as well. More chaos means more demonstrations and a scary, unpredictable future that could make his role as author of his own destiny permanent. Right now I can't tell whether the Mr. Cleavers of Cairo are rushing to help the pro- or anti-Mubarak side--or are content to sit back and wait.
Egyptians not only needed essentially to choose upheaval to cast off the yolk of the Mubarak regime, but they also needed to overcome a kind of disunity between Egypt's vast array of religious and socioeconomic adversaries in order to see the job done.
In Mistrust Spreads Among Egypt's Protesters from February 7, Wood illustrated a stain that Egyptians still haven't washed out of their nation's post-revolutionary fabric -- The rift between Muslims and Christians:
There is trouble in paradise, and its name is fitna. At 2 a.m. yesterday in Tahrir Square, a brawl erupted near the Iberia Airlines office. It was not a fair fight: A crowd ganged up on one middle-aged man who had remarked loudly that he thought the anti-regime coalition was going to fall apart because of religious differences (devout vs. secular, Christian vs. Muslim). Another man overheard him, told him to shut up, and gathered a crowd first to shout him down and then shove him around. The first man gave up and skulked off, eventually scowling alone on the pavement, with his back against the stone wall of a travel agency, his arms hugging his sweater and his hands and face pelted with cold rain. The crowd yelled after him: "Fitna! Fitna! Fitna!" -- an Arabic word with a long history and a complicated English meaning, a cross between "strife," "disagreement," "discord," or "sedition." Or in plain English: "Why can't we all just get along?"
Another reason I wasn't sure how this would all play out was the persistent call from regular Egyptian citizens for protestors to return home. But Wood's post from February 10, The Egyptian Revolution's Coming Second Act, showed that, even in this call, there was a renewed sense of consciousness and political engagement in the Egyptian people:
"They should go home. Already they've made a change, and it can't be reversed," said Wanil, an Egyptian engineer outside the square. "Mubarak got his 70 billion dollars, and maybe that's the price we pay for being too lazy to get him out of power for 30 years. But whoever is president next, if he takes even one pound, we will eat him."
To my mind, this quote represents a kind of turning point in Wood's dispatches, as they start to show a respite from violence and a general surge of feeling of public dignity about a revolution that had come at the price of corrupt government and so many martyrs.
After Mubarak stepped down, Wood wrote 'We Are Egyptians: Hold Up Your Head!' which -- even today, with all the subsequent degradations of the Egyptian Revolution by the ruling military junta -- flushes me with feelings of pride for the nation where my grandfather was born.
In my family, we experienced a collective realization that -- as the Egyptian pop star Sherine's nationalist ballad puts it -- We All Drank From the Nile. Wood's own conclusions capture this sentiment perfectly:
Tonight, when the announcement of Mubarak's resignation percolated through Cairo's alleys, car horns confirmed the news before Twitter did. For the last several hours, the horns have not stopped. Not only in Tahrir, but also parts of Cairo so-far untouched by rioting, the refrain is "We are Egyptians: Hold up your head."
MSNBC's Lawrence O'Donnell interviews Wood during his time in Tahrir