Nate Silver Wins Again—Plus, Doha's Shafallah Forum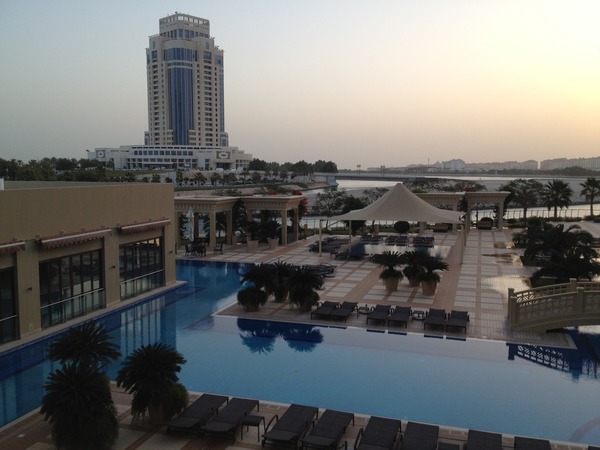 View of my balcony at the Grand Hyatt, Doha
Good morning to those of you heading to bed on the news that Newt Gingrich dominated the South Carolina GOP primaries.  I don't have much to add to the pundit commentary on Newt's return -- other than that take a look at the
forecasting success
yet again of 538's Nate Silver. 
I've been a junkie for his electoral commentary for quite a while -- but every time he drops numbers before something happens, it's eery to see that he just about nails it every time. 
Here is what Silver
published
on his
New York Times
blog before today's primary:

Souce:
FiveThirtyEight
,
New York Times
As I wake up this morning in Doha, Qatar -- and yes, that's a picture off of my balcony at the Grand Hyatt this morning -- it looks like Nate Silver's estimates on Gingrich's 39% share and Romney's 29% take are dead on.  Ron Paul seems to have come in last -- just behind Rick Santorum, but Silver's models still predicted well their general market share of the primary.
For those in Doha today, I'm here with
Bob Woodruff
,
Cherie Blair
,
Sheikha Moza
,
Valerie Amos
, and many others for the
Shafallah Forum on Crisis, Conflict and Disability
.  I'll be moderating a session this afternoon on the challenges those who are disabled face during natural disasters.  Bob Woodruff is moderating the session on disability issues in military conflicts.  Luckily, I have an excellent set of panelists who have thought deeply about what might be done to even out the chances for those who are disabled during either man-made or natural shocks.
I don't see a spot on the website for live-streaming.  Come on Doha!!  But if there is a video, I'll try to get it posted later.
Here are some interesting data points and references I plan to raise during my opening remarks.  First, a
reference to Europe's 2003 heat wave
that killed more than 50,000 people -- the majority of whom were elderly and/or disabled. A flashback to
Katrina's deadly impact
on the disabled.  And a look at what some NGO groups, like
Prepare Now
, are doing to encourage those with disabilities and constraints to plan ahead.