John Kerry Getting Involved in U.K. Case Over Irish Republican Army Fighters
The Massachusetts Senator wants to prevent the British government from getting hold of tapes at Boston College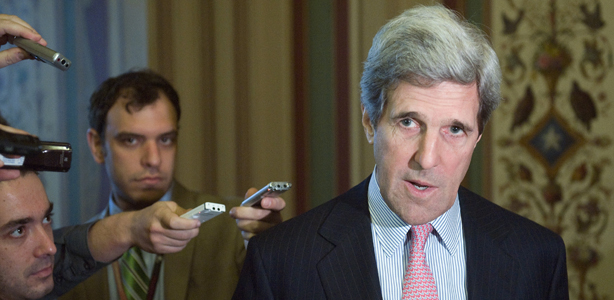 John Kerry / Reuters
---
MORE FROM NATIONAL JOURNAL:
Florida's Missing Governor
Don't Expect a Bounce
Obama to GOP: 'Divided We Are'
---
Senate Foreign Relations Committee Chairman John Kerry, D-Mass., has jumped into a complex legal dispute involving Boston College and the United Kingdom this week, asking the State Department to urge the British to back off a push for the university to release tapes that might help prosecute former Irish Republican Army members for murder.
Boston College compiled recordings of interviews with former members of the IRA and related documents as part of an oral-history project on "the troubles" in Northern Ireland. Participants, including former IRA members, were promised anonymity that the British government now contends the school had no right to give.
British authorities want material regarding two cases. However, attention has focused on the 1972 murder of Jean McConville, a Belfast mother of 10, because Sinn Fein leader Gerry Adams--a key architect in the Northern Ireland peace accords--is accused of commanding the IRA unit thought to be responsible. Adams denies any involvement.
The U.K. invoked a mutual legal assistance treaty with the U.S. that requires the two nations to share information that could aid criminal inquiries. In response, the Justice Department subpoenaed and took possession of Boston College's tapes. A legal fight continues as Irish journalist Ed Moloney, director of the project, and former IRA member Anthony McIntyre fight the handover of the material to British authorities.
Boston College is not part of the suit. An Appeals Court hearing is scheduled for March.
In a Jan. 23 letter, Kerry asked Secretary of State Hillary Rodham Clinton to "work with British authorities to reconsider the path they have chosen and revoke the request."
Kerry, whose name floats as a potential replacement to Clinton if she leaves the post, says his request stems both from constituent interest and his position as Foreign Relations chairman.
The case "has a profound impact on Boston College, a highly respected University in Massachusetts, as well as implications for the confidentiality of other research projects in the state," he wrote.
Kerry said he is also "obviously concerned about the impact [the situation] may have on the continued success of the Northern Ireland peace process."
According to the letter, Kerry also spoke with Attorney General Eric Holder about the matter late last year.
A Kerry spokeswoman said he has yet to receive a reply from the State Department. A department spokeswoman said State "did receive the letter and are reviewing it. We will respond as appropriate."