Intervention, Please: the 'No-Fly Zone' Requests You Don't Hear About
Foreign governments and peoples ask for international humanitarian interventions all the time, so why do we only pay attention to some and ignore others?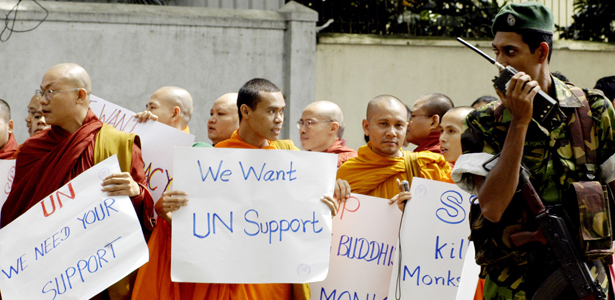 A demonstration for UN intervention at the United Nations office in Colombo, Sri Lanka / Reuters
Last spring, the Arab League convened an emergency meeting at its headquarters in Cairo to discuss a certain government's air strikes against a certain Arab population. They called the strikes, which had reportedly killed at least a dozen civilians and suspected militants, "plotted barbaric aggression." At the conclusion of their meeting, the Arab League issued a statement demanding that UN Security Council convene "on an urgent basis" and impose a no-fly zone (NFZ) to protect those Arab civilians from future attacks. They asked for outside military force, but they were ignored.
The Arab League was advocating to protect not anti-Qaddafi fighters in Libya but Arabs in the Gaza Strip, which the Israeli Air Force was bombing in retaliation for rocket and mortar attacks on southern Israel. Less than one month earlier, the Arab League had asked for a NFZ in Libya, a request that Secretary of State Hillary Clinton an event "of historic importance" that "would be quite unfortunate if the international community were to have ignored." But when the pan-Arab institution sought the same sort of international military support for the Gaza Strip, they were ignored by the U.S. and the entire international community -- or, at least, the countries with deployable air forces.
The distinction in how the world treated the force requests for the Gaza Strip and Libya are worth keeping in mind as the demands from Syrian civilians and armed opponents of the Bashar al-Assad regime for intervention escalate. From Gaza to Somalia, governments and groups make far more requests for humanitarian intervention than you'll hear about in the press. Nearly all of them are summarily rejected as impractical or an inappropriate use of force. Here are just eight of the most recent examples of à la carte requests for military force with humanitarian aims, not one of which was honored or even seriously entertained:
1. In May 2010 (and again in October 2011), the East Africa security bloc Inter Governmental Authority for Development requested that the UN institute a NFZ and naval blockade in Somalia.
2. In February 2011, the Cambodian prime minister appealed to the UN to establish a buffer zone along the border between Cambodia and Thailand to prevent the escalation of skirmishes over the disputed territory near the Preah Vihear Temple.
3. In June 2011, Vice President of South Sudan Riek Machar requested that the UN Security Council establish an international buffer zone between Sudan and South Sudan to prevent military confrontations.
4. At a regional summit in September 2011, Ethiopian Prime Minister Meles Zenawi called on the United Nations to support Somalia's Transitional Federal Government, and the African Union Mission forces helping it, in implementing "corridors of humanitarian assistance" in Somalia.
5. In October 2011, Kenyan and Somali government officials called on "big countries and big organizations" to blockade the seaport of Kismayo, Somalia, which is controlled by al-Shabaab militants.
6. In December 2011, over 20 international nongovernmental organizations (NGOs) petitioned the UN Security Council to establish a NFZ over "Blue Nile, Nuba Mountains/South Kordofan, Darfur, Abyei and also along the border between South and North Sudan," an area slightly smaller than Texas, "for protection of civilians." (About a month earlier, 66 American NGOs had made a similar request.)
7. The same month, Salva Kiir, president of South Sudan, sent a letter to the Obama administration in December 2011 that asked for the United States to impose a NFZ over the border between Sudan and South Sudan.
8. Also in December 2011, the African Union appealed to the UN Security Council to establish a NFZ over and maritime blockades around Somalia. It made similar requests in October 2010, April 2011, and September 2011.
Not one of these received the slightest support from the UN Security Council, NATO, the Obama administration, or any other country able to project military power. It's unlikely that you even heard about it. It's not hard to imagine the three big reasons they were all likely rejected: they were not in anyone's national interest; they required greater resources to achieve a lasting impact than were available; or they were the wrong military mission to achieve the intended military and political objectives.
Since Syrians began the No-Fly Zone Friday demonstrations in late October, such protests have been held in Damascus, Homs, Horan, Qamishli, Al Hiffah, and elsewhere to request the world implement a NFZ. The supposed leaders of the opposition movement in exile have described how this NFZ should be implemented in different ways. Last Thursday, the head of the Syrian National Council, Burhan Ghalioun, re-demanded a NFZ along the Syria-Turkey border to be enforced by any country (except the United States), although in a more limited form than the selectively enforced mission over Libya. "We don't have to destroy all the Syrian air force," he said. "You only need to secure a specific zone and this can be done without damaging the whole defenses of the country."
A NFZ in Syria is the wrong military mission for protecting civilians who are being brutally suppressed and killed by the Assad regime through infantry forces, tanks, and sniper fire. Over 4,000 Syrians have died since the last time that the regime used airpower against civilians (June 10), as best can be determined.
There are more demands for international military force to protect civilians and assure the delivery of humanitarian assistance than one might imagine. Most are in response to legitimate emergencies, such as in South Sudan, where, according to the UN, more than 600 people were killed in a cattle raid in a single day in August and where another 150 people -- mostly women and children -- were killed over five days last week.
When people within the effected country or region -- or policymakers and policy analysts in the West --request military intervention, they should be aware of who they are saying "no" to and what accounts for that distinction.
There are three primary reasons for the difference between intervention requests the world entertains and those it does not. First, in the case of Libya and now Syria, both were ruled by well-known and sufficiently demonized autocrats who had been told to step down from power by the United States and European governments. Here, intervening to save lives is a useful pretext for the strategic objective of regime change.
Second, other NFZ demands were not accompanied by a decision-forcing point that catalyzed international political will, such as the Srbrenica massacre in 1995, the Racak massacre in 1999, or the attempted siege of Benghazi last March. Without such a well-publicized incident, any conflict zone can appear to be open-ended disasters that swing from one crisis to the next. Finally, seven of the eight force requests were from
Africa, which is under-reported in Western media despite it being the most conflict-prone continent for decades. You cannot conceive of saving lives with military force if you are unaware they are at risk. All of which argues for the consistent and universal application of principles beyond what you read in this morning's paper.