Good News from Malaysia, China, Japan, and the Ski Slopes
Let's turn to the weekend's papers!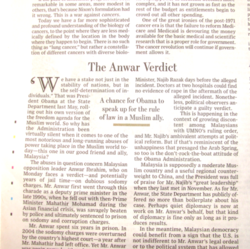 1. From
Malaysia
: Over the weekend the Wall Street Journal gave an
editorial warning
of what a step backward it would be for the country if Anwar Ibrahim, a lightning-rod political leader and opposition figure, were sent off to prison again. The good news is that Anwar
has just been acquitted
of morals charges that were widely considered to have a political edge.
When my family was living in (and enjoying) Malaysia in the late 1980s, Anwar Ibrahim was the sparkly young leader-of-the-future and heir- presumptive to the choleric prime minister of the time, Dr. Mahathir. Through the 1990s Anwar rose to finance minister and deputy prime minister -- but then he split bitterly from Mahathir and became a major critic. In the late 1990s Anwar was arrested, convicted, and sent to prison on homosexual-sodomy charges, in what nearly everyone took to be a political use of the judiciary. He served four years, re-entered the political fray, and in 2008 was arrested on similar charges again.
As with anything in Malaysian politics, there is a lot more detail to go into. But here's the main point: Malaysia, a thoroughly modern and prosperous country, and most of the time a tolerant and gentle place, has been coping for decades with racial tensions (Malay / Indian / Chinese) and more recently with the balance between secularized and fundamentalist Islam. Its current prime minister has launched a campaign he calls the "Global Movement of Moderates," which is opposed to fundamentalism of all sorts, including in world Islam. The Anwar trial was not directly about religion (Anwar is Muslim), but a conviction would unavoidably have seemed a step away from open political discourse and the rule of law. Good for the Malaysians.
2. About Japan: Nearly a year ago, my friend Eamonn Fingleton, in a stint as guest-blogger on this site, wrote a highly-trafficked item arguing that Japan's economy was far more successful, even during its "lost decades," than the Western world complacently like to assume. Yesterday, in a big-splash essay in the NYT Review section, he extended and updated the analysis. Very much worth reading, if you haven't seen it before.
3. From China: Over the years I've often mentioned the "PM2.5" wars about China's grievous air-pollution burden. Other major countries carefully monitor and report the small-particulate pollution called PM2.5, because it is so dangerous to human health. (The smallest particles go deepest into the tissue of the lungs.) Chinese officials have either failed to measure PM2.5 or refused to publish their findings. The only known public source of the data has been a monitor on the roof of the US Embassy in Beijing, about which the Chinese government has frequently complained.
Now the Chinese government has changed its policy. Starting this month, it will begin offering hourly PM2.5 readings for Beijing too: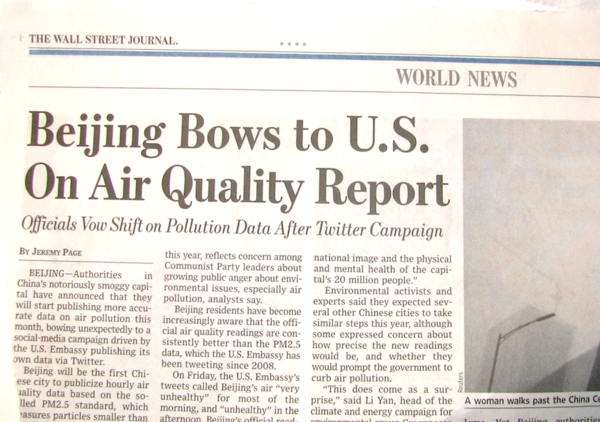 The headline on this WSJ story is unfortunate, in that "Bows to U.S." is the last thing that any Chinese official wants to be seen as doing. Just as U.S. officials would cringe at headlines saying "Washington Bows to China." As the story makes clear, the important pressure was from Chinese people and "netizens" themselves: "The decision represents one of the most significant examples yet of Chinese authorities' yielding to public pressure exerted principally over the Internet via microblogs, which are similar to Twitter and have become hugely popular over the past few years." Whatever its origins, a good development.
4. From the ski slopes.  Here's an essay question for graduate seminars in journalism schools: Does this NYT story yesterday have a great subhead? Or does it have the greatest subhead ever? (Alternative essay questions: Does this show the superiority of print, given that the online version has no subhead at all? And -- could this conceivably be a wholly innocent work of art trouvee?) This is why universities exist: to debate such questions.