Behind the Arab Revolts, an Activist Quietly Pulling Strings From Boston
If you've watched a TV report or read a news article on the Arab Spring, odds are you've encountered Nasser Weddady's work without even knowing it.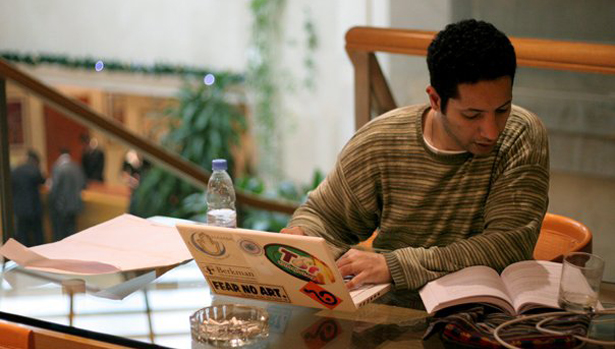 At the 2009 Arab bloggers conference in Beirut / Jillian C. York
BOSTON -- Outside a Starbucks here, Nasser Weddady, the Mauritanian-born activist, is drinking a latte and texting a well-known Egyptian-American writer, brainstorming a social media campaign to free a recently arrested Syrian blogger. The next day, a new hashtag will spread on Twitter, from Weddady's account to his friend's, and to their followers from the United States to Damascus to Cairo. Activists will organize themselves around the new campaign.
"It's the new revolution," he says, lighting a cigarette.
Through Twitter, Facebook, and blogs, a core group of activists has managed to organize protests, secure the releases of protesters and writers in beleaguered Arab countries, and effectively set the agenda for the incestuously close network of Arab experts, policy makers, and journalists at the center of the Arab Spring revolutions. And somewhere in the middle of it all, talking to everyone within the circle but virtually unknown outside of it, is Nasser Weddady.
In revolutions that assume that regimes like Bashar al-Assad's in Syria or Muammar Qaddafi's in Libya are deceitful, "activists like Nasser have become good go-to sources for information -- or at least, they're perceived as such and in doing so they help to set the agenda," says Salman Shaikh, director of the Brookings Doha Institute.
In a report published last month by New York-based social media tracker Socialflow, Weddady, 36, was ranked one of the top four most-influential Twitter users of the Arab Spring uprisings, on par with Ben Wedeman, CNN's venerable war correspondent, who has five times as many followers.
"The power comes from the attention they get," says Gilad Lotan, who spearheaded the study by looking at the traffic that came from Twitter hashtags like #Tunisia and #Jan25. "Nasser especially was central to the information flows, certain messages that started by anyone around the world on these topics."
"He's extremely influential," Lotan explains. "The info he would post would be taken and reposted by journalists, some non-media organizations, and others. I was not surprised to see these folks rank so high on the chart. They played a bigger role in the revolution than many journalists who have these massive built-in audiences."
At the start of the Syrian uprising, "there was some complacency among Western journalists, so the activists became a short cut" for information, adds Karl Sharro, a London-based writer and Arab affairs commentator.
Included in the same club as Weddady -- only a handful have the requisite amount of power -- are Mona Eltahawy, an Egyptian-American writer based in New York ("she does an amazing job getting information out on Twitter," Lotan says) and Dima Khatib, a prominent Cairene activist.
Testifying to the global reach of the cyber activists, Jane Novak, a New Jersey housewife, has established herself as a highly-regarded source on all things Yemen, even, at one point, consulting with the U.S. State Department. Her Twitter feed and blog, armiesofliberation.com, are consulted by activists and journalists. She is well-known among policy makers, activists and reporters in the country's besieged capital, Sana'a. And she has never been to Yemen.
"She doesn't speak a word of Arabic, she hasn't set foot in the Middle East, but she still became an authority," Weddady says. He claims her influence helped secure the 2008 release of Yemeni journalist Abdulkarim al-Khawaini, who had been convicted of defaming President Ali Abdullah Saleh.
Weddady has tweeted nearly 50,000 times, in Arabic, Hebrew, French, and English, on which protests to attend and which bloggers should be free and what news we should follow.
"We're all very connected in the region and we have a strategic approach," he tells me. "We figured out how to take cyber activism and throw it back into the real world. Campaigning is a form of political diplomacy."
From his perch at the American Islamic Congress -- he earns a living as its outreach coordinator -- he is networked in every country in the region.
"Nasser," one top magazine editor tells me, "knows everyone, everywhere. I don't know how he does it."
I ask Andrew Lebovich, a policy analyst at the New America Foundation focusing on the Sahel region, the first thing that comes to mind when he thinks of Weddady. "Everywhere," he replies, "all the time."
He is friends with many of the correspondents who cover the Middle East. He is friends with freelancers and famous activists. He helps reporters find sources and sometimes hands them credible information. They, in turn, often help promote what one editor calls his "agenda." He organizes online strategies to help free arrested bloggers by sending instructions to a dedicated network of activist friends, who in turn Tweet information and hash tags to their own followers.
This marriage of a highly connected global social network and an increasingly popular social media platform gives him an ability -- unprecedented before this year -- to reach thousands of people within minutes.
He also has an uncanny ability to predict events. "I was one of the very first people to blow the horn on [the revolution in] Tunisia," Weddady says, "and say, 'this is changing.'"
"He's built his network on his computer," one of his coworkers tells me. "Nasser's existence online is totally a result of Twitter."
Pressure from Weddady's network has contributed to the release of a string of imprisoned activists and bloggers over the course of the last year, from Syria to Egypt.
"I don't see his name first and foremost among global policy makers but I bet they've all read something that has come through his network in the past week," Salman says. "His influence is more subliminal with key policy makers than is obvious."
Weddady sees his role in even simpler terms. "We have power because the news cycle needs stories. We interpret the events and context in a way the media understands," he says. "It's connecting dots and playing chess. Three-dimensional chess."
The American Islamic Congress's Boston office, where Weddady has his desk, is a white-walled, modern loft space on Newbury Street, Boston's ritziest artery. Weddady thinks it's good for the image of the modern Arab. "It's not the mosque," he says. But it's a long way from home.
Weddady is the son of a diplomat who served as Mauritania's ambassador to Ethiopia, Nigeria, Libya, Benin, and Syria. When his father returned to the capital city of Nouakchott in the 1990s, the teenage Nasser became involved with Mauritania's radical opposition.
Nasser left the country permanently in 1999 and doesn't risk going back, though his immediate family remains there. (At the time of his son's departure, his father was in Addis Ababa, the Ethiopian capital, representing the Arab League at the Organization of African Unity, now the African Union.)
Today, Nasser says he speaks fluent Arabic, English, French, Spanish, and Hebrew. "Each of these languages is an audience I talk to.He favors faded jeans and scuffed shoes and says he used to be interested in fashion, "before I became involved with more important things."
He has a wife, who lives outside of the U.S. and chooses to stay out of the spotlight. They see each other as often as they can.
On a recent day, he was simultaneously tweeting from his Android phone while answering emails and forwarding information onto contacts, his sticker-covered laptop perched in his lap.
I ask him the last time he went a day without using Twitter. "Well I was sick yesterday," he says. "And sometimes I'm on planes."
On the wall behind him, there were photos from an Iranian-American and a poster of a vintage Martin Luther King comic book, translated into Arabic and Farsi.
"We do have power as activists because we're plugged into the scene," he says. "I had formed an intimate view of the region. I speak the language and the dialects. When the revolution flared up, in many ways we expected it. We were only surprised the first country was Tunisia and not Egypt."
From that same phone and computer, "we run advocacy campaigns for bloggers. The hardest thing though has been getting the press to pay attention to this new generation that, online, was coming into its own."
The turning point for online activism may have been the short-lived uprising against the Iranian government in 2009, when thousands took to the streets of Tehran to protest the re-election of President Mahmoud Ahmadinejad, a victory many thought had been rigged.
"I was very skeptical about Twitter, but that was the turning point for me," Weddady says. "It occurred to me that this thing had massive power if used right." He and his friends realized that, in the past, advocacy had been too didactic, "too technical, not really explaining what an editor would need to use. So my job now is to explain why 'this' is a news story. My biggest struggle was to get activists to stop speaking in rhetoric. If you can't put a thought in 140 characters or less, an editor or a journalist is not going to listen to you. Cut through the bullshit."
He saw the impact when CNN first started re-posting activists' and journalists' Tweets on-screen as a source of information.
"It's a place where you can create and shape an opinion. And Nasser understood it much better than any of us did," Shaikh says. "This is a guy who was certainly trying to affect opinion through this new medium of blogging, and then happened to come across the right platform in which to do it."
That platform now sustains his agenda.
"My laptop, it speaks to me. My life is here," he says, looking out over downtown Boston, the Android buzzing again with news of far-off Egypt and Syria. "If you remove my laptop and my cell phone, I cease to exist."