Are U.S.-Japan Relations Really in Such Great Shape? 2 Views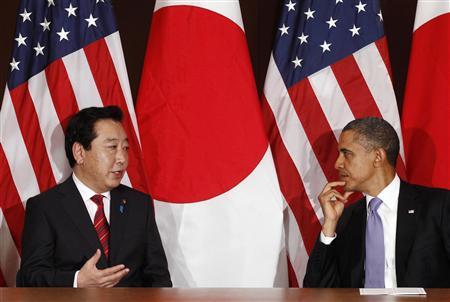 Reuters
In case you don't recognize him, that is Japan Prime Minister Yoshihiko Noda, Japan's 3rd head of government since August 2009, talking to President Obama.
On the same day, I received two dispatches from the Asia Pacific that touched on Japan's political health as well as US-Japan relations.  Thanks to Sheila Johnson, long time spouse and editor of Chalmers Johnson, for sending me the latter piece, a brutal essay by Australia-based Gavan McCormack -- and the State Department for the dispatch of Assistant Secretary of State Kurt Campbell's remarks in Japan.
It's just interesting to compare perspectives.  First from Kurt Campbell at Tokyo's Imperial Hotel on the 7th of January:
I just wanted to say it's been very good to be back in Japan. We've had excellent meetings with the business community, with people from the Prime Minister's Office and the Ministry of Foreign Affairs. I just want to underscore that I think U.S.-Japan relations are in excellent shape, and we're looking forward to strong progress on a range of issues in 2012.

The italicization of "excellent shape" was done by me.
Now to get a more sobering view of the state of Japan's political order today from the ever blunt Gavan McCormack (do read his longer piece on the state of Okinawa's resistance against Japan's central government and US authorities on efforts to relocate the dense urban-based Futenma Air Station to Henoko, on the north end of Okinawa):
By then, the Democratic Party of Japan (DPJ) government, elected at the end of August 2009, was into its third Prime Minister and had abandoned or reversed almost all the key policies on which it had been elected: the commitment to substitute political for bureaucratic direction, the renegotiation of the relationship with the US on an equal basis, the promotion of an East Asian community, the maintaining of the current level of consumption tax, an end to the Liberal-Democratic Party's long-entrenched "construction state" policies which would be symbolized in particular by the abandonment of the Yamba dam project, and, not least, the closure of Futenma Marine Air Station in Okinawa without substitution in the prefecture.



McCormack is on to something vital for anyone who wants to try his or hand at US-Japan futurism to understand.
The success of the Democratic Party of Japan was never assured -- but it was the very first time that the Japanese electorate put full faith and confidence in a genuine, rather than fake, transfer of power from one political party to another.  Japan's democracy has largely been artificial until the DPJ's August 2009 victory.  The fall of Hatoyama was in part because of his own failings -- but also because the US fought him so hard and so publicly over Futenma that his administration collapsed.  Many Japanese think that the US knocked off their prime minister.  As I wrote at the time, too bad the US didn't try some of the same boldness with Israel's Benjamin Netanyahu.
But now, the Japan that Assistant Secretary Kurt Campbell is referring to when he says that US-Japan relations are in "excellent shape" is a lobotomized, constrained, knocked around Japan -- one that gets praise if it does what the United States wants and slammed when it doesn't.
The entire Democracy 2.0 effort in Japan has largely collapsed both because of US pressure and the resulting collapse of confidence in DPJ leadership.
This is a dangerous brew -- and will in time produce a counter-reaction in which the legitimacy of a future, strong Japanese leader will be a combination of pugnacious nationalism, a dark version of Japanese soul-searching, that not only wants to scrimmage with its neighbors but defies controls set by the United States.
And it doesn't have to be this way.  America can give Japan much more breathing room in the relationship -- and revitalize the strategic partnership between both countries by doing so.