Witness to an Uprising: Taking Sides in a Dividing Bahrain
When an Australian teacher in Manama saw the government's brutal response to a fledgling revolution, he knew he couldn't stay neutral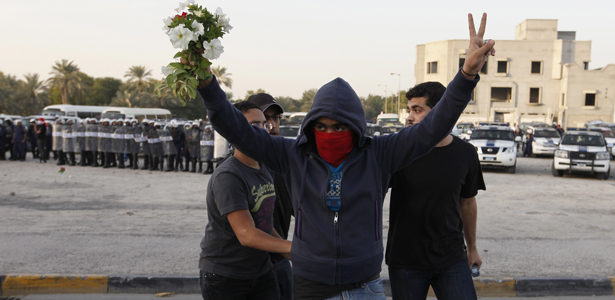 Bahraini protesters gather in front of riot police / Reuters
This is part three of a four-part series. Read the whole series here.
By late February, all seemed once again well in Bahrain. The peaceful protesters who had first gathered on February 14 were back at Pearl Roundabout, there were no police, no army, none of the teargas that had once covered the roundabout and floated up to our adjacent apartment complex, and no security personnel hanging around. Yes, it was difficult to move in and out of the complex but the protesters had volunteer traffic wardens (as well as cleaners) that made it easier. I had dodged possible arrest after mysterious men, probably from the Ministry of Interior, had seen me filming from my building's above-ground parking garage, come to my apartment, and then stood over my shoulder as they forced me to erase the footage (which, fortunately, I had already posted online. The incident made me think about what it must be like for the Bahraini families -- not treated as gently as I, an Australian here to teach at the university -- who've had their front door kicked down in the middle of the night and watched as the head of the household was savagely beaten in from of them before being taken away to be tortured.
My wife and I visited the roundabout one evening and found a pleasant, carnival-like atmosphere. Thousands of people united by one primary goal -- democracy in a country that is still ruled by a king -- were mingling happily as one group. Free food stalls were everywhere (a new popcorn machine had been installed), a small area was set aside for aspiring artists, and even free haircuts were available. Pro-government trolls would later claim that there were "sex tents" to cater for you-know-what, which was both preposterous and insulting to the large number of families, women, and children that were in attendance. Once again, at no time did we ever feel unsafe or threatened and, needless to say, did we see any evidence of weapons on display.
I eventually returned to work at Bahrain Polytechnic University, which had been on mid-semester break. In staff meetings, the CEO, John Scott, stressed that the Polytechnic needed to be seen as a place where all students were able to feel safe amid all the turmoil that had happened outside. Security was increased and police wanted to search students' vehicles for weapons, but John wanted everyone to know that we could not be seen to be taking sides -- we needed to remain neutral in front of our students. I agreed with him but, after what I had witnessed, I found it difficult to be neutral -- which felt too close to not caring. Looking back, I now know I should have spoken to more people about this, but I could not bring myself to tell anyone I was neutral. In my eyes it was like saying, "Oh, I don't mind what happens because I'm an expat" or "It's your country, it's got nothing to do with me."
The group of students that I had the privilege of teaching before February 14 were a wonderful group of young people. Bahraini students have superb senses of humor and can speak and listen to English extremely well. I did not have the slightest idea which of my students were Sunni or Shia (most Bahrainis are the latter, but the king and his monarchy are the former) and, before the unrest, it never made any difference. Some of my students had formed a own group called "The Catalysts" to bring about political change and undertake community projects and charity work. They were all friends and we had a ball together. But, after February 14, that was all gone.
I returned to teaching to find my classroom divided. Students sat in different groups and the air in the classroom was cold. There were no smiles, no laughter, and I immediately knew which students were pro-government: the ones that were the most pissed off. I tried to make them welcome and wanted them to know that we had all been through a tough time but that I hoped we could still have a good semester together. I then told the class that I had been asked to be neutral about the events and that I was sorry, but I could not. I knew this would alienate many in the class but I hoped that they would understand and respect me, based on our good relationship. I was wrong.
After the class, a group of pro-government male students approached me. They told me not to be fooled by what I had heard or been told by people from the other side. They played the Iran card, which has reappeared many times since, warning that protesters wanted Bahrain to be a part of Iran again and that they wanted to force Iran-style changes, such as forced veiling of all women, on Bahrain. They insisted that the protesters were liars and had faked their injuries. I tried to state my case that the protests were about finding true democracy but, as it soon became clear, I was wasting my time. I thanked the boys and made an excuse to leave.
Away from work, I was busy on Facebook, which had become a stream of information about what had been happening in Bahrain. To my dismay, I found a huge amount of misinformation: allegations of weapons being found during the roundabout clearance on February 17, the sex-tent rumors, accusations that protesters had faked injuries and photographs, etc. I was appalled that students, including some of my own, would spread such malicious gossip. I tried to correct some of these errors based on my own experience and what I had seen first-hand, living with the Pearl Roundabout on my back doorstep. I got involved in discussions with a few students in particular, "friends" on my Facebook account, who were pushing severely warped and prejudiced views on the protesters and outrageous and blinkered opinions in support of their own government. The use of the word "terrorists" was introduced to describe demonstrators; one student classified the protesters as worse that Hitler because "even Hitler kept the schools going."
As February ended, there were more protest marches, the likes of which I had never seen. We watched from our apartment as protesters stretched from Seef all the way to the roundabout, a single demonstration two kilometers in length. Once again, the women were easily distinguished in their black abayas. A long Bahraini strip flag, hundreds of meters long, stretched across the crowd. As they slowly passed our building we listened to their chants and songs. The marches were, as all had been before, conducted peacefully and respectfully.
Pro-government Bahrainis organized their own gatherings, ostensibly as a show of support for the ruling family but also an obvious attempt at one-upmanship. It was soon discovered that much of the pro-government crowd consisted of expat laborers from South Asia who'd been paid in food vouchers to march and wave small Bahraini flags.
This started to get ugly on March 3. Sunni and Shia clashed in Hamad Town that day, then again a week later. Some of the Sunni involved were non-native, naturalized immigrants whom the opposition says the government brings in, sometimes with plum jobs and free housing, to bolster Sunnis' numbers. A few days later, I awoke to discover that the normally busy Seef highway had no traffic at all: protesters had blocked it at both ends. In the following days, the massive nearby malls that are some of the largest public gathering spaces (Bahrain City Centre, Dana Mall, Seef Mall, Bahrain Mall) all closed, as few customers could enter.
My wife had left already the country, but things were starting to get uncomfortable for me. The enormous numbers at the roundabout made travel by car virtually impossible and most of the nearby shops were shut. The university offered to move me and two of my fellow teachers, who also lived in my building, to a hotel.
On March 13, the government had had enough and sent the police in to clear the protesters. But they had to force their way into the blocked highway first. The battle lasted for most of the morning. I watched from my windows and from the building's car garage (until teargas intervened) as the police eventually retreated, much to the delight of the protesters.
The police realized that they did not have the numbers when they tried to take over the roundabout that day.
But that changed when, the next day, Bahraini King Hamad called on Saudi Arabia to help him retake control. Though I had no idea that Saudi Arabia would respond by sending in a phalanx of troops to aid Hamad's crackdown, something told me that things would only get worse so I accepted the university's offer and packed my bags and drove to the Gulf Hotel. The next day after, at my concerned wife's suggestions, I flew to Thailand for a break. I would return to Bahrain, but my time there was more limited than I then knew.