Why Tibetan Buddhists Are Burning Themselves Alive in China
For monks, self-immolation has become an act of political protest
For monks, self-immolation has become an act of political protest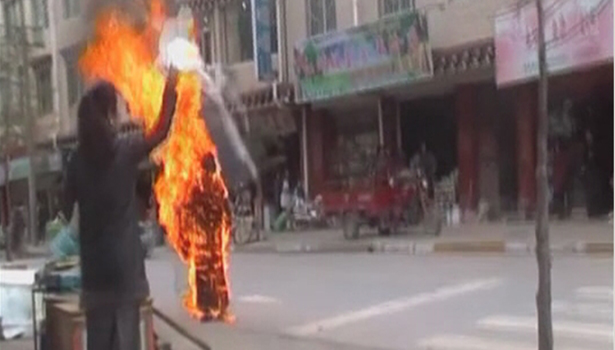 A woman throws a white scarf over Tibetan Buddhist nun Palden Choetso as she burns on the street in Daofu, or Tawu in Tibetan, in this still image taken from video / Reuters
In what Time Magazine calls the most "under-reported story of the year," Tibetan Buddhists are burning themselves alive in China as a plea for freedom. So far, Time reports 8 cases this year alone; the Washington Post says there have been 12 since March.
On November 23rd, Palden Choetso, a 35 year old nun, walked an hour down the twisting mountain road from the Ganden Jangchup Choeling Nunnery into the nearby town of Daofu (or Tawu, in Tibetan), where she drank several kilograms of gasoline, settled onto a public road, and set herself on fire. As she burned, she shouted, "I want the Dalai Lama to return to China, I want freedom for Tibet!" Only after the protest group Students for a Free Tibet smuggled this footage of Choetso's death out of Tibet did news of her death reach the outside world.
The other self-immolaters this year, called "terrorists" by China's Foreign Ministry, all spoke out for the return of the Dalai Lama -- who was exiled by the Chinese to India in 1959 -- and freedom for Tibet. The Dalai Lama has not supported the burnings, but he has said that China's rigid political control of Tibet has forced conditions of "cultural genocide" onto his country, and he emphasized that these actions need to be understood in light of what Tibetans have gone through.
Public burnings in China have happened before, for example, in protests by another banned spiritual group, Falun Gong, whose five followers lit themselves on fire in Tiananmen Square in 2001. But the Tibetan immolations are different. Nicholas Bequelin, a researcher in China with Human Rights Watch, told Reuters that his interviews with Tibetan monastics suggest that racial and cultural tensions are even worse now than in 2008, when riots killed hundreds across the Tibetan region before the Beijing Olympics.
Tibetan monastics have traditionally led Tibet's resistance to Chinese rule over the past decades, and although there were no overt signs of a crackdown in Daofu after Palden Choetso's burning, all foreign journalists were ordered to "leave immediately" and were followed out of the town for about 200 kilometers. Subsequently, six buses of troops and paramilitary forces were seen in Daofu.
Woeser, a Tibetan writer based in Beijing, told a Reuters reporter that when Tibetans are jailed for simply shouting slogans, "Under these circumstances, you can only choose self-immolation to express your intentions."