Why Israel Plays Such a Big Role in U.S. Presidential Races
Republican candidates are striving to show their love for Israel, but it's about more than just the Jewish vote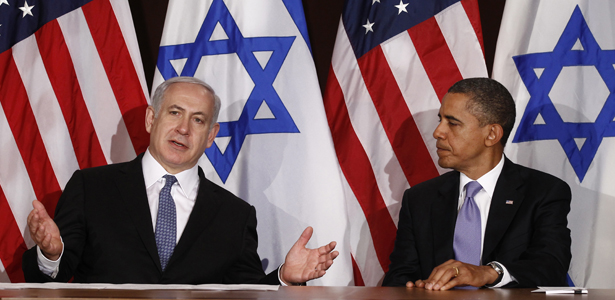 Barack Obama meets Israeli Prime Minister Benjamin Netanyahu at the United Nations in September 2011 / Reuters
In American presidential politics, wrapping yourself in the Israeli flag is a no-brainer. Stalwart support for Israel is important for many American-Jewish voters, an important source of campaign donations, and a potential swing vote in key battleground states such as Florida, Pennsylvania, and Ohio. Fealty to Israel plays well with evangelical Christians who back the Jewish state largely out of theology, and who can make the difference in early-voting states like Iowa and South Carolina. Strong backing of Israel is viewed as a litmus test for powerful lobby groups in Washington.
Especially for a field of Republican presidential candidates who are almost uniformly attacking Barack Obama's foreign policy from the neoconservative right, the temptation has proven irresistible to use the president's failed attempts at peacemaking in the Middle East, and frosty relations with Israeli Prime Minister Benjamin Netanyahu, as a cudgel.
"Three years in office and [President Obama] hasn't found time to visit Israel, our friend, our ally, the nation in the region that shares our values," said Mitt Romney, who often charges Obama with "throwing Israel under the bus," speaking on Wednesday at a Republican Jewish Coalition forum in Washington attended by all six GOP presidential candidates. "Over the last three years, Obama has instead chastened Israel," the former Massachusetts governor said.
Taken together, the Republican candidates' critique of the administration's relations with Israel has been scathing. The administration has "turned a blind eye towards radicals" and appeased "every radical Islamist," Rick Santorum told the forum. Obama should fire his ambassador to Belgium for recently suggesting that some anti-Semitism stems from tensions between Israel and the Palestinians, and chastise Defense Secretary Leon Panetta for urging Israel to "get to the damn [negotiating] table" [Romney and Gingrich in recent days]. The administration was "naïve, misguided, arrogant" [Rick Perry] for suggesting last May that the starting point for negotiations should be the pre-1967 borders with agreed upon land swaps. Obama was "disgusting" and disgraceful" for seeming to agree with French President Nicolas Sarkozy's overheard claim that Netanyahu is a "liar" [Gingrich again].
---
MORE FROM NATIONAL JOURNAL:
Perry Pledges Support to Israel
Obama's Record with Israel
Mitt Romney Talks Up Israel in New York
---
The Obama campaign staunchly defended the president's record toward Israel. In an interview, Alan Solow, a longtime Obama supporter and the former chair of the Conference of Presidents of Major American Jewish Organizations, defended the president's record on Israel and pointed to statements from Israeli officials saying the relationship between the United States and Israel is as strong as or even stronger than it's ever been.
He also denied that Obama has "emboldened Palestinian hard-liners," as Romney said, or "done nothing but appease" Islamists, thugs and hooligans, as Santorum said. "To suggest that he's some kind of appeaser is preposterous," Solow said.
Solow accused the Republican presidential candidates of using catchphrases instead of proposing solutions to the problems in the Middle East. "They present no vision of their own," Solow said.
Nuance is often the first casualty in the bumper-sticker exchanges of heated political campaigns, and few foreign-policy issues are more nuanced or filled with linguistic landmines than the Israel-Palestinian conflict. Certainly, Obama himself has engaged in his own hyperbole, claiming at a fundraiser last week, for instance, that "this administration has done more in terms of the security of Israel than any previous administration."
Obama seemed to forget that Jimmy Carter actually forged the Camp David peace treaty between Israel and Egypt; George H.W. Bush laid the groundwork for the Oslo Accords at the 1991 Madrid Summit; Richard Nixon dangerously depleted the U.S. arsenal of tanks at a critical moment in the Cold War to resupply Israel during the 1973 Arab-Israeli war; and Harry Truman first recognized the state of Israel against the advice of his own State Department and many allies. Obama backers have also seized on comments by Romney, Gingrich, and Perry that they would recalibrate foreign aid for all countries starting at "zero," suggesting unconvincingly that that would imperil Israel's position as the No. 1 recipient of U.S. foreign aid.
Yet the rhetoric and positioning of presidential candidates on major foreign-policy issues matter, especially if that candidate later occupies the Oval Office. And the Republican candidates' critique of the Obama administration's policy on Israel suggests a coherent approach and worldview. In this view, the United States should avoid laying down its own parameters for a possible peace deal or even suggest a starting point for negotiations [1967 borders, with swaps for some existing settlements] that has been assumed by U.S. and Israeli leaders in private talks for more than a decade. It should not pressure Israel on its continued expansion of settlements in the occupied West Bank and East Jerusalem, which are illegal under international law, even though this has been the publicly professed policy of Republican and Democratic administrations going back decades. The White House should drop any pretense of being an objective mediator in the dispute, and reaffirm unequivocally that the Jewish state of Israel is the United States' chief ally in the region and its capital is the undivided city of Jerusalem.
"We will send the embassy from Tel Aviv to Jerusalem," Gingrich told the Republican Jewish Coalition's candidate forum, to great applause. "I will ask [former Bush 43 administration U.N. ambassador] John Bolton to be secretary of State!"
Indeed, if the Republican candidates' approach to the Israel-Palestinian conflict sounds familiar, it should: It was adopted nearly in its entirety by the George W. Bush administration for seven years. Given the preponderance of former Bush administration neoconservatives now advising Republican presidential campaigns, the familiar policy outlines are not altogether a surprise. After nearly a decade of stalled peace negotiations, however, even the Bush administration eventually abandoned the approach and reversed course, criticizing Israeli settlements and pressing both sides aggressively to reach a negotiated deal at the Annapolis Summit in 2007.
Recent candidates' comments suggest that under a Republican administration, that closer alignment between Washington and a right-wing Israeli government, and a more laissez-faire approach to the peace process, would be given a second chance. Whether it would lead to another lost decade in the peace process, and further isolation of Israel in an era of the Arab Spring, remains to be seen.