Why 2011 Was a Banner Year for Human Rights
The world is making important strides in basic freedoms and rights
The world is making important strides in basic freedoms and rights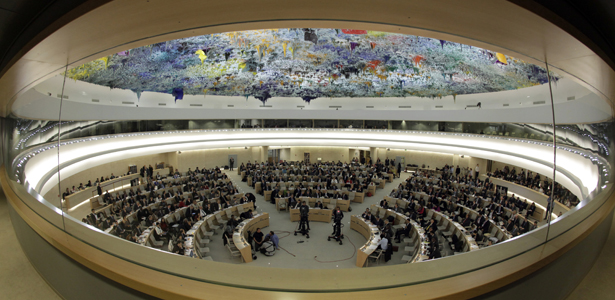 The UN Human Rights Council meets in Geneva / Reuters
---

MORE FROM THE COUNCIL ON FOREIGN RELATIONS:
Challenges and Opportunities in Africa
Good Governance Still Africa's Achilles Heel
Gay Rights in Africa?
African Charter on Human Rights
---
2011 was an extraordinary year for human rights. Millions of people staked new claims to human rights in the Arab Spring, the ruling junta of Myanmar suddenly freed political prisoners and hosted the U.S. Secretary of State, and three women shared the Nobel Peace Prize for fighting for women's empowerment. This Friday, the United Nations Human Rights Council will commemorate Human Rights Day 2011, on the anniversary of the adoption of the Universal Declaration of Human Rights--which has earned the honor of being the most universal document in the world after being translated into 380 languages.
However, human rights principles remain notoriously difficult to enforce and remain a huge source of controversy in world politics. Many governments resist their application, and U.S. officials themselves struggle to integrate these concerns into broader foreign policy objectives.
To shed light on what citizens (as opposed to leaders) around the world actually think about human rights, the IIGG program and worldpublicopinion.org (WPO) have just released the third installment of our updated digests of Public Opinion on Global Issues. The results show dramatic international consensus backing fundamental human rights.
Majorities in all nations polled, including those with authoritarian governments, support:
free elections with universal suffrage to select leaders, and consider that the will of the people should be the basis for the authority of government
the right to demonstrate peacefully and to express opinions freely, including criticism of the government
media freedom from government censorship
equal treatment for people, irrespective of religion, gender, race or ethnicity
government responsibility to provide citizens with basic food, healthcare and education.
Such unanimity testifies to a universal hunger among all peoples for fundamental rights. Below are some particularly relevant findings:
Women's Rights
As the international community maps a strategy for Afghanistan's future amid concern that women's rights there are being swept aside, the digest reveals surprisingly progressive attitudes about women's rights in the Islamic world.  A 2011 Pew poll, for example, asked six majority-Muslim nations whether it was important that "women have the same rights as men." An average of 88 percent said it was "very important" or "important."
The need to protect and promote the rights of women is not limited to predominantly Muslim populations, of course. A 2008 WPO poll asked whether it was important for "women to have full equality of rights compared to men." Among the five countries with the lowest levels of support for this proposition, only one, Egypt (31 percent), was majority-Muslim. Support was also low in  Russia (35 percent), Hong Kong (41 percent), India (41 percent) and South Korea (43 percent). Interestingly, more respondents considered women's equality very important in Muslim-majority Turkey (80 percent), than in the  United States (77 percent). Globally, large majorities believe that the United Nations should actively promote women's rights throughout the world.
Freedom of Expression and Religion
Global support for freedom of expression and religion is also robust. With just a few exceptions, majorities say the government should not have the right to limit access to the internet. In a 2011 Pew poll, some 92 percent of populations in six majority-Muslim countries supported freedom of expression, including the right to criticize government and religious leaders. This finding would imply wide public support for the Human Rights Council's redirection away from resolutions against the defamation of religion towards more robust protection of freedom of religion.
Indeed, another 2011 Pew poll found that 61 percent of respondents in twenty-three nations agreed that "followers of any religion should be allowed to assemble and practice." The highest levels of support were recorded in Turkey (80 percent) followed by Poland and Nigeria, both at 77 percent. (Ironically, despite the U.S. Bill of Rights, only two thirds of Americans--67 percent--supported this proposition).
Such toleration is not universal or unlimited, however: In several countries, a majority of respondents believe the government has the right to limit certain political and religious views.
Rights of Racial and Ethnic Minorities
Large majorities in all countries polled believe that "people of different races and ethnicities should be treated equally," with the highest levels of support recorded in Mexico (94 percent), China (90 percent), United Kingdom (87 percent) and Kenya (80 percent). (The U.S. figure was 79 percent). India had an exceptionally high proportion (30 percent) who responded that an employer should be allowed to reject jobseekers on the basis of race or ethnicity (though a plurality did oppose such practices). In addition, only in India did less than half of the public favor government action to "ensure that racial and ethnic minorities are treated equally."
Economic and Social Rights
Large majorities in every country say their government should be responsible for taking care of the poor and for ensuring that citizens can meet their basic needs for food, healthcare, and education. In a 2008 WPO poll of twenty-one countries, an average of 87 percent of populations surveyed agreed that the government should ensure that citizens have access to a minimum amount of food, and no country varied significantly from this support. Although below the global average, a robust three-quarters of Americans (74 percent) agreed.
Freedom from Torture
As the U.S. Congress continues to debate a new terrorist detention bill with controversial provisions including "mandated military custody for certain al-Qaeda suspects...and the extension of onerous restrictions on the release or transfer of detainees held at Guantanamo," it is also valuable to consider public attitudes on torture and the treatment of detainees.
Globally, solid majorities, including in the United States, support having international rules against torture. However, publics including the U.S. population, are more divided in the case of terrorists who have information that could save innocent lives.
A 2009 WPO poll that inquired what torture techniques should be permissible "if the detainees know details about future attacks in the United States" recorded the following results among Americans:
Majorities opposed forcing the detainee to take stressful positions (50 percent), using threatening dogs (60 percent), exposing the detainee to extreme heat and cold (61 percent), making the detainee go naked (70 percent), holding the detainee's head under water (77 percent), punching or kicking the detainee (82 percent), and applying electric shocks (79 percent). However, views were divided on bombarding the detainee with loud music and two methods--sleep deprivation and keeping a hood over detainee's head for long periods of time--received modest majority support (53 percent and 54 percent, respectively).
U.S. support for whether torturing suspected terrorists is ever justified has actually risen in recent years. In a May 2009 AP/Gfk poll, 52 percent considered that it can be justified, while a May 2011 poll of the same question registered an 8 point increase in support to 60 percent (in the immediate aftermath of the killing of Osama bin laden). On the other hand, only 37 percent of Americans support "allow[ing] law enforcement officials to hold people suspected of links to terrorist organizations in jail without bail for an unlimited amount of time."
The Role of the United Nations
Large majorities in all nations polled (on average 7 in 10) do consider that United Nations should actively promote human rights across the globe.  In nearly all countries, majorities favor the UN making even greater efforts and a similar number--including 72 percent of Americans in a 2010 CCGA poll--favor "giving the UN the authority to go into countries in order to investigate violations of human rights." Respondents around the world reject the argument that this would be improper interference in the internal affairs of a country.
This article originally appeared at CFR.org, an Atlantic partner site.