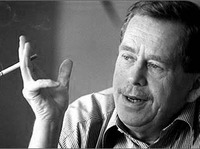 I have no standing to note the death of Vaclav Havel except in recognition of how during my lifetime he helped make the world more decent and promising, through his combination of literary skill, civic responsibility, and deep humaneness. What Czech people have accomplished over the past 50 years depended heavily on specific circumstances of their history and the region's. But Havel deserves enormous and lasting respect for his role during and after the liberation of Central and Eastern Europe from the Soviet Communist era. And of course he always saw the worldwide implications of what his Velvet Revolution had meant in his own small country. Early this year, while my wife and I were back in China, we noted the criticism of Havel in the official Chinese press for mounting
a worldwide effort
on behalf of the imprisoned Liu Xiaobo, who had just been awarded the Nobel Peace Prize. That Havel himself never received that prize is one of its many lapses.
Sixteen years ago I had the good fortune to be seated next to Havel at ceremonial lunch, the only time I met him. He made conversation in English with some effort but with great range and spirit. We talked about the Czech tradition in jazz music, which like so many other things in the country was enjoying a renaissance; and about his post-political literary plans; and about "globalization" -- then still fresh as a concept and buzzword but about which he had prescient concerns. I was also able to introduce him there to my ethnically Czech wife.
His death occurs as our family observes the fourth anniversary of the loss of another wonderful man: Frank Zerad, my wife's father, born Zderad to immigrant Czech parents in Chicago. Frank would have been honored by this coincidental though sad connection, as we are on his behalf.