Under Pet-Hating Dictator, a Hard Life for Man's Best Friend
The president of Turkmenistan is known for his eccentric disdain for cats and dogs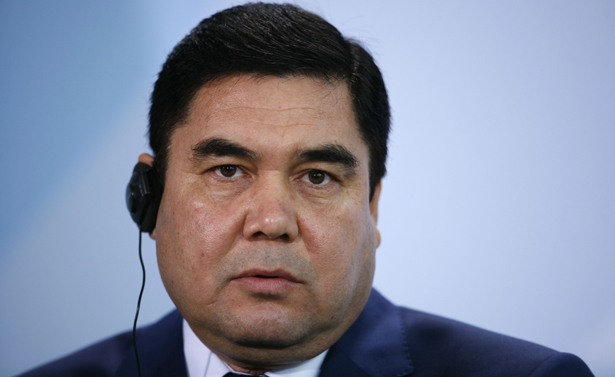 Turkmen President President Gurbanguly Berdymukhamedov / AP
There's nothing that gets President Gurbanguly Berdymukhamedov more crazy than stray dogs and cats -- whenever he spots them around the capital, especially if they run across his motorcade, he orders subordinates to have them destroyed.
Maybe he's obsessed with cleanliness in his sparkling white-marbled city; maybe he's spooked at the recollection of the coup attempt nine years ago this month on the motorcade of his predecessor, Saparmurat Niyazov.
As we know from WikiLeaks, in what has got to be the most bizarre cable from Ashgabat, the Turkmen leader has even fired military officials when a cat crossed his path.
The frequent presidential orders to exterminate dogs and cats has led many people to lose their pets, and they're getting fed up.
But one Ashgabat resident decided to stand up for man's best friend, the independent emigre web site chrono-tm.org reported.

It turned out that the president's motorcade had just happened to be speeding by at that moment. The man, whose name was not provided, was held for several hours in the police station. Police told him that they had received orders: either his dog would have to be shot, or he would have to serve 15 days in jail.
So to save his pet, the man decided to opt for the jail time. He was allowed one phone call, and asked his relatives to come and pick up the dog.
In the end, he served just 7 days of his sentence -- thanks to his relatives' appeals, he was released with a notice that he had been detained for "disturbing the peace."
This article originally appeared at EurasiaNet.org, an
Atlantic
partner site.