The U.S. Can't Figure Out Israel's Intentions on Iran
American officials say they still aren't sure how seriously to take the possibility of an Israeli strike against Iran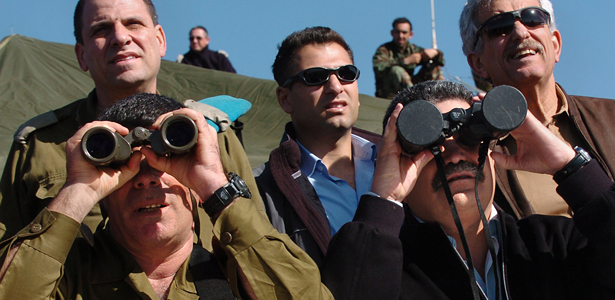 A 2007 photo shows Israeli Defense Minister Amir Peretz, right, looking through binoculars without realizing the plastic lens-caps were left on / AP
The United States is not sure how seriously Israel is considering using armed force to derail Iran's suspected nuclear-weapon operations, Reuters reported on Wednesday.
There is a "sense of opacity" in Washington on the developments that might lead Israel to attack its longtime foe, and on when a strike might take place, a high-level U.S. national security official said.
Two senior U.S. senators offered similar thoughts on the matter. "I don't think the administration knows what Israel is going to do. I'm not sure Israel knows what Israel is going to do.... That's why they want to keep the other guys guessing--keep the bad guys guessing," said Sen. Carl Levin, D-Mich., chairman of the Senate Armed Services Committee. Added the panel's top Republican, Sen. John McCain of Arizona: "I'm sure [administration officials] don't know what the Israelis are going to do. They didn't know when the Israelis hit the reactor in Syria. But the Israelis usually know what we're going to do."
---
MORE FROM NATIONAL JOURNAL:
Perry on America's 'War in Iran'
Newt's Tough on Iran
Santorum: Let's Cut Off Iran's Oil Supply
---
Speculation has increased in recent months that Israel has been planning military action against Iran, particularly in the wake of a new International Atomic Energy Agency report that further pointed toward potential Iranian nuclear-weapon efforts. Israeli leaders have publicly dismissed such talk, while reaffirming that they have eliminated no options to deal with the perceived threat.
Tehran says that its atomic program has no arms component.
The Obama administration at the moment continues to favor diplomatic efforts and punitive economic measures to address the nuclear standoff. Defense Secretary Leon Panetta warned on Friday that an attack on Iran could lead to "an escalation" that might "consume the Middle East in confrontation and conflict that we would regret."
Lack of clarity on the question could allow the administration to say it had not known Israel was planning an assault on Iran, according to Reuters. "There are plenty of instances when the Israelis have undertaken action without informing the United States first," one former U.S. official said. "So not always should we assume a level of coordination [between Washington and Israe] in advance on all issues."
"Israel has a long history of conducting military operations from Baghdad to Tunis without giving Washington advance notice," former CIA official Bruce Riedel noted.
Israel is believed in Washington to have identified "red lines" on Iranian atomic activities that, if breached, could lead to military action, according to an official.
The Israeli air force on Monday allowed journalists to visit a base that houses drones that could provide data for an attack on Iran, the Xinhua News Agency reported. The deputy head of the 200th Squadron at Palmachim Air Base, not far from Tel Aviv, would not address the situation with Iran. "All I can say is that we can get anywhere we want and need to," said the officer identified only as Major Gil.
The Israeli drone briefing occurred one day after Iran claimed to have shot down a U.S. aerial drone flying over its territory. The United States has acknowledged losing contact with what is believed to be a RQ-170 Sentinel aircraft but denied that it had been intentionally brought down by the Iranian military.
There are concerns about Iranian acquisition of sophisticated U.S. technology, the Los Angeles Times reported on Tuesday. The drone is believed to be equipped with radar-evasion systems and advanced software.  "It carries a variety of systems that wouldn't be much of a benefit to Iran, but to its allies such as China and Russia, it's a potential gold mine," said writer P.W. Singer, who specializes in military use of unmanned technology.
Nonetheless, "I don't think this is a dagger pointed at the heart of democracy," said Loren Thompson, a defense-policy analyst for the Lexington Institute. "A lot of information about this aircraft was already known by foreign military intelligence officials."
He said that an equipment glitch is the probable cause of the drone crash.  "That means what the Iranians have is a pile of wreckage -- many small and damaged pieces from which they could glean little in the way of technological insights," Thompson said.
Meanwhile, Russia on Wednesday expressed opposition to oil embargoes as a lever to persuade Iran to give up its contested atomic program, Reuters reported. The European Union is expected to consider such a ban next month. On Tuesday, European Energy Commissioner Guenther Oettinger said there was widespread agreement among the 27-nation bloc on an embargo and that it could also encompass nations such as Russia.
"It is quite obvious that this decision is based on some political motivation.... In these situations, we try to be as neutral as possible," said Russian Energy Minister Sergei Shmatko. "Do you realize the impact of this decision once it is made?" he added. Diplomatic measures should still be pursued, he said. "As far as the nuclear program of Iran is concerned, we try to discuss these issues in other forums, for example the U.N. Security Council."
South Korea is also trying to determine how to address stepped-up U.S. calls to penalize Iran, the Yonhap News Agency reported.
Washington and other capitals have already strengthened sanctions against Iran in recent weeks. The Obama administration sent Robert Einhorn, the State Department special adviser for nonproliferation and arms control, to Seoul to raise the matter with South Korean officials. "We cannot talk about anything about Iran," one South Korean official said. "We cannot say whether or not the government is considering any sanctions at this moment, not to mention of any specific measures or timetable."
South Korea and Iran in 2011 conducted roughly $14.5 billion in trade through October. In 2010 bought Seoul bought more than 8 percent of its oil from Tehran and is a major automobile exporter to the Middle Eastern state.
"We have maintained relations with Iran relatively well since Seoul imposed sanctions against an Iranian bank last year, but it is yet another quite sticky situation being asked again to take actions against the country," one government source said.