The Cold War and How We Think About Private Property
A less-discussed aspect of the conflict, one still ongoing today, is over the laws governing property and investment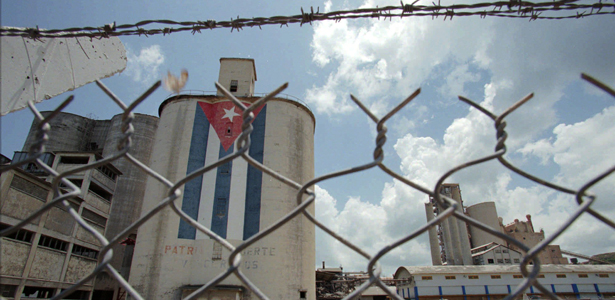 This nationalized cement factory in Mariel, Cuba, was once owned by Lone Star Industries of Connecticut / AP
This post is part of a 12-part series exploring how the U.S.-Russia relationship has shaped the world since the December 1991 end of the Soviet Union. Read the full series here.
Seventeen months after the Cuban Missile Crisis, the U.S. Supreme Court wrote in an opinion, "There are few if any issues in international law today on which opinion seems to be so divided as the limitations on a state's power to expropriate the property of aliens." The Court was considering a case involving the Fidel Castro government's nationalization of American-owned private property. But based in part on this uncertainty about international legal protections for foreign investments, the Court held that U.S. courts should not judge the legality of a foreign government's official acts and did not reach the merits of the case.
Throughout the Cold War, even non-communist post-colonial countries often asserted the legal right to seize foreign investments as part of land redistribution and controlling natural resources. Often, there was no remedy available to those who had lost their property.
Twenty years after the fall of the Soviet Union, the world's largest communist country, China, attracted $215 billion in foreign direct investment over the last four quarters, according to the Organization for Economic Cooperation and Development. The United States attracted $226 billion during the same period. And while global foreign direct investment is down substantially from its pre-financial crisis high in 2007, total global foreign direct investment (inflows and outflows) was nearly $2.7 trillion for the last four quarters. Without this access to foreign investment capital, the global recession and worldwide unemployment would be far more severe than they currently are.

Many technological, financial, and political developments help account for the growth in private international investment. But it could not have happened without a worldwide revolution in how we think about international law and private property.
In the United States, for more than two decades Democratic and Republican administrations alike have promoted bilateral investment treaties, or "BITs," which provide substantive protections for foreign investments against unlawful government interference. These protections cover all kinds of investor property, including intellectual property; intangible assets like contracts, stocks, and bonds; and hard assets like factories and office buildings. To enforce these protections and resolve investment disputes, these treaties provide for international arbitration.
Today, 176 countries throughout the world have also adopted BITs. Although they were around during the Cold War, in the last two decades the number of BITs worldwide exploded from 385 in 1989 to 2,750 by the end of 2009, according to the United Nations Conference on Trade and Development (UNCTAD).
While the specifics often differ, many BIT provisions protecting foreign investments have become near universal. Both the Turkey-Turkmenistan and U.S.-El Salvador agreements protect foreign investments from direct or indirect expropriation, nationalization, or similar measures "except for a public purpose, in a non-discriminatory manner, upon payment of prompt, adequate and effective compensation, and in accordance with due process of law." Some countries' more recent BITs also contain provisions designed to protect environment, labor, public health, and other public policy concerns in addition to the property rights of foreign investors.
Although the pace of BIT formation has slowed in the last few years, many regional trade agreements such as NAFTA and the Dominican Republic-Central America Free Trade Agreement now include investment protection provisions. In fact, as of 2009 at least 295 free trade agreements throughout the world have protections for foreign investments, according to UNCTAD.
Treaties do not mean that foreign investments are immune from government interference. For example, foreign-owned oil companies have become embroiled in high-profile disputes with the Russian and Venezuelan governments over the past few years. But these only reinforce the need for robust legal protections and enforcement.
The international legal and economic frameworks that have promoted and protected foreign investments over the last two decades are not destined to continue. At a 2002 meeting in Monterrey, Mexico, 171 countries affirmed the so-called Washington Consensus when they agreed on the need to "attract and enhance inflows of productive capital" by creating "a transparent, stable and predictable investment climate, with proper contract enforcement and respect for property rights" -- even after the Argentine debt and East Asian fiscal crises. But those were viewed as regional problems that were contained. If the current global financial crisis worsens or spreads, there may be far less interest in promoting the free-flow of capital and protecting foreign financial interests.
Ironically, the courts of the world's largest economy have done little to help. Despite the fact that there are few issues in international law on which opinion is so unified today, U.S. courts are still mired in Cold War doctrines that prevent them from hearing claims about injuries to foreign investments by state actors. And an increasing number of American judges are openly skeptical about the relevance of international law to U.S. jurisprudence.
Still, there is hope. For the first time since La Revolución, Cuba announced in November that it would permit its citizens to buy and sell their own homes. The revolution continues.