The Chinese Town That Turns Your Old Christmas Tree Lights Into Slippers
Every year, 20 million pounds of the discarded holiday lights make their way to Shijiao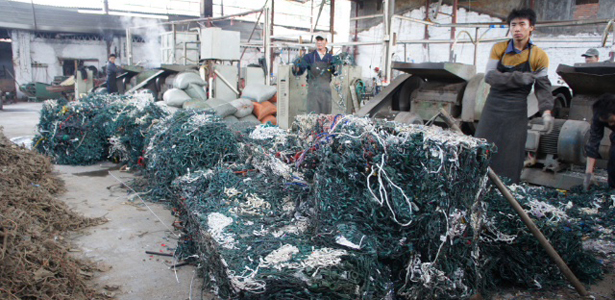 Factory workers stand over bundles of Christmas tree lights to be recycled / Adam Minter
SHIJIAO, China -- A single strand of burnt-out Christmas lights weighs almost nothing in the hand. But a bale of burnt-out Christmas tree lights the size of a love seat? That weighs around 2200 pounds, according to Raymond Li, the general manager of Yong Chang Processing, a scrap metal processor in the southern Chinese town of Shijiao. He would know: on a recent Saturday morning I stood between him and three such bales, or 6600 pounds of Christmas tree lights that Americans had tossed into recycling bins, dropped off at the Salvation Army, or sold to a roving junk man. He had bought that 6600 pounds for my benefit, to show me how his company's Christmas tree light recycling system works.
The huge volume was nothing unusual for Shijiao, the world capitol for recycling the old, unwanted Christmas tree lights that Americans throw away every year. Yong Chang recycles around 2.2 million pounds and Li estimates that Shijiao, located about an hour's drive from Guangzhou, is home to at least nine other factories that import and process similar volumes. Combined, the factories here process in excess of 20 million pounds annually.
Shijiao, like most of China's recycling zones, began to thrive 20 years ago in part because of its cheap labor and low environmental standards. Even two years ago, visitors to the fields around town would see clouds of black smoke churning off giant piles of burning wire (not just Christmas tree wire), the fastest -- though by no means the cleanest -- way to extract copper from plastic and rubber. But something interesting happened on the road to globalization: China's manufacturers, hungry for cheap raw materials, developed an appetite for the recovered insulation that wraps around insulated copper wire, and devised a way to make into a range of products including, Li tells me, slipper soles.
Getting from Christmas tree lights to slipper soles, isn't simple. It requires a bit of innovation and tinkering. Yong Chang's system, for example, took a full year to perfect (one of Li's relatives, a college-educated engineer who now runs their business operations, designed it). The secret, in many ways, is simplicity. Workers untangle the lights and toss them into small shredders, where they are chopped into millimeter-sized fragments and mixed with water into a sticky mud-like substance. Next, they're shoveled onto a large, downward-angled, vibrating table, covered in a thin sheen of flowing water.
As the table shakes, the heavier flecks of copper (from the wire) and brass (from the light bulb sockets) flow in one direction, and the lighter plastic and glass (from the insulation and bulbs) flows in another. It's the same concept that miners use when panning for gold, and the results of this updated, age-old technology can be found at the far end of the water tables: baskets of roughly 95% pure copper and brass alongside baskets of insulation and glass. The contaminated water, meanwhile, flows into a recovery system, where it's re-circulated, over and over, through the recycling system.
To be sure, it's possible to shred wire in the United States. But unlike China, where there are plenty of manufacturers eager to buy large volumes of rubber and plastic insulation, the United States lacks such industrial demand, forcing U.S. recyclers to either landfill insulation or sell it to power plants as fuel. But the lack of a U.S. market for chopped plastic and mixed chopped copper and brass creates a counter-intuitive (for American environmentalists, at least) result: not only do Chinese recyclers recover more material from Christmas tree lights than Americans, they make more money, too. After all, they can sell the insulation, not pay for its interment.
Randy Goodman, an American scrap metal industry veteran, and the Vice-president of Non-ferrous Metals at Freedom Metals, a Louisville, Kentucky, scrap metal processor that buys and sells Christmas tree wire, put it in stark terms. "If Americans put Christmas tree wire in their choppers, it's either by accident," he told me over the phone. "Or they're delusional." As Goodman explained it, the U.S. not only lacks domestic markets for the insulation, it also lacks markets for the mixed brass and copper "chops" peculiar to Christmas tree lights. In Shijiao, however, there are several refineries within driving distance. Alas, due to environmental issues, the last of the U.S. refineries specializing in wire closed down a decade ago, leaving U.S. wire choppers with almost nowhere to send the same material -- except to China and India. "It all depends on what people are making," Goodman said. "And right now, in the U.S., they really aren't making much with that kind of mix. So Christmas wire goes to China."
There are some U.S. companies and organizations that take Christmas tree lights for free and promise to recycle them in the United States. And some of those lights may, in fact, end up being chopped in U.S. recycling plants. But most, invariably, will be sold for about 60 cents a pound, stuffed into a shipping container, and shipped to China -- to the benefit of the environment, and pocketbooks, in both countries. Indeed, if there's a weak environmental link in the chain, it's the American consumers who start it by buying tens of millions of pounds of Christmas tree lights every year, only to throw them into the recycle bin, guilt free, when a bulb breaks. But Li, for one, doesn't mind: that waste is the raw material for his green business.