Russia and the United States in the 21st Century
20 years after the fall of the Soviet Union, the U.S. and Russia are far from the trusting partners that we perhaps should be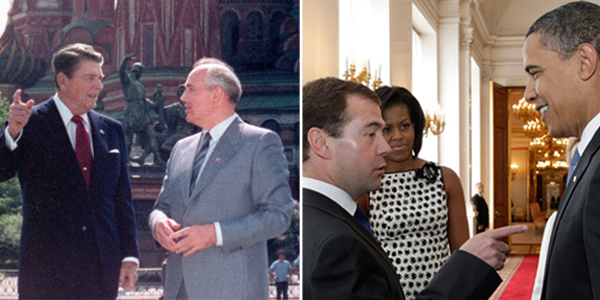 Left, Ronald Reagan and Mikhail Gorbachev meet in Red Square in 1988. Right, Dmitri Medvedev and Barack Obama at the Kremlin in 2009 / AP
This post begins a 12-part series exploring how the U.S.-Russia relationship has shaped the world since the December 1991 end of the Soviet Union. Read the full series here.
In October 2011, the Institute for World History in Moscow held an unprecedented conference concerning President Thomas Jefferson and Czar Alexander I. Leading American historians Gordon Wood, Peter Onuf, and others, as well as leading Russian historians, including Academician Alexei Chubarian and Professor Vladimir Sorgin, participated. Some of the presentations and discussions focused on the correspondence between the two heads of government between 1804 and 1808, on Napoleon's invasion of Russia and the British invasion of the U.S., both of which occurred in 1812, and on the consequent torching of the two capitols, Moscow and Washington, thereafter.

Alexis de Toqueville's famous prediction in 1835 that America and Russia, two great continental powers, would someday play leading roles in the world was predated by Russian exploration of the Western American continent as far south as today's California and thereafter qualified by the landing of a small U.S. expeditionary force in Siberia during the Russian Revolution. But throughout the Cold War, de Toqueville seemed prescient indeed.
The shared global leadership between America and Russia ended two decades ago. The 74 year Russian detour into communism can be viewed only as if rapidly retreating in a rear-view mirror. But the end of the Cold War revealed a curious anomaly in U.S. foreign policy thought. Much to the surprise of Russians and many Americans, including myself, instead of rushing to embrace Russia and drawing it closely into Western economic, political, and security circles, we have resorted to reliance on personal relationships between American and Russian presidents as the basis for our bilateral relationships. And we continue to hold Russia suspiciously at arm's length.
There has been little, if any, explanation of this suspicion toward Russia and its roots in the American mind, or at least in the minds of certain foreign policy experts. Arguably, we have better relations with China than Russia and spend a great deal more effort in tending to that relationship. In gauging how close or how distant to remain regarding another nation or power, the measure ought to be whether there are more interests in common than in opposition. By that measure, our relationship to Russia ought to be among our closest.
We both are committed to reduction of weapons of mass destruction. We both have immediate interests in combating terrorism. Russia stands on the border of five significant Islamic republics and shares concerns with us regarding stability in the Balkans and the Black Sea region. Russia possesses immense natural resources (especially energy), supplies many of our allies in Europe, and offers an alternative source to precarious Persian Gulf supplies. Russia has world-class scientists, physicist, and mathematicians. We use Russian rocket propulsion systems to launch space missions and cooperate on manned space missions. Russia offers a vast market for American and Western products and services, an opportunity more appreciated by European enterprises than American ones.
Further, Russia can be of considerable help to us and our allies in venues as disparate as Iran, North Korea, and the Middle East. In each of these cases, they stand to lose at least as much as we do, if not more, from war in these regions. We shold treat the Russians as partners, not subordinates, and appeal to these and other common interests.
The American Security Project offers a series of essays concerning the U.S.-Russian relationship post-Cold War and post-Soviet empire. It is timed to coincide with the 20th anniversary of the fall of the Soviet Union, which formally dissolved on December 25, 1991. We consider here Russia's energy picture, our mutual arms control efforts, our role in NATO and NATO's relationship to Russia, and a number of other topics addressed by qualified experts some of whom have studied these issues for years. Efforts such as this very much characterize the charter and purpose of the American Security Project -- to explore new and productive ways of pursuing American interests, especially those that increasingly coincide with old and new allies, that will enhance the security of Americans and others.
For myself, it is sufficient to prophesy, even with little tangible evidence, that sometime in this century, sooner rather than later, the United States and Russia will identify a common destiny that requires a degree of mutual understanding and cooperation seen only by de Toqueville almost two centuries ago. We spent a half-century army-to-army and missile-to-missile. The time will come, and none too soon, when it will be beneficial to both of us to stand shoulder to shoulder.