Religion's Role in Fighting AIDS
Religious institutions can help fight against the disease, and some already are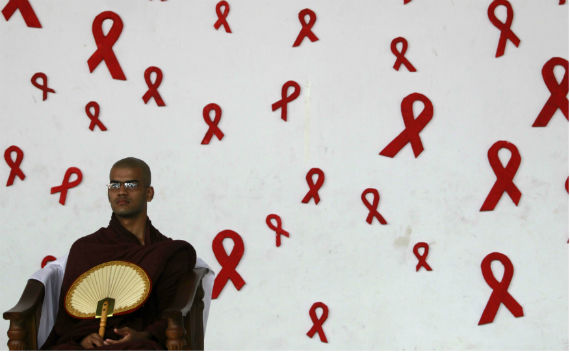 A Buddhist monk waits to pray at a World AIDS Day commemoration in Colombo, Sri Lanka on December 1, 2011 / Reuters
Since the first cases of AIDS came to public attention in 1981, the virus has claimed over 25 million lives worldwide. Preventing HIV transmission and providing care for the 34 million people living with the virus remains one of the foremost public health challenges of our time.  Even in communities with high rates of HIV/AIDS, the virus is still too often a source of deep social stigma, dissuading those infected from seeking help.  Although combating the spread of AIDS requires coordination and support from all sectors, key stakeholders have often exacerbated the epidemic. In South Africa, former President Mbeki's rejection of the basic scientific consensus on AIDS led to an estimated 343,000 otherwise preventable deaths from 1999 to 2007. While religious leaders are unusually well-placed to provide followers with guidance about this preventable disease, they have in many cases contributed to the epidemic by denying the importance of condoms in HIV prevention and contributing to the stigma that AIDS patients already confront.
Nevertheless, even in light of the ongoing devastation of AIDS, our mixed response to it, and the current funding crunch, we can find a few glimmers of good news. The 2011 UNAIDS World AIDS Day Report indicates that the number of new HIV infections throughout the world decreased by 21 percent from 1997 to 2010. Although 1.8 million people died of AIDS last year, the increased availability of AIDS-fighting drugs resulted in an estimated 700,000 deaths averted. Last month, I wrote about Secretary of State Hillary Clinton's laudable call for the global community to create an AIDS-free generation, a goal once thought to be impossible. Moreover, historically uncooperative stakeholders are increasingly aligned with HIV prevention objectives. The government of South Africa, once the seat of AIDS denialism, now espouses mainstream scientific views about the virus. Despite many religious leaders' reticence to support the use of condoms in HIV prevention, a variety of initiatives provide encouraging examples of how religion can serve as a vehicle in the fight against AIDS.
Fighting a global scourge.
A special report
In Muslim communities, religious leaders are using Islamic principles to educate adherents about the disease. In Senegal, which has one of the lowest HIV rates in the region, Muslim leaders promote values such as abstinence and fidelity with a view to HIV prevention and "endorse condoms within a marriage if they [are] used for health reasons." Recognizing the potential benefits of involving religion in the fight against AIDS, USAID in Indonesia has partnered with religious leaders to "facilitate the implementation of HIV policy statements within the faith" and "share a compilation of fatwa (religious guidance) on HIV prevention." Some Islamic scholars in Zanzibar characterize family planning as a practice with Koranic endorsement, and their acceptance of condoms for family planning purposes has positive implications for HIV transmission. Nevertheless, while HIV/AIDS prevention programs based in Islamic principles have potential, they also have notable limitations. Invariably, these programs do not address condom use outside of the marital context or HIV transmission among men who have sex with men, as homosexuality is often culturally taboo.
The obstacles to achieving an AIDS-free generation--and the benefits of this achievement for humanity--make the constructive involvement of religious institutions crucial. In evaluating our AIDS prevention strategy, we should view religion as a potentially powerful tool, albeit a complicated and multifaceted one. We should also remember that a single religion's response to HIV/AIDS is rarely monolithic. For instance, although the Vatican refuses to endorse "the use of condoms...in HIV/AIDS prevention programs," organizations like Catholic Relief Services have provided assistance to millions of people afflicted with the virus throughout the world.
This article originally appeared at CFR.org, an Atlantic partner site.