9-Foot-Tall Supersoldier Mourns Kim Jong Il
At the Wire today, Dashiell Bennett highlights the North Korean state news agency's seemingly random manipulation of an image from yesterday's funeral procession for Kim Jong Il—a crude photoshop job done, Bennett notes, "in such a minor and pointless way that it underscores the paranoid insanity of totalitarian regimes." Meanwhile, over on Reddit, a user links to an Imagur upload of another photo containing a remarkable detail: what appears to be a member of the military in the back row of an orderly formation of mourners, as Kim's funeral procession passes near the Kumsusan Memorial Palace in Pyongyang, standing at least nine feet tall.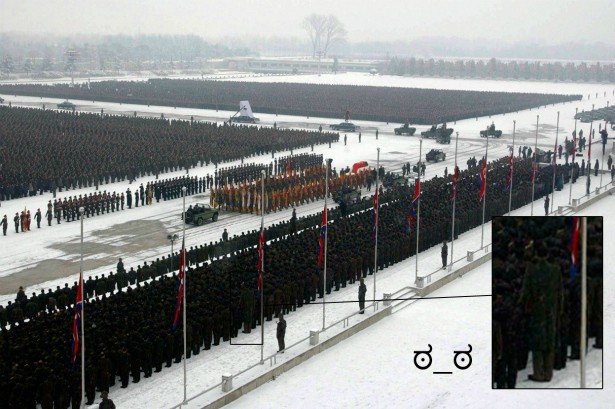 You might think it's another sign of the North Korean regime's posturing mania that it would want to doctor-in an image like this. But the photo comes straight from the Associated Press, with no credit noted to KCNA (the notoriously creative North Korean news agency), and was, as it happens, included in Alan Taylor's post on the Kim funeral here at The Atlantic yesterday.
Bear in mind, endemic malnutrition has meant that the average adult North Korean male is more than two inches shorter than the average South Korean, who's in turn a couple of inches shorter than the average American. Factoring that into a close look, this serviceman of the Democratic People's Republic, whoever he is, would still clear 8-and-a-half feet.
Update 1: Taylor has sent over a closer crop of the image, with the exposure brightened so you can better make the figure out. Behold: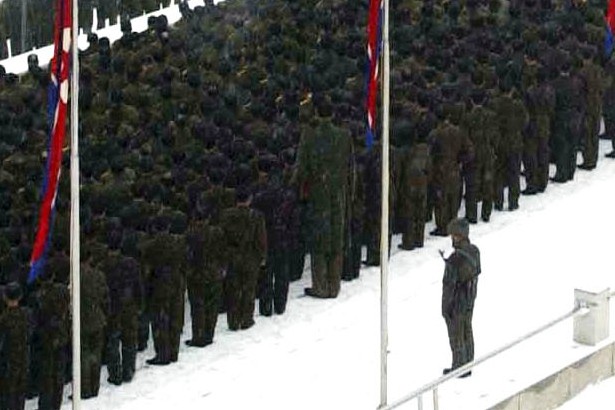 Update 2: Theories! They're ranging from everyone's natural first guess (Alex Fleck, below: "It's obviously three children stacked one atop the other Little Rascals-style"), to the terrifying possibility that Slender Man has joined North Korea (per Evan Plant Bradley), to the less-terrifying (at least for non- basketball fans) plausibility that our peripheral mystery figure is none other than Ri Myung Hun / Michael Ri (well done, Matt Delaney).