Images of Asian Transport, Featuring Subway Supermen and Dancing Flight Attendants
From the Beijing subways just now: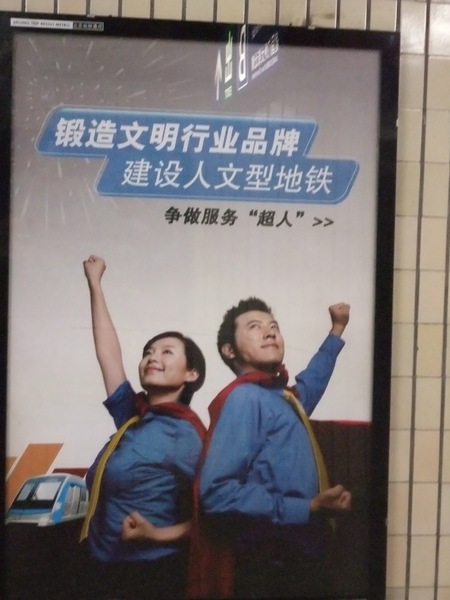 Translation of the caption, courtesy of longtime Beijingite SK:

Forging a civilized brand
Constructing a humanistic model of the subway
Strive to be a service superman
If the expressed sentiments show that good old Official Chinese Earnestness, at least the picture is a slight step forward in wryness. Thanks also to LR-R of Beijing.
And, from Cebu Pacific Air, a Southwest-style low-cost carrier in the Philippines, their way of getting passengers to pay attention during the mandatory safety briefing. This in-flight video was taken last year.
I have also traveled to Cebu, but it was long ago on a giant overnight ferry from Manila -- the sister ship of which sank a few days after our trip, with
at least 700 passengers
lost at sea. The ferry line didn't bother with safety briefings -- and at the time, before policies changed after the huge disaster, "first-class" cabins like the one in which I traveled with my family were chained and padlocked shut at night, as an anti-theft measure.
Soon we'll get back to US-airline safety measures and the role of Kindles etc therein.