Hillary and Suu Kyi: A Cautionary Tale
It was a meeting of two of the most remarkable leaders of our time. But the question must be asked of both: did they give up too much to the generals?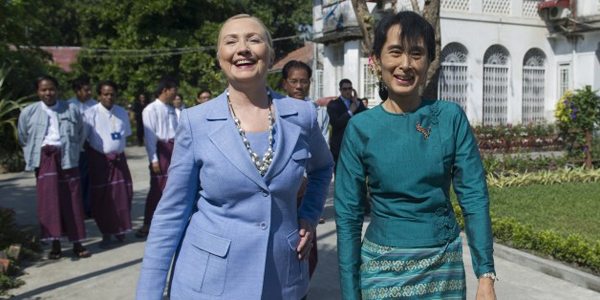 AP
When I visited Burma nearly two decades ago for The Associated Press, Aung San Suu Kyi's long and agonizing contest of attrition with the generals was just beginning. No one, perhaps least of all Suu Kyi, thought the stalemate would last this long. Now, at last, it appears to be ending, a breakthrough punctuated by Hillary Clinton's moving embrace of Suu Kyi during the secretary of State's historic visit to Burma this week.
Or is it?
Despite unprecedented reforms, Burma is still run by an ex-general, Thein Sein, who likely still answers to another general, Than Shwe, the officially retired senior junta leader. It is also clear that Suu Kyi, who won a Nobel Peace Prize in 1991 for her brave stand, has moved the line from where she started, when she demanded the regime give up power and restore her party's place after it won an overwhelming electoral victory in 1990. Now, instead, we will see a delicate diplomatic dance by which Suu Kyi, carrying America's proxy in her back pocket, will OK any move by Washington before the generals get what they want: a gradual lifting of U.S. sanctions on Burma's isolated and impoverished economy. But, from now on, Suu Kyi will be working with her captors rather than defying them.
Similarly for Hillary, the question must be asked whether, as part of her boss's effort to encircle a rising China with U.S. allies, the U.S. government is a little too eager to usher in a new era of amity with Burma. Clinton declined to endorse her previous demand for a UN-backed war crimes probe, though the Burmese regime has killed thousands of dissidents--probably far more than Syria's Bashar Assad--and announced an initial $1.2 million in aid. Asked in an interview with the BBC on Friday whether, by deciding to run in regime-orchestrated elections, Suu Kyi now "runs the risk of being absorbed by the system," Clinton replied that "from her perspective, it's important to validate the political process." But what if it remains a rigged process?
Similar questions are being asked about the Obama administration's approach to democratic reform in the Arab world: in an effort to get the chaotic Arab Spring over with, is America a little too eager to accept whatever comes, including a military-dominated Egypt and a slew of other countries, from the Gulf states to Saudi Arabia to Yemen, that manage to hold onto their autocracies? Prodded by France and Britain, Hillary and Obama eventually backed regime change in Libya, and they are also insisting that Syria's  Assad step down. But does that represent more a passion for democracy or a Realpolitik desire (legitimate though it is) to isolate Iran, whose only Arab friend is Syria?
This is the same Hillary Clinton, after all, who in 2009 sought to cultivate the Arab dictators as anti-Tehran bloc and called for them to become part of a cold war-style "defense umbrella" against Iran's nuclear program. And who appeared to endorse Egyptian President Hosni Mubarak in the early days of the Tahrir Square uprising, saying: "My family knows him."
It's difficult to question the tactics of Suu Kyi, who has endured so much for so long, including the absence of her children and the death of her husband, Michael Aris, while she was under house arrest. But during my visit in the summer of 1992, even some of her most fervent supporters told me privately that she had probably demanded too much change too quickly, frightening the generals into a crackdown. "I was caught by her charisma at first," said one young activist who like everyone in her dwindling democracy underground demanded anonymity at the time. "But when you see things with a cooler head ... I think she did overdo things," he said. "Aung San Suu Kyi scared the military too much. Her ideas of democracy and freedom were too abstract and out of touch with the real Burmese situation."
Ne Win, who took over in a 1962 coup, drove the economy into the ground with his isolationist "Burmese Way to Socialism," touching off student protests that led to troops shooting hundreds, possibly thousands, dead in 1988.
Ne Win formally resigned in response, though the secretive, eccentric 82-year-old general retained enormous influence behind the scenes. At that point, many observers agree, the army may have accepted a transition to civilian government. Suu Kyi's crucial mistake, some said during my 1992 visit, was to denounce Ne Win by name. In response she was placed under house arrest on July 20, 1989, and her telephones and visitors were cut off.
The long battle of moral attrition began. As the late Myint Thein, the nation's former chief justice, told me back then: "She is doomed to her position. She cannot withdraw one step, particularly after winning the Nobel Prize." And, in fact, Suu Kyi's position hardly changed even as the junta players did. Ne Win was eventually ousted by his fellow generals after 26 years and placed under house arrest himself (he died in 2002).
But now Suu Kyi has agreed to dance with the remaining dictators, and so has Hillary Clinton. Clinton and Suu Kyi are both charismatic, intellectually brilliant and highly pragmatic people who know, as well as anyone, how hard it's going to be to move the democracy boulder up the hill. "Releasing all of the prisoners, setting a date for the elections, and ensuring that they are free, fair, and credible, having a really comprehensive, well-designed effort to resolve the ethnic conflicts - those are three very big steps that we think have to be taken before we can further engage on a range of issues that we'd be willing to discuss," Clinton told NPR. Suu Kyi, for her part, spoke frankly of using U.S. leverage to get what she wants. "If we go forward together, I am confident that there will be no turning back from the road towards democracy," she said at a news conference with Clinton.  "We are not on that road yet, but we hope to get there as soon as possible with the help and understanding of our friends."
Good luck. But don't forget: the bad guys are now under the tent.