Chinese Smog Disaster Rouses Chinese Media
'Officials to city: Drop Dead'
Extra info about the recent bad-air crisis:
- Global Times (think Fox News for Chinese nationalists) shockingly uses the word "smog" in a headline on Dec 6, instead of the conventional "mist," "fog," or "bad weather":
The story points out that 200 flights had been cancelled in Beijing as of mid-day because of the air quality.
-  From a reader in the thick of it:
I'm one of the millions suffering through the "fog" here in Beijing. A couple of observations -
  1) Even though twitter is blocked the US Embassy's Air Quality Index can be found at http://iphone.bjair.info which is not blocked in China.
 
  2) When it comes to pollution it seems like papers like China Daily and Global Times are challenging the government more than on other topics.  For example, about a month ago when the smog was also heavy there was an article in the Global Times which basically said that the government should be more accurate:


"Since the problem cannot be solved quickly, a consensus is needed. The government should play a key role. Local governments usually leave the impression of "playing down bad news" among the public, which makes many people exaggerate the gap between their feelings with the government's figures."

  It is probably the same reason why the monitoring standard of the US Embassy is emphasized by netizens. That means local governments need to establish absolute authority over monitoring pollution without concealing information. If they are defeated by foreign embassies in this regard, they will lose more than just authority in monitoring air quality."


The article may not be as vocal as some of the classics such as

But for the government newspapers it's definitely more than expected criticism. Ironically, in the case of the Beijing pollution people may actually drop dead due to respiratory ailments.
- Indeed, China Daily took
in today's edition
an astonishingly bold stand about what is going on. It simply ran comparative shots of the same view of Beijing on each of the past four mornings. The first and last shots aren't camera failures. They show the air: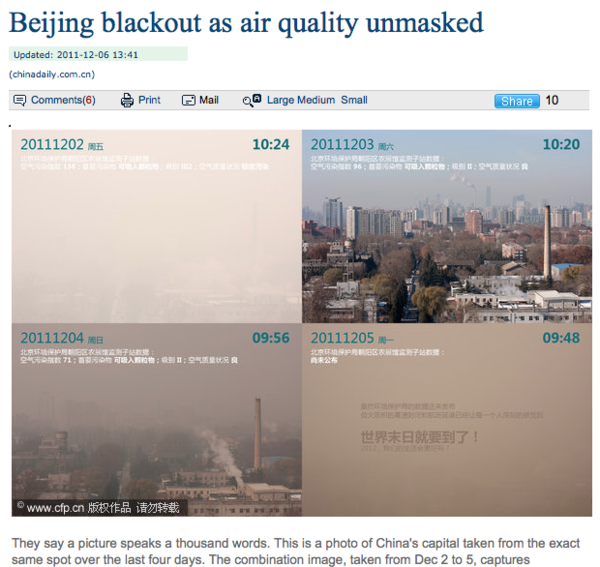 This is the paper that until very recently had insisted that any such conditions were either being invented by the foreign media or arose from "fog." And although "fog" finds its way into even this story, good for them.
Next installment will be from some climate scientists explaining why the U.S. ability to monitor such problems, and to work with the Chinese and others to do so, is now being hacked away in budget cuts. Plus some larger and even less cheering climate news. For now good wishes to all coping with this disaster.