After Burma, Could Hillary Clinton Visit North Korea?
What it might take for the U.S. Secretary of State to travel to Pyongyang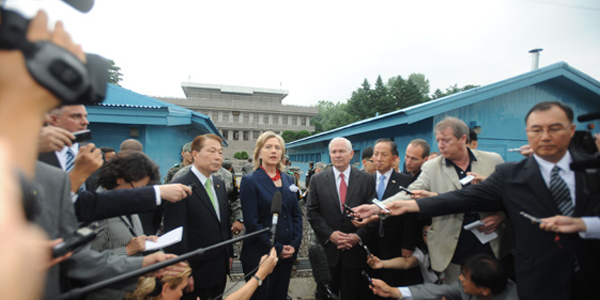 U.S. secretary of state Hillary Rodham Clinton and former U.S. secretary of defense Robert M. Gates brief reporters at the Truce Village in Panmunjom, South Korea, on July 21, 2010 / State Department
---

MORE FROM THE COUNCIL ON FOREIGN RELATIONS:
Egypt: Who Will Be The Prime Minister?
Habla Espanol, Mushir Tantawi?
The Miscalculations of Egypt's Military
Turkey and Israel: More Strategic Than You
---
Secretary Hillary Clinton's historic visit to Myanmar, the first by a U.S. secretary of state in over fifty years, has stimulated speculation among journalists (including at the end of her interview with the BBC in Rangoon) regarding the circumstances under which she might visit North Korea. The conditions in Myanmar also suggest some likely benchmarks for what it would take for the secretary of state to visit Pyongyang: an embrace of nascent economic and political reforms (including the possible release of some political prisoners); a return to the denuclearization commitments embodied in the September 2005 Six Party Joint Statement; and a South Korean political leader with the credibility to champion U.S. engagement so as to protect the administration from conservative congressional criticism.
These conditions would represent a higher political threshold than what was required by former Secretary of State Madeleine Albright in her October 2000 meetings with Kim Jong-il in Pyongyang; however, that meeting occurred in the wake of Kim Dae-jung's historic June 2000 summit meeting with Kim Jong-il, through which Kim Jong-il made his first public appearance on the international stage. Although speculation had arisen that North Korea might be pursuing a covert uranium enrichment program, there was not yet hard public evidence that North Korea had walked away from its denuclearization commitments. Thus, Kim Dae-jung's support for U.S.-DPRK rapprochement, in the context of an existing agreement in which North Korea had promised to abandon its nuclear program, played a critical enabling role in the Clinton administration's outreach to Pyongyang in October 2000.
But the promise of Kim Dae-jung's opening to the North proved hollow on two counts: Kim Dae-jung's policy promised to change the North, but instead it deepened political divisions in South Korea between progressives and conservatives; and it was subsequently revealed that the summit was bought and paid for by at least $500 million in cash (in fact, the summit was delayed by a day so that the North Koreans could have time to confirm the cash transfer).
Even if North Korea were to move toward reform and make tangible moves toward denuclearization, the final element from the U.S. opening to Myanmar that is missing in the North Korea case is that there is no Nobel Prize-winning democracy activist available to provide political affirmation (especially to Congress) for U.S. outreach to North Korean political leaders along the lines of that which has been provided for the Obama administration by Aung San Suu Kyi.
There is only one South Korean political leader with the conservative credentials and a sufficiently compelling personal narrative to be able to provide political protection for a U.S. opening to North Korea, regardless of the outcome of South Korea's December 2012 presidential election, and that is Park Geun-hye. Despite having lost her mother (then South Korea's first lady) to assassination by a North Korean agent in 1974, she is the only Grand National Party politician to have met personally with Kim Jong-il during a visit to Pyongyang in May 2002.
Will Secretary Clinton visit Pyongyang? Don't hold your breath. But if North Korea were to follow in Myanmar's political footsteps sufficiently to earn the affirmation and endorsement of Park Geun-hye, it wouldn't be a bad bet.
This article originally appeared at CFR.org, an Atlantic partner site.