A U.S. Leader of the Iraq War Reflects on its Quiet Conclusion
Chairman of the Joint Chiefs of Staff Martin Dempsey on the end of an era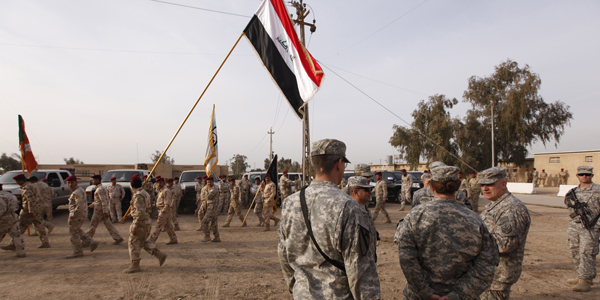 U.S. soldiers talk to each during a ceremonial handover of Camp Echo from the U.S. military forces to Iraqi security forces in Diwaniya / Reuters
CAMP VIRGINIA, Kuwait -- It's really happening. The last U.S. military convoy of nearly 700 troops is expected to drive out of Iraq into Kuwait on Sunday. There are just 14 convoys of gear left to haul out and more than 95 percent of all expected truckloads have already reached Kuwait's Camp Arifjan since President Obama decided in October to end the war.
"We're ahead of schedule," said Maj. Gen. Ken Dowd, commander of the 1st Theater Sustainment Command and the head coach of what feels like the logistical Super Bowl. On Wednesday, Dowd excitedly showed off an intricate sorting process of never-ending fields of trucks, armored vehicles, used tires, and shipping containers filled with old axles, body armor, and even exercise equipment, all to be shipped out.
Since President Obama's announcement that no U.S. troops would stay beyond the end of this year, the U.S. has moved 2.2 million pieces of equipment through Kuwait, rolling 1,500 trucks a day at the peak of the exodus in late November. By the end of this weekend, 2,300 troops are expected to check out at Kuwait's Camp Virginia and fly home.
---
MORE FROM NATIONAL JOURNAL:
Milestones of the Iraq War
Obama: Iraq War is Ending
Blackwater Wants to Go Back to Iraq
---
But it wasn't until the last 24 hours that it really began to sink in for Chairman of the Joint Chiefs of Staff Martin Dempsey, who is forever wedded to Iraq. Dempsey served in Operation Desert Storm in 1991, returned to command the Army's 1st Armored Division in Baghdad in 2003 and again to lead the Iraqi security forces training mission in 2005 for two years before rising to the rank of four-star general.
"It was on the flight over that I reflected on the fact that this has been a 20-year journey for me," said Dempsey, looking tired but driven after a long day of meetings with Kuwaiti leaders. For guys like him, he said, "Iraq was the defining element of the last 20 years of our career."
But the exit from Iraq is not an exit from the region, he stressed, announcing that U.S. officials were moving forward with plans to hold some U.S. troops in Kuwait under the legal authority of a 1991 defense-cooperation agreement, rather than seeking a new pact with the fractured government.
"It's on that basis that we're taking some of the forces that were in Iraq and we're repositioning them here for a period of time," Dempsey told reporters traveling with him at Camp Buerhing in northwestern Kuwait. Some media have reported that the U.S. wants to leave a brigade of roughly 4,000 troops in the region before their deployment expires next year. Dempsey said no decision has been made.
For Dempsey, the war's end is more of a "milestone" than a "culmination," he said, listing a long to-do list for Iraq's security. He knows the politics behind the language of the Iraq War as well as anyone, refusing to be lured into declaring it a success or failure. "I try to avoid false dichotomies," he said. But he says he's proud the U.S. has given Iraqis "an enormous opportunity" to build something, and in doing so the chairman lays bare that Iraq has not yet achieved the potential the U.S. had sought.
"I'm concerned but I'm also proud," Dempsey said.