Why Did the New Kyrgyz President Threaten to Close U.S. Airbase?
The new Kyrgyz President has said he wants to close down the U.S. airbase at Manas International Airport, near Bishkek. But do his feelings about the base really affect its existence?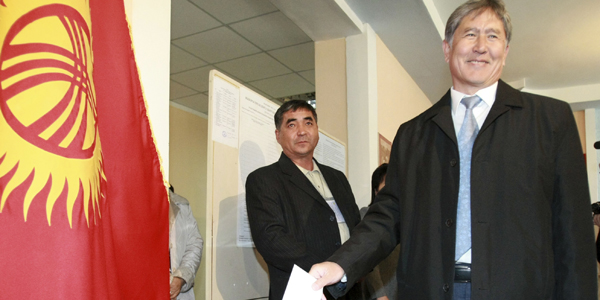 Kyrgyzstan's Prime Minister and presidential candidate Atambayev casts his ballot during the presidential election at a polling station / Reuters
Joshua Kucera flags an interesting article by Columbia professor Lincoln Mitchell:
The situation today is different. Atanbaev's [sic] position does not appear to be a case of simply trying to line his pockets with more American money, but has expressed his view based on his country's geographical and strategic proximity to Russia and a fear that having a U.S. air force base just outside of his country's capital could create security concerns for Kyrgyzstan. While this position is not what the U.S. wants to hear, it is also reasonable and can plausibly said to be representing the interests of the Kyrgyz people...

The U.S. is in a difficult, but not impossible, position of having to find a way to, at least in the short term, to continue access to Manas while avoiding undermining the vulnerable democratic aspirations and expressions of the Kyrgyz people which Atanbaev [sic] represents. The U.S. must work with Atambayev respectfully, avoiding threats and avoiding overpaying for access. Of course, if the Obama administration is serious about winding down the war in Afghanistan this task will be easier. A solution that allows both sides to claim some kind of victory, through a timeline or other similar commitments, and which offers some assistance to Kyrgyzstan is a plausible outcome to this conundrum.
The meat of his argument is, basically, that New Kyrgyz President Atambayev's public opposition to the U.S. base at Manas is about not only "representing the interests of the Kyrgyz people," but is meant to be a statement of intent to be taken seriously and is not, as I've argued, routine political messaging with very little teeth. (In his piece, Kucera reads a bit too much into what I wrote at that post -- I don't discount that some Kyrgyz dislike the base, I was merely noting that American policymakers try to assuage that dislike through extra payments).
So, is Atambayev's threat to close down Manas to be taken seriously? Is it a ploy? Is it truly representative of the wishes of the Kyrgyz public? Or is it just empty talk? There is a lot that goes into such a consideration. As Kucera put it:
It's safe to say that Atambayev, who hasn't been shy about his affinity for Russia, does not depend on the U.S. for political power. It would be too much to say that the outgoing president, Roza Otunbayeva, "depended" on the U.S., but she was about the most pro-American politician that Washington could hope for in Central Asia. And while she complained about the base, in particular the murky fuel supply arrangement, she focused on getting that agreement changed, not on getting the base removed altogether. But if Cooley's hypothesis holds, the more Russia-oriented Atambayev will be less conciliatory. And Manas's days really may be numbered.
This doesn't quite play well with Kucera's own hypothesis that U.S. withdrawal from Afghanistan -- and subsequent supposed abandonment of Manas -- could potentially ratchet up tensions with Russia. For Moscow, Kucera argued recently for The Atlantic, "Cooperation on Afghanistan has been win-win, and its importance has cooled heads on both sides." So the fact of Atambayev being pro-Russia does not necessarily mean very much.
There's another angle to consider. Under the 2010 constitution, the President of Kyrgyzstan does not have much power over foreign policy. Article 28, section 5 of the new constitution (rough translation here) gives the Kyrgyz Parliament the power to decide matters of foreign policy, the use of force, and so on. Article 37 gives the Prime Minister, Atambayev's old job, the power to negotiate and sign treaties--like the one governing the American use of the Manas airbase.
So, I'm not really sure Atambayev can do anything by himself to affect the U.S. basing agreement at Manas. He can build a coalition in the Parliament and appeal to the Prime Minister to alter the terms of the U.S.-Kyrgyz treaty governing the base. But I don't think that's very likely in anything like the short run. As Kyrgyzstan's first permanent President under the new constitution, Atambayev will have his hands full handling all the fallout from their only sort of kind of free election.
Over the next six months or so, Atambayev will probably be butting heads with the southern bloc in the Parliament over a number of issues, and no one is really sure just how workable the permanent structure of this constitution is. These things take time. And the substantial irregularities of the vote make me wonder if it's correct to use Alexander Cooley's framework of a democratic transition, as Kucera does. Atambayev is the undisputed president, but that doesn't mean he was elected in a manner we'd consider democratic.
The parliament, which has actual control over these kinds of decisions, does not have a clear bent one way or the other about the base. The new prime minister, who has the power to negotiate future terms (not Atambayev), has said he thinks the CSTO should have a say in whether the U.S. stays or goes. It is Babanov, and whomever replaces him, that should dominate any speculation on Manas. Not Atambayev.