What International Aid Can't Do
The international community is great for disaster relief, but it struggles with creating healthy business environments. What's the secret to generating entrepreneurship?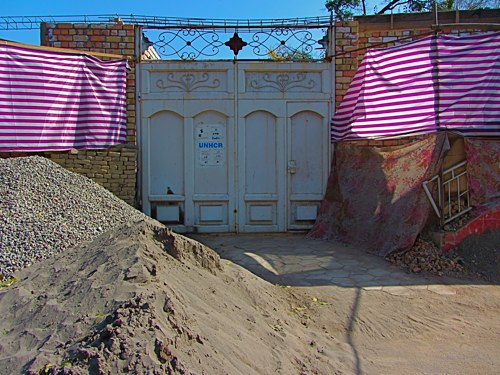 >
One thing the international community is very good at is disaster relief. A large number of agencies--government and non-government, public and private--have the combined logistical capacity to quickly provide basic disaster relief almost anywhere on earth on amazingly short notice. Whether the Indonesian tsunami,  the earthquake in Haiti, or even the Fukushima-Daiichi nuclear disaster, these agencies can deploy the most basic relief efforts on extremely short notice. They are not perfect, and cannot provide relief perfectly, but the speed with which they mobilize is remarkable.
Immediate disaster relief is a core competency of the international community. Even in situations not involving natural (or man-made) disasters, they can mobilize very quickly. When I was researching the stricken Uzbek communities of Osh, Kyrgyzstan last month, I saw little UNHCR signs everywhere. The UN High Commissioner for Refugees had not only provided immediate food and shelter for those left homeless by last year's June riots, they were were spearheading the reconstruction of several large neighborhoods.


What had stalled out in these neighborhoods, however, was a revival of the thriving Uzbek businesses that once defined Osh. In its 3,000 year history, Osh has been a center for commerce, and that commerce has been driven by the Uzbek community, who have worked as merchants and traders for centuries. In the 18 months or so since last year's riots, however, the Uzbek business community has stagnated.

There are several causes for that stagnation. Many Uzbeks feel besieged in their own neighborhoods, called mahallahs. There is a constant threat of theft by either officials in the government or linked to the government. And there is the fear of missing justice: because none of the perpetrator's of last year's violence have been held accountable, there is little desire to go out into the community again. The social isolation there is severe.
So what can be done about this? There are no easy answers. I had the tremendous pleasure recently of sitting down with two pioneering entrepreneurs from elsewhere in the former Soviet Union: the 2011 Bill Maynes Fellows at the Eurasia Foundation. Dr. Valeria Klitsuonova leads a groundbreaking small business association in Belarus, which has created a thriving rural tourism industry in the countryside. And Matluba Uljabaeva is the Chairwoman of the National Association of Small and Medium Business of Tajikistan (NASMB), and helped to create the American Chamber of Commerce in Tajikistan.

The experiences of these two extraordinary women might offer some clues for how to push things forward in Osh. In 1989, Ms. Uljahaeva started one of the first computer labs in Tajikistan funded by IBM, for teaching students how to use technology. "If you teach students how to use technology," she says, "they get it. They know how to put that to use."
Things got complicated during Tajikistan's civil war in the 1990s. "It got a little dangerous when the military would come for computer classes," she says. The rebels could have attacked the computer lab. After the cease-fire, Ms. Uljabaeva focused on training and educating the victims of the war: some widows, some children who had lost parents, and so on.
Since the end of the fighting, Tajikistan has seen steady, if slow, economic growth. Ms. Uljabaeva believes that growth must be driven by private investment efforts. "The data must be open," she told me. "Without open data, how could a business owner know what to do?" Things aren't perfect in Tajikistan--it rates poorly in the World Bank's Doing Business surveys--but it has improved the last few years.
In Kyrgyzstan, business regulations can be unclear: much like in Tajikistan, the process of registering a company is relatively simple, but Kyrgyz officials do not always know how to obey the regulations that govern business operations. You must first seek a patent from the government which allows you to run a company, and in order to make bank transactions and official financial decisions you must have a sprovka, or certification of tax payment, to have anything approved. But the status of tax payments can sometimes be vague, or the regulations about how foreign companies operate unclear. One of Ms. Uljabaeva's biggest accomplishments, through her NASMB group in Tajikistan, is simplifying the process of running a business. It is a tremendous accomplishment.
Ms. Klitsuonova has had an entirely different experience. Belarus hasn't experienced the same type of social violence Tajikistan and Southwest Kyrgyzstan have, but it's had to deal with its own issues. Alexander Lukashenko is often called "Europe's last dictator"--he refuses to hold elections, he violently cracks down on democracy marches, and he has passed laws that forbid public expressions of political opinion.
"Everyone always focuses on Lukashenko," Ms. Klitsuonova says. "But he is one man -- he will be gone soon!" Belarus has put some basics for a sound economy in place, but there is a lot of work to be done. Ms. Klitsuonova realized there was a market opportunity for ecotourism in Belarus' largely undeveloped countryside--and because it isn't a politically sensitive project, she's been able to get approval from the government to function.
"It took forever to figure out how to convince Lukashenko's men," she told me. "But they could see this was a good idea, so they came around." Now, Ms. Klitsuonova runs an association of hundreds of small inns and bed and breakfasts in rural Belarus; she also coordinates eco-tourism from her offices in Minsk. "By creating these small businesses in the countryside," she said, "you get people to celebrate and preserve their culture while making money."
Belarus may have the fundamentals, but it is far from functional. Like in Kyrgyzstan and Tajikistan, the natural entrepreneurship of the Belarussians runs into the sclerotic bureaucracy. Ms. Klitsuonova and her husband originally ran a publishing company, but were forced to close when they began printing economic tracts by Frederick Hayek. To this day, new initiatives need the personal approval of Lukashenko to have any hope of surviving--which may be fine for something innocuous like a country inn but is not healthy for the overall economic performance of Belarus.
What both of these women show, however, is that the real problem in international development is teaching people how to run businesses. The training for how to conform to modern accounting standards is necessary, but most people really are natural entrepreneurs. They can find opportunities in their communities far better than any international group can, and they know how to make decisions and choices for those businesses better than a visiting expatriate consultant.
Moreover both Ms. Uljabaeva and Ms. Klitsuonova show that the private sector is absolutely vital to any plan for economic growth.  My current research focuses on how to harness the natural energy, dynamism, and creativity of the private sector into a new strategy for driving development (in particular, in southwest Kyrgyzstan). What we really need is a method for getting the government out of the way--taking the brakes off people's natural drive to prosper economically. It isn't easy or as simple in practice as it sounds in theory. But these two remarkable women show that it also isn't a secret.